Great Britain is a country known for its beauty and splendour. Many small locations in Great Britain such as Wales are simply delightful to visit. Some of the best places to visit in Wales are its magnificent castles, historic buildings, countless gardens, and breathtaking sceneries.
The capital city of Cardiff is a cosmopolitan location and has plenty of attractions and sightseeing opportunities. If you ever decide to visit Wales for your next holiday then you must try the following 15 beautiful places to visit in Wales.
Although Wales is such a small country, it has all the right ingredients for a trip of a lifetime. Visitors who love the outdoors, rich history, and fascinating culture, will find most of the places to visit in Wales captivating and enrapturing.
Lovers of nature will love to go on a hike on Mount Snowden or have a relaxing time on the lovely beaches of Anglesey. And for those who do not wish to get their feet wet, can spend their time watching the dolphins on the Pembrokeshire Coast.
If it is literature you love then head to Hay on Wye to read many books that you can find in all their delightful little bookstores.
So you see, there is something for all here in the wonderful country of Wales. With its chocolate-box villages and magical castles, this small but quaint location is inspiring and stimulating.
Important Things to Note while Visiting Wales
While visiting Wales, it is important to note a few travel notes before you head to this awesome country in the United Kingdom.
Although many can get by in this location without any hassle as many locals are well-versed in English, you may come across a few Welsh-speaking countrymen as well.
Here are a few tips before you go on your journey to the wonderful country of Wales:
Always try to rent a car- You can travel around the country quite easily by car or a train. But the most convenient of them all is travel by car.

Have a Google Map downloaded offline – This is mainly done to avoid hassles involving the internet.

Have travel insurance at all times.

Buy a universal adapter.

Always keep your visa handy. Please check if a visa is required at certain locations.

Always try and plan all activities to avoid any cancellations.
15 Beautiful Places to Visit in Wales
1. Snowdonia National Park
Whenever anyone thinks about the city of Wales, the first thing that enters their mind would be "Snowdonia". A beautiful range of mountains and hills, Snowdonia is located in the country of Gwynedd. Snowdonia or Eryri as it is known in the Welsh language is one of the best places to visit in wales.
This Welsh countryside boasts 14 majestic peaks that are over 3000 feet high. The most famous among them all is Mount Snowdon located in the Snowdonia National Park, which is the highest peak in the UK to have a train that runs to its summit.
The Snowdonia National Park offers breathtaking vistas from every corner and has been added to the UNESCO World Heritage site recently. As one of the most popular vacation destinations in the UK, Snowdonia National Park attracts nearly 4 million visitors each year.
Many consider Snowdonia as one of the most sought-after hiking destinations in Britain as it has more than 1479 market trails. It is also one of the best places to visit in Wales for mountain biking and horse riding as well.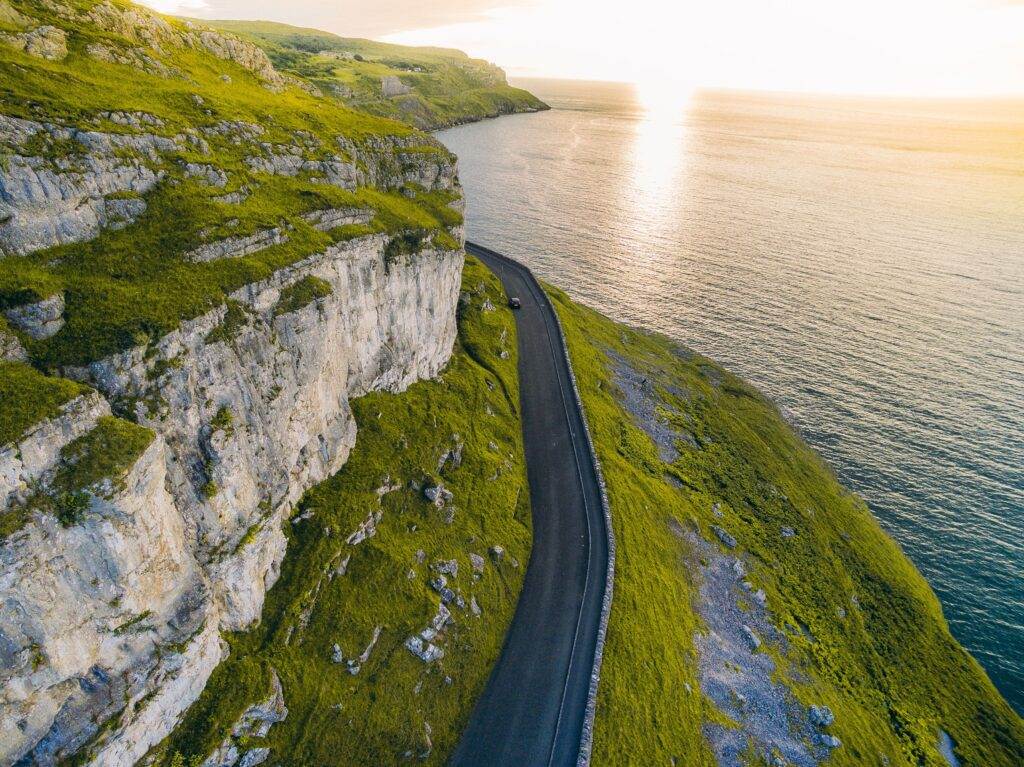 2. Brecon Beacons National Park
Brecon Beacons National Park is one of the most beautiful places to visit in Wales and is one of the top holiday places in the UK. It is bordered by two black mountains.
The first mountain is to the west and is the source of River Usk and to the east is another mountain range that is famous for wild ponies.
All the mountains in the Brecon Beacons National Park are higher than 1000 square feet and some are even over 2000 feet. The national park has been named after red sandstone that resembles the beacons of light used to warn the Welsh about the invaders to their countryside.
Many nature lovers and walking enthusiasts are drawn to the quaint villages of Brecon Beacons National Park. Some prefer this as one of the best places to visit in Wales because of the proximity to the major cities and towns of South wales.
So the next time you visit Wales, please be sure to reserve some time for the Brecon Beacons to explore its caves and waterfalls and to indulge in some fun activities such as mountain biking, horseriding, canoeing, sailing, and fishing.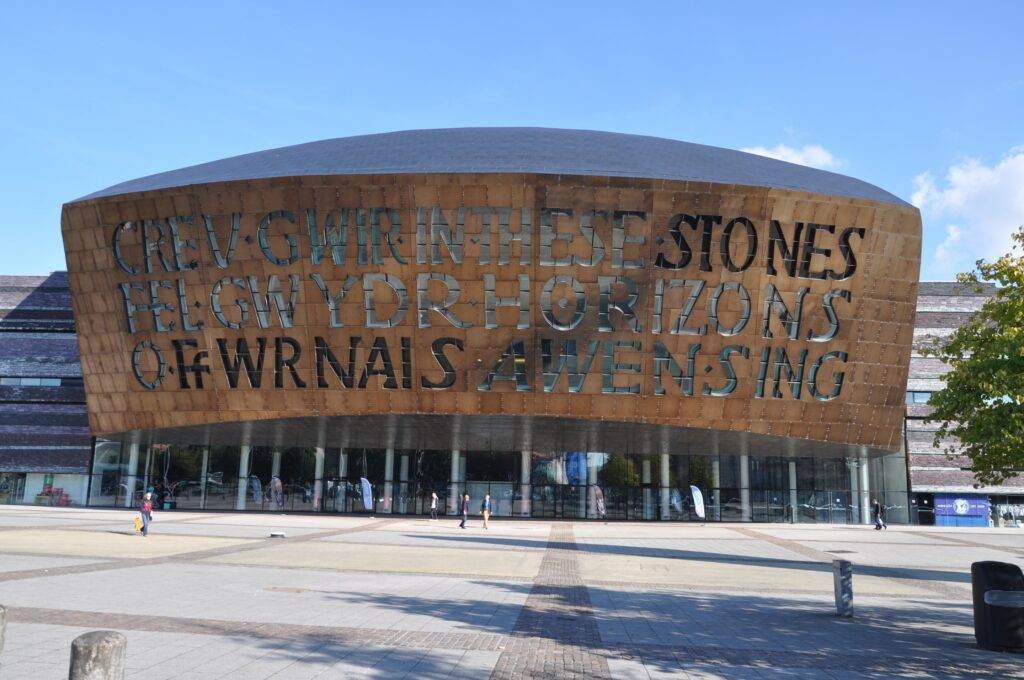 3. Cardiff Castle
Among the many castles found in the city of Wales, the most photographic of them all is the Cardiff castle. As one of the best places to visit in wales, Cardiff castle boasts of constructions that are nearly 1000 years old. It is considered a well-preserved and well-maintained castle that does not take more than a few hours to explore.
Some of the notable features of Cardiff Castle are the State Apartments and Old Chapel. The State Apartments is known for its informative displays that relate to the life in the castle as in the old ages.
Apart from that, you will find a well-preserved Banquet Hall that also features medieval murals and a beautiful fireplace. All tourists can choose from a variety of guided tour options available.
Another tourist attraction in Cardiff Castle is the National Museum Cardiff. It is one of the best free things to do in Cardiff and there are impressive collections that focus on archaeology, zoology, and botany.
In the same building, you will find the National Museum of Art which features an excellent art gallery belonging to some of the world's most famous artists.
4. Pembrokeshire Coast National Park
Pembrokeshire is a popular westerly county in Wales. It is one of the best places to visit in wales for the gorgeous coastlines in Great Britain.
It has the country's most beautiful beaches and the entire coast is a lovely national park that can be best explored on a hike. Wildlife lovers will love to walk along the Pembrokeshire Coast Path and would not want to must miss a trip to the Skomer Island where thousands of puffins gather to nest their young.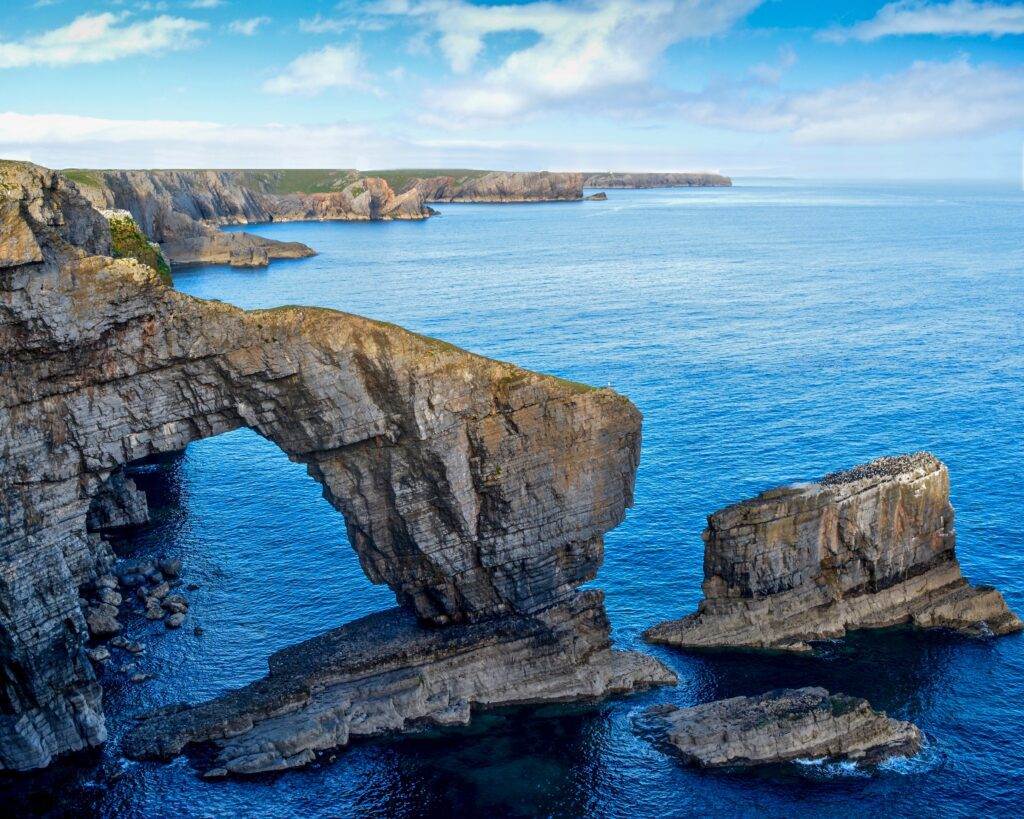 If you are of those that love ancient history, then you must not miss visiting Pentre Ifan, a prehistoric tomb that is built out of the same bluestone used at Stonehenge.
If you are looking to stay over at the Pembrokeshire, then St Brides Spa Hotel is the place for you. St Brides Spa Hotel is situated conveniently on the cliff top overlooking the Pembrokeshire coast national park.
The hotel is famous for its award-winning spa facilities, remarkable rooms, exquisite restaurants, and calm atmosphere.
5. David's Cathedral (UK's Smallest City)
Another charming little place in Pembrokeshire of West Wales is St David. It is considered as UK's smallest city.
St David is built on the location of a monastery founded by St David or Dewi Sant the patron saint of Wales. David's Cathedral is a must in your itinerary of the list of places to visit in wales.
Among the many places to visit in Wales, the adjacent medieval ruins of Bishops Palace are rarely missed. St David's historic buildings are quite spectacular but you must take the time to wander around the small town's narrow streets. You will find numerous art galleries, cafes and its only pub. 
Whitesands Bay is one of the sandy beaches found on the Wales coastal paths. It has some of the best surfing locations in Wales. If you prefer to simply walk around on the beach, then be sure to watch out for dolphins and seals in this small market town.
6. The Isle of Anglesey
Many think that the Isle of Anglesey has some of the best and most famous things to do in North wales. So don't be surprised if you find many locals flock to Anglesey on a UK bank holiday weekend. There are two famous facts about the Isle of Anglesey.
Number one is that the Duke and the Duchess of Cambridge lived some of the early years of their marriage on the Isle of Anglesey. The other fun fact about Anglesey is that here you will find a village with the longest name in Europe.
It is, therefore, not alarming to know that this is a perfect seaside town for gorgeous sea views, coastal hiking, and strolling on the beach. So, visitors looking for some of the best places to visit in wales, should not miss coming to the Isle of Anglesey to venture on a coastal hike or to admire the South Stack lighthouse.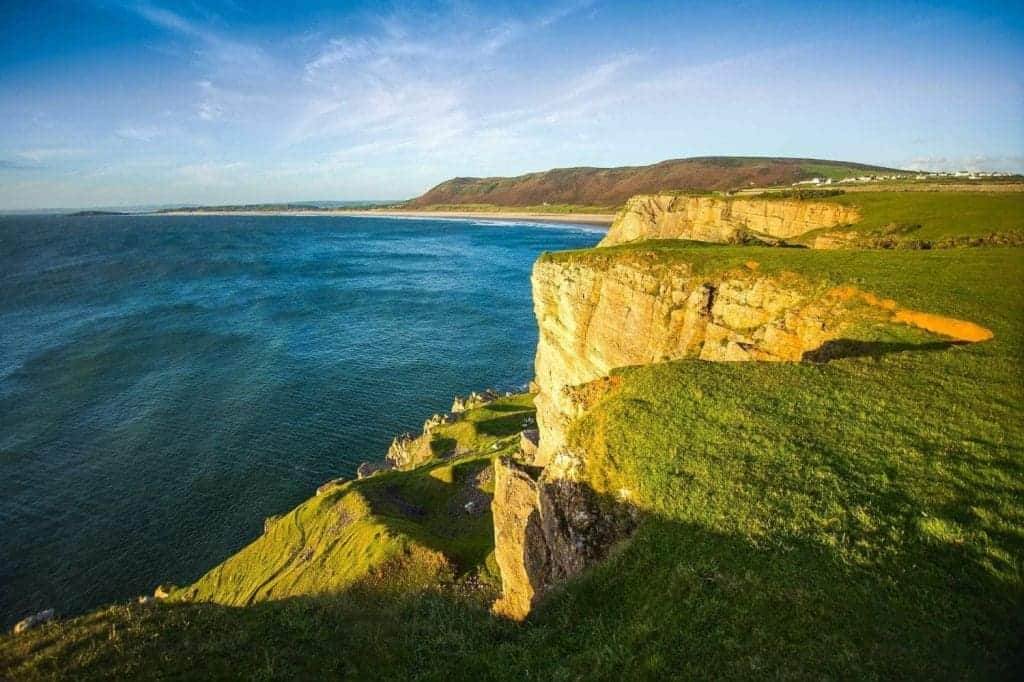 Other things to do here would be to visit Beaumaris Castle or pay a visit to the once largest copper mine in the world, the Parys Mountain. Nature lovers would love to view the Dingle Nature Reserve or stroll on one of the many beaches on the Island.
7. Conwy Castle
If you are looking for an impressive Edward I Welsh castle, then you must pay a visit to the Conwy Castle. It is one of the best places to visit in wales if you wish to look at one of the finest examples of 13th/14th-century military architectural marvels of Europe.
As one of Wales's World heritage sites, Conwy castle is a top Edward I Welsh Castle that is on the wales bucket list of places to see in Wales.
Conwy Castle can be found on the banks of the River Conwy. You will find the Snowdonia National Park with its outstanding natural beauty just looming in the distance. Although Conwy is only a short stop during a visit. you need to know it is of the best and coolest places to visit in wales.
Conwy is one of the most beautiful historic sites in the Wales countryside. The surrounding countryside is of outstanding beauty and travel inspiration to many. The extraordinary suspension bridge, the lovely cobblestone roads, and the Smallest House in Britain are some of the worthwhile tourist attractions surrounding Conwy Castle in Wales.
8. Llangollen
Llangollen is a quaint little village in the small country of Wales. It is considered one of the most picturesque towns in North East Wales. With lovely cobbled streets, Tudor-styled architecture, independent shops, cute places to eat, and amazing views of the rolling hills, Llangollen is no doubt one of the best places to visit in wales.
There are some stunning castle ruins at Llangollen and visitors love to visit to soak up under the warm sun in the River Dee. Some love to go for a refreshing swim on the award-winning beaches of the pretty seaside towns of Llangollen.
Llangollen also has some interesting history as well. The destination is not only known for its beautiful surroundings but the Llangollen Bridge built in the 16th century was the first stone bridge to cross the river dee.
Another fun fact about Llangollen is that the Castel Dinas Bran ruins at the top of the hills near Llangollen were built in the 1260s in the same place as the Iron Age hillfort.
Musical Eisteddfod is held every year in July and many thousands of visitors from all over the world come over together for the musical festival.
As a popular tourist spot for all the family, there are plenty of things to do here at Llangollen. Have fun walking, shopping, visiting a museum or canals, and or simply exploring the local history of this wonderful place.
9. Portmeirion
If you are looking for a slice of Italy in the small town of wales, then you must head to one of the best places to visit in wales, Portmeirion. It is the brainchild of designer and builder Sir Clough Williams Ellis.
This quaint place that resembles an Italian village was built between 1925 and 1975. Portmeirion can be regarded as one of the most peculiar places to visit in Wales.
Do not forget to stroll through this lovely place that is famous for its Italian-style architecture and brightly coloured buildings that are designed to give you that Mediterranean feeling.
This specially designed village known for its commercial theme park-Esque leanings will leave you wanting for more. Do look for the sunset over at the Dwyryd Estuary.
You can start by exploring the small lanes and a giant chess board here at the Portmeirion. And then you can wander down the waterfront area on the west coast. If you are looking to spend the night in the village, then you can stay at the beautiful Portmeirion Hotel.
10. Pontcysyllte Aqueduct
Pontcsyllte Aqueduct is extremely close to Llangollen. It is a must place to visit in Wales and has some of the best tourist attractions here. As a world heritage site, Pontcysyllte Aqueduct is nothing short of a wondrous marvel to behold. Its 18-arched stone and cast iron bridge carry canal boats over the River Dee.
Pontcysyllte is also known as "the stream in the sky" as it is the longest aqueduct in Great Britain. If you are one of those tourists who have never come across canal boats, then do come over to the Pontcysyllte Aqueduct to be completely blown over by this incredible historic site.
You would love to walk across the narrow bridge to see some of the marvellous scenic views of the Welsh countryside.
11. Tenby
Wales is known for its beautiful beaches. The outstanding natural beauty of the pebble beach at Tenby is by far one of the top contenders for this location.
This pretty seaside town is renowned for its charm and rich history as well. Tenby in South Wales is a quaint fishing village that comes with beautifully coloured houses around its harbour.
The Castle Beach in Tenby was voted UK's best beach for the year 2019. As the smallest of all Tenby beaches, many love relaxing on its golden sand. During the low tide, you can walk across to St Catherine's Island and fort.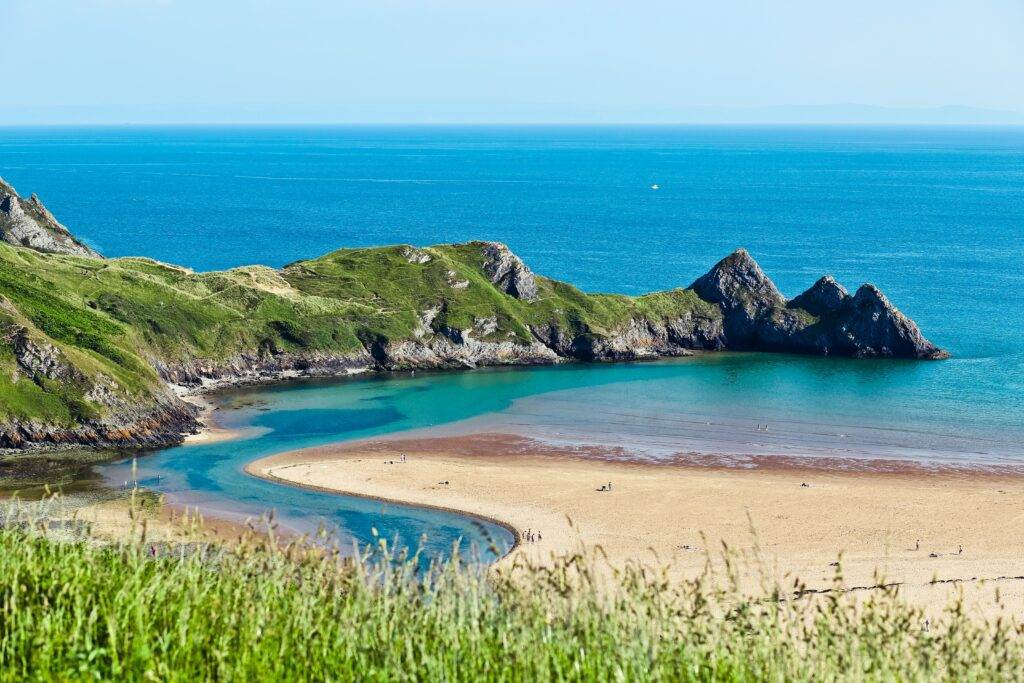 12. Hay on Wye
Hay on Wye is a mini-market town in the county of Powys. It is very close to the English border and right on the River Wye. The National Book Town is an interesting place known to have some unusual bookstores. There are at least twenty-odd bookstores that will keep all book lovers coming back for more.
As a book lover, you would love to visit this delightful little place in wales. A visit to Hay on Wyre is more about the books than the buildings that house them. Some books can be found inside old castles, and some can be found in boutique stores or lined up on a shelf on the streets.
You must try and come over to experience the delight of reading anywhere or anytime here at Hay on Wye. You will then know the reason why this is one of the best places to visit in Wales.
Each year, Hay on Wyre plays host to the Hay Festival of Literature and Arts. The festival is for 10 days. Bill Clinton, former President of the United States, famously described the festival as "Woodstock of the Mind"
13. Gower Peninsula
The Gower Peninsula is known in the United Kingdom as the "Area of Outstanding Natural Beauty". The rugged coastline has cliff-edged hikes and beautiful beaches that can be enjoyed by many who are fond of outdoor adventures.
Some even come over to the Gower peninsula to participate in a water sports activity. Rhossili beach is an acclaimed beach that is rated as top 10 beaches in the world. Gower is quite popular with surfers and coasters. Other places to experience sandy beaches are three cliffs bay, Port Eynon, and Oxwich.
14. Pen Y Fan
Pen Y Fan is an important place to go while visiting wales. It is located in Brecon Beacons National Park and is the highest and the most famous peak.
Pen Y Fan is close to 886m high and big enough for anyone who is looking for a wonderful workout. There are several routes to reach the top of the summit. The easiest trail will take you just a little over an hour. The hike can be undertaken by both experienced and inexperienced alike.
15. Caernarfon Castle
Caernarfon Castle is not just another castle but it is an echo of the imperial Roman architecture. It is built out of the outcome of a bitter war with Welsh princes.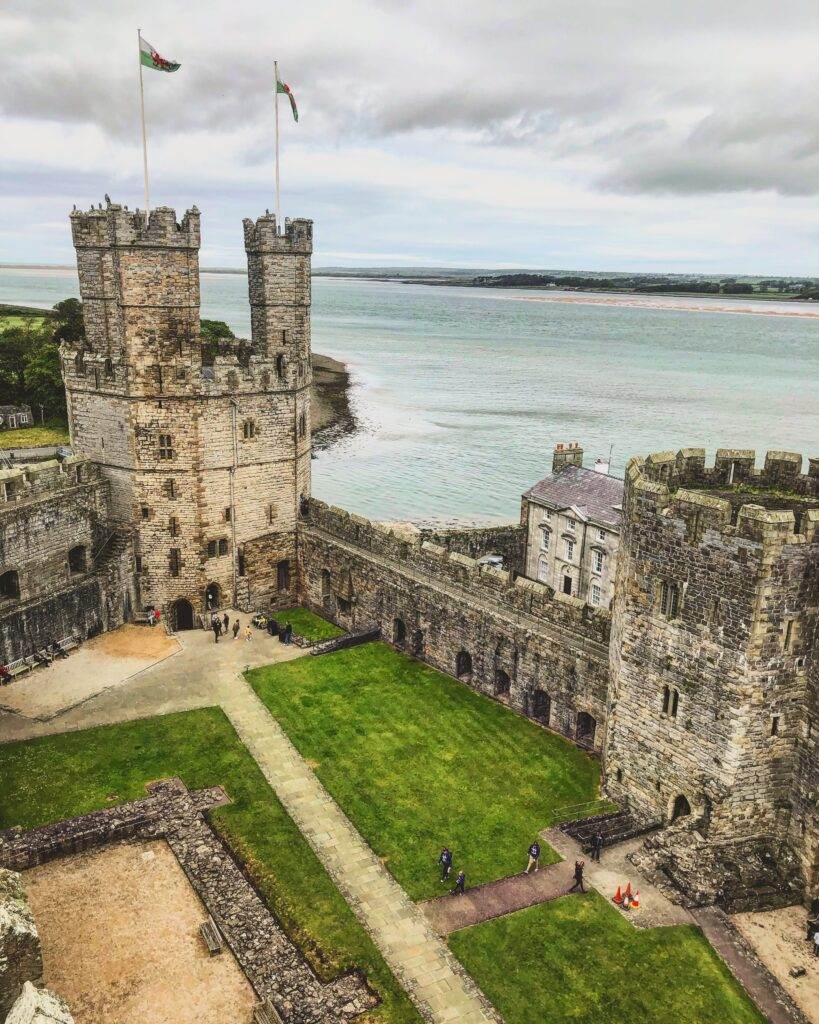 So if you are looking to view the specially built walls of Constantinople or looking to experience the Welsh myth of Macsen Wledig who dreamed that he saw a great fort at the mouth of the river, then Caernarfon castle is the best place for you to visit in wales.
It is called the castle of dreams and true enough even after 700 years, visitors here are treated to an image as like no other.
Takeaway
There are many reasons to visit Wales. As long as you love great food and exceptional outdoor settings, the country of Wales will rarely disappoint you. And if it is new cultures or traditions that you are looking forward to getting to know then heading to Wales would be the right thing to do.
All the places to visit in Wales are a great value for your time and money. The very fact that the Welsh language will sing to you is a reason enough to visit Wales. The all-inspiring green rolling hills and lovely atmosphere of the country are another reason for you to visit the lovely places in Wales.
The landscapes, the wildlife, and the mysterious stories of myths and legends of the Welsh culture will make you come over to this lovely countryside to explore more.
So the next time you are wondering about the right place to visit in the United Kingdom, think about the 15 beautiful places to visit in Wales for a holiday that you will never forget.