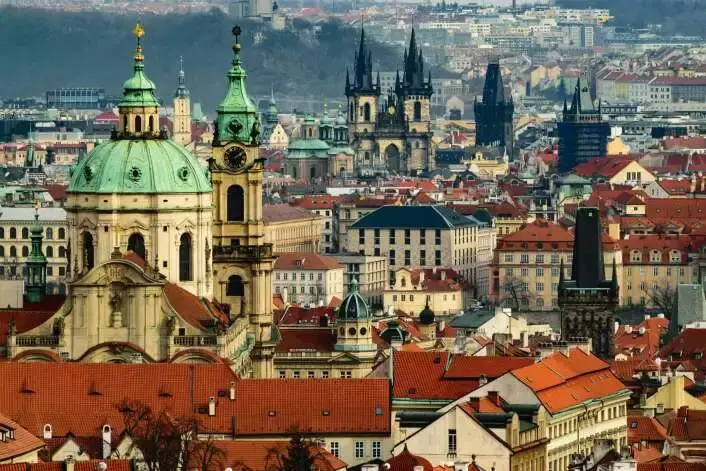 Are you visiting Prague in December? Follow this guide on what to do in Prague in December.
When was the last time you went on vacation straight out of a fairytale? Hold your breath because Prague in winter is unequalled in vision. Prague magically comes to life in December.
Being one of the hotspots for December, Prague has many things to do in winter. Known for its festive Christmas markets, cobbled streets, Czech beers, amazing waterfront views, legendary musicals, and time-travelling museums, Prague is a blissful experience.
Winter in Prague could get cold. It snows and rains, making it more chilled than expected. The weather in December can range from 4° C at its highest and 0° C at its lowest. Though it is still better than January and February, I suggest you prepare to layer up.
Sure it's cold as ice, but the city is alluring in a way that even on the most chilled days, tourists are covered in layers and enjoying all that Prague has to offer.
So as you have planned your time in Prague and already know the weather you are in for, let me give you some advice on where to go, what to eat and what to wear in the enchanting city of Prague.
1. Markets
Prague in winter features some of the best festive markets in Europe, especially during December. These markets are the best place for tourists to experience Prague's local culture and artefacts.
Around Christmas time, the atmosphere is completely ecstatic, filled with carolling, massive Christmas trees, colourful decorations, and bright lights. These markets are the best place where you can shop for trinkets and traditional handicrafts and eat the best street regional foods.
Old Town Square
When you enter Prague's most famous and longest-running Christmas market, you feel like a wonderland. Surrounded by some great historic buildings, Old Town Square is the perfect place to get some souvenirs from. The wooden hut markets sell everything where you can buy handicrafts to spicy gingerbread. Their mulled wine and hot chocolate are perfect for warming you up.
Wenceslas Square
Against the background of the National Museum, Wenceslas Square is the second largest market filled with tourists and locals. The lack of live entertainment compensates with cafes, shops, and theatres.
If you are a food lover who loves to try some Czech rational food, the streets are filled with some great options for you. This market has its charms, specializing in wooden and steel gifts, perfect for taking some home.
Prague Castle
The markets at Prague castle can be seen as cosy compared to the big ones. Located in front of St. Vitus Cathedral, the smaller Christmas markets have their beauty. Filled with 60-70 stalls, it is the perfect place where you can buy some handcrafted crafts like soaps, crystals, jewellery, and a lot more. Plenty of traditional food to binge on.
2. Ice Skating
Enjoying ice skating in Prague is a perfect way to show off some moves and embarrassingly tumble down. An ideal activity where you can keep your body moving and warmed during the cold in December. Ice skating is a favourite for locals and tourists; the rinks are filled with couples, kids, and families.
Na Frantisku
Located near Na Frantisku Hospital, This rink is free (unless you rent the skates) and perfect for kids to enjoy some skating. If your better half likes to skate and watch, the premise is surrounded by white benches for you to sit and enjoy the experience.
Ovocny Trh
Located in the heart of Prague, this rink is owned by the Prague city hall; hence it's no entrance fee. The equipment for ice skating is available for hire, and the city is filled with fun activities to enjoy after a great ice skating session.
Tower Ice Park
Located below Zizkov Tower, it's a brand new ice rink. You can rent your skates here and enjoy some ice skating time with your loved ones. Surrounded by many restaurants, one of which is Miminoo, you can grab something to eat and have a great evening.
3. Museums
Museums in Prague are not just rich in history but the stories some tells; we suggest you carry some tissues to cry your heart out. If you crave some inspiration and want to know the stories of what this land has been through, we recommend visiting some of these museums in Prague.
Strahov Library
Located in Stahove monastery and found in the 12th century, it is the most valued and well-kept library in the world. The library is heaven for avid readers and consists of two halls and 200,000 volumes.
Jewish Museums
Known as the 'museum of an extinguished race, this museum was preserved by the Nazis while most of Europe was destroyed. It is rich in history and a must in the list of places to visit in Prague.
Franz Kafka Museum
This museum is a tribute to the famous Czech novelist Frank Kafka. This museum is home to the 1st edition books of the writer, including diaries and drawings. Outside the courtyard is the infamous sculpture of two men pissing in a pond.
4. Hotels
Where to stay in Prague is a big question for tourists. Fortunately for travellers, Prague hotels are much cheaper than elsewhere in Europe. So if you want a perfect blend of luxury, comfort, and reasonable, these are on top of our list to stay in Prague.
Miss Sophie's Prague
One of the best places to stay and close to Charles Bridge, Miss Sophie's is a cute little boutique hotel that is both luxurious and warm in the winter. To the tourists, it's the perfect hotel for some great Instagram photos, as it was featured in Elle and Glamour.
Cosmopolitan
It is a nice, cosy apartment in the middle of Prague, within walking distance of Wenceslas Square and Old Town Square. The apartment is quiet, and the windows face a beautiful courtyard, a perfect view for some wine and cheese for the evening.
Czech Inn
Beautifully restored 19th-century building. It is within walking distance from the historical centre of Prague. The hostel features stylish rooms, a brick cellar bar, and free WiFi in public areas. Perfect staying options for backpackers travelling across Europe.
5. Cafes
When you travel, you want to visit as many places as possible to have a meaningful trip; however, not taking breaks can kill your motivation to keep going, and you might end up in your hotel rooms sooner than expected. We know the perfect solution to fill your bellies and act as a great mood booster. Check them out.
Café Savoy
Offers some ideal and traditional breakfast; it is the best place to start your day in Prague. The place is a piece of art, with its beautiful sparkling chandeliers and art nouveau vibes. The smell of some freshly brewed coffee, delicious eggs, french toast, and waitpersons serving in white aprons, this place is a great mood setter.
Globe Bookstore & Cafe
A book cafe, delightful! Popular among both young and old alike, the Global bookstore cafe is the perfect place to grab a second-hand English novel, order some hot coffee or mulled wine, and grab a seat to read in peace.
Choco Café
A popular place among chocolate addicts and tourists is the outskirts of the old town square. As hot chocolate is like a warm hug from inside, so is this cafe. It steams, is cosy, and is filled with the smell of cocoa.
6. Pubs
Prague is known for its famous Czech beers and diverse nightlife. Without its beers and wines for those who don't drink beer, the experience is truly incomplete. So indulge me and do try out these amazing bars in Prague.
After sightseeing, visiting the museums and the markets, the nightlight makes the visit to Prague worth it. If you want to survive during the winter in Prague, these cosy pubs will certainly keep you warm.
Bar Konirna
Built-in the 16th century, if you want to drink the beers from the old times, then this bar is from you. Just a few minutes away from the Charles Bridge, this small and local pub is not only known for its beer but all some amazing Czech good.
Skautsky Institut
Located inside the hustle and bustle of the old town square and offers amazing views of the place. After touring all day, top up your mugs with some of their Czech beer and enjoy a relaxed vibe.
Sklipek Vase Vino
Sklipek Vase Vinois, a warm and cosy wine cellar, is the perfect place to get buzzed on some wine. Hard to find but worth it, especially if you are a wine enthusiast.
7. Go For A Walk
Watching the sunset from the Charles bridge or taking a morning walk on the streets of St Nicholas Church, walking in Prague is a beautiful activity in itself. The city speaks to you in languages you can't translate but sense and even understand. It talks about love, beauty, and time. So walk along these beautiful streets and feel alive in a way you haven't before.
Lennon Wall
A wall of graffiti inspired by John Lennon is the most instagrammable spot. Inspired by the lyrics and peace sign in the 1980s, this wall is truly a work of art worth a walk.
Charles Bridge
It is not just any ordinary bridge; it holds 16 arches and 30 figurines, making it the highest in the city. As you move away from Town Square, you cannot miss the walk on this beautiful bridge.
St Nicholas Church
350 m walk from Vrtba Garden; St Nicholas Church is the central point in the minor area of Prague. The place is one of the most walked upon places in the Czech Republic. Walking through the streets gives you a glimpse of the livelihood of the neighbourhood. Step inside the lanes to see the ornate architecture of the gothic church dedicated to St Nicholas.
8. Concert And Musicals
Christmas and musicals go hand in hand, and Prague is filled with them. Filled with orchestra, incredible dance performances, and choirs, musicals in Prague around Christmas time are some of the best things to do. The musicals are known to be just as remarkable as the opera in Vienna.
Nutcracker Musical
Perfect for both family outings or date nights, this musical representation of the story of the nutcracker in the form of ballet is not something you would want to miss.
This musical is so famous that you might have to book your tickets in advance.
Christmas Concert
Many Christmas concerts will perfectly mirror your Christmas spirit if you are in Prague around Christmas. Places like the Prague Castle, Boccaccio Ballroom, and National Theatre are some of the places that host them.
Nightwish Concert
As we all know, rock music will never die, and neither does concert. If you are in Prague during the time of December, Nightwish Concert is the one concert you wouldn't want to miss.
What To Do In Prague In December: Survival Kit
Bring layers, lots of them! Some essentials you cannot miss at any cost are a windproof coat, comfortable shoes or boots, thermal layers, warm socks, scarf, and gloves.

Pack some portable charges, as phones and batteries die quicker during winter than in summer.

Language would be a barrier in Prague; either learn some basic Czech as it would be helpful for both you and the locals or get a translating app.
Euros are not the currency of Prague. The official currency in Prague (and the Czech Republic) is the Czech koruna (CZK). Hence be mindful of the currency you carry to avoid headaches and struggles.
Transport is cheap in Prague, so it is easier for you to travel until midnight. You can take the night transport if you stay out for long.
Get a hotel, an inn, or an Airbnb near the places you are sightseeing, as it will be easier for you to walk, and you can stop spending time commuting.
The area is a heaven for shopaholics; for high-end shopping, hit up Wenceslas Square, and for affordable shopping, you can find shops among the passage of the old town square.
Myths And Folklore
Do not miss out on these amazing things when you are in Prague.
The Magical White Horse
When you visit the Prague castle, you will come across the story of the talking horse. Long ago, when Prague castle used to be located in Vyšehrad on the opposite side of the Vltava river, a greedy Prince Křesomysl ruled the land and, in the search for treasures, would tell farmers to abandon their lands and work in the mines. A brave farmer called Horymír rebelled and was further sentenced to execution. Fortunately, Horymír had a white horse Šemík and wished to ride him one last time.
Once his wish was granted, Horymír climbed Šemík and whispered something in his ear. the horse leapt so high that he landed safely on the other side of the castle, rescuing his master. However, the leap took all his strength, and the horse died.
Upon your visit, you can witness the statue of Šemík and Horymír at Vyšehrad park.
Prophetic Queen Of The Czech Republic
Libuše, the youngest and wisest of three sisters, was also the queen of the Czech republic back in the day. Known to possess prophetic powers, she ruled most of her decisions on the prophecies she received.
In one of her prophecies, she refused to marry any old prince as she had a vision of a man, a ploughman, named Přemysl. She located him and made him her husband.
Another one of her prophecies that gave birth to the city we call Prague today was a city near the river Vlata would be so famous that it would reach the stars. Due to her precious prophecies coming true, the people went where she told them and settled in then práh.
The Tale Of Iron Man
The monument of Iron Man is located in the old district of Prague, also known as the true ghost of Prague. Jáchym Berka is a man in the form of a ghost that has been waiting for his freedom.
It goes like this, Jáchym Berka was betrothed to a beautiful girl when he went to defend his country. Upon returning, he heard evil rumours, broke off the marriage, and wed another girl. Upon hearing the news, he killed his wife and hanged himself. It resulted in the death of both the girl and her father.
The curse can be broken if he talks to a virgin girl once a year; however, he still roams the street searching for his freedom.
Final Thoughts
Visiting Prague in winter is the best time to visit Prague. Less crowded during December, enjoy the markets, sing along with the pieces of music, eat lots of good food and gulp down some of the finest beer the city has to offer. If you like our guide to what to do in Prague in December, comment below.