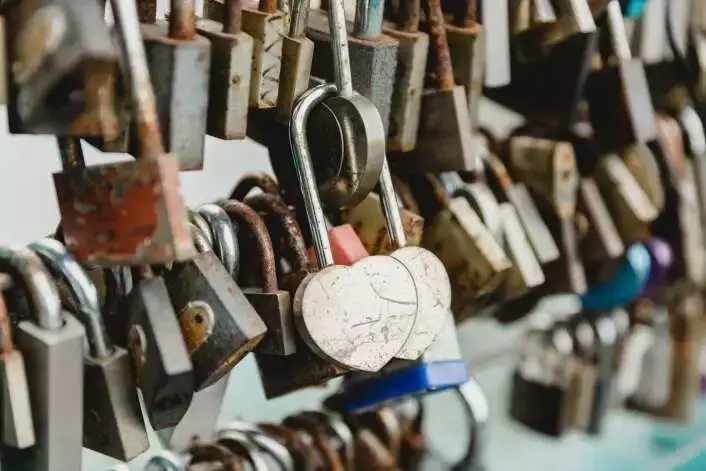 If you are a die-hard relentless romantic, then it is quite possible you know about Padlock Bridges. The most famous is the one in Paris.
You have a lovelock with your name inscribed, and you lock it. Then the couple usually throws the key into the river or water bodies. This idea symbolizes the unbreakable bond of that couple forever. Well, if this isn't romantic, what is?
Not much comes close to locking each other in love forever. It is also one of the most visited places in Paris. There are other places you can go for a trip where you can find similar ones. These places include a site in Serbia, Germany, Amsterdam, Slovenia, and many more.
This might seem sad, but some have stopped allowing people to put on these lovelocks. This took place as the weight of these love locks weakened the bridge, which could end in a bad disaster.
Padlock bridges were not that well-known until 2015 when the Bridge over the seine river, Pont des Artes bridge, was trending due to its weakening. This happened after almost 700,000 lovelocks started to weigh it down, making it not that sturdy and weak.
The government tried to remove some lovelock and solve the issue, but it didn't cause much difference. So, they decided to make it illegal to put a love lock on the padlock bridge. There was a lot of uproar from people, but the law remains intact.
Below, we get to know everything there to tell about Padlock bridge.
Table of Contents
1. History of Pad-lock Bridges
2. 5 Best-Known Love Lock Bridges in the world
2.1) Butcher's Bridge, Ljubljana, Slovenia
2.2) Most Ljubljana, Vrnjačka Banja, Serbia
2.3) Pont Des Arts bridge, Paris
2.4) Hohenzollern Bridge, Cologne
2.5) Makartsteg Bridge, Salzburg
3. FAQs
4. Are Padlock Bridges a Truth or Myth?
5. Conclusion
1. History of Padlock Bridge
The history of these goes way back. It was an ancient ritual in China. The custom goes like this; the couple will put a lock on a gate when they get married and then throws the key.
This idea represents the eternal love between them, locked forever, never to unlock. It is believed that, like how a padlock remains a lock forever, their love for each other last in the test of time.
This love-lock tradition was eventually adopted slowly, but then it revived in a Serbian town. This town is called Vrnjačka Banja. There was a couple, two lovers, a man called Relja and a woman named Nada. They were both in love. Relja called Nada the love of his life.
During that time, the area was in the 1st world war, and Relja was forced to be a part of the world war. He and Nada were engaged to be married, and she believed in her love and trusted that Relja would be back home safely to get married.
But sadly, it never happened. According to the old reports, he returned from the war, but the lover deserted her and went on with another woman. Many believed this made Nada's life miserable, and the woman died heartbreakingly.
This heartbreak became the story heard in the entire town, making young local women worry about having the same fate. To keep their lover with them forever, the young woman would visit the site where the two lovers once met and lock their love locks keep their one true love locked in forever love and throw away the keys.
Whether this was effective or not in keeping the lovers together is unknown. One thing is sure. It became a tradition. This eventually spread across the world like wildfire.
The popularity of this ritual surged because of the 2006- best-selling Italian Novel, which was turned into a movie, Ho Voglia Des Te(I Want You) by Federico Moccia. In the Novel, the couple locks a love Padlock on Rome's Ponte Milvio Bridge to announce that love is imperishable.
2. Five best-known Bridges in the World
2.1) Butcher's Bridge, Ljubljana, Slovenia
Well, the name isn't enticing or romantic and affectionate. But trust me when I say this is a footbridge adorned with love locks. Butcher's overpass was created and opened in 2010 over the Ljubljanica River. This is a go-to romantic destination in Slovenia's capital city.
It was not built as a viaduct but as an art installation, and there are glass panels near the edges and some disturbing sculptures. Most locals say that this is their version of Love lock bridge.
There are steel railings on this one where the couple etches their name on the lock, hangs them, and throws the key into the river.
The Butcher's bridge has some weird and scary statues and sculptures of deformed beasts, creatures, shameful Eve and Adam, and an eviscerated Prometheus. These statues have given the love lock bridge a gory vibe, but the lovable love locks provide fresh air to this structure.
2.2) Most Ljubavi, Vrnjačka Banja, Serbia
This is the historic bridge where the beginning of padlock bridges happened over 100 years ago. This was where Relja and Nada met and where the woman died. It is still relevant and used to hang love padlocks to this day.
As mentioned above, Nada died of heartbreak, and this one has become adorned with padlocks as a sign of her lost love and her lost lover. The locks are inscribed with various names of guests from around the world and local women and their partners and lover.
To this date, the fear of losing lovers or partners is relevant, making women pray and hang the lock for their love to be endless and forever, even today.
2.3) Pont Des Arts, Paris
This is one most famous love lock bridges. This might also be the bridge that made the padlock tradition famous. It was made many years ago to connect the city in the seine to the rest of the area. This was not always a padlock bridge. It is in the peak district of France.
This tradition came into Paris in the year 2008 from young Italian couples. There are many love-lock ones in many parts of Italy. This instantly became famous and became a tradition loved by all. Fast the trend caught up, and people fastened padlocks.
This became a major scenery in the area as you see many love locks fastened on the grate and fence over here. In 2014, a part of the grates that carried the love locked collapsed.
2.4) Hohenzollern Bridge, Cologne, Germany
This padlock bridge is also called Hohenzollernbrüke Bridge. The city is in the peak district and is known for its bridge and also being the place where cologne was invented. It is also one such loved by people. It is on the Rhine.
The overpass is adorned with numerous love locks on its fence that are increasing per day.
The locks first began to be seen on this overpass in 2008. since then, this place has been crowded with padlocks hung by tourists from around the world and local people.
The overpass is 410m long with almost 40,000 padlocks on, and no gaps are left. There is also a wall full of love locks, called the 'wall of Love pad lock'.
It is a colourful and beautiful padlock bridge with locks of various colours coming together to make a great masterpiece. This overpass weighs over 2 tons in weights, and the collection of waves is still growing.
2.5) Makartsteg Bridge, Salzburg
This padlock bridge is so famous among local and international couples. It is so renowned that it's called 'Love Locks Bridge' as there are hundreds and thousands of locks by young and old couples. It is also on the river Salzach and was built in 2001. It is named after the famous painter of Austria, Hans Makart.
The structure has an immaculate and romantic background with a panoramic scene that includes a cathedral and a fortress. The overpass is just a few blocks from Famous Wolfgang Amadeus Mozart's old Home.
There is a jewellery store called Heart of Mozart that sells love locks. These locks are called to interest the tourists who aren't in love but would hang a lock for luck. These are also called 'Luck locks'.
3. Frequently Asked Questions (FAQs)
Q.1. What do padlocks on bridges represent?
Locking padlocks on a bridge means locking your love forever as an everlasting Love.
Q.2. Can you put Locks on the overpass still?
While some love lock bridges, like Pont de Arts in Paris, don't allow hanging love lock on, most love lock bridges still function and allow turning it.
Q.3. Where is the world's famous padlock bridge with love locks?
The padlock bridge in Paris, Pont de Arts, is the highest with love locks. They allow for hanging personalized locks on the railings and throwing the keys into the river.
Q.4. Which is the best love lock bridge to Propose?
The best padlock bridge to propose is the overpass in love's city, Paris. You can also go for the Magere Brug in Amsterdam, a love-lock bridge. This popular location looks the best at night.
Q.5. What do you write on a love lock?
You can write anything. You can put on a love lock for yourself, your partner, or your parents. You can engrave quotes that mean a lot to your partner, lovers, or date that is important.
4. Are Padlock Bridges a Truth or a Myth?
The padlock bridge signifies forever enduring love and sometimes symbolises luck. There are many more that accommodates love locks in the world.
All of them are covered in locks which proves that there is still hope of true love forever in people. The people who hang a love lock with a partner hope to have a loving life with their partner, while those who turn a lock alone hope to find love that makes their life more lovable.
Some of the popular locations in various sites of major cities, for example, are the Brooklyn bridge in NYC, USA, Wye Bridge in the United Kingdom, Luzhkov overpass in Moscow, Russia, Ponte Milvio bridge in Rome, Magere Burg in Amsterdam, and many more around the world.
All the viaduct has millions of padlock bridge hanging on them. While these locks are a sign of love, these locks caused to weigh down the overpass which makes the structure weak for people to walk on. This makes the overpass dangerous, and a mishap is just a step away.
5. Conclusion
Many laws have made it illegal to hang locks on some bridges. There has been awareness in Facebook groups by spreading about the disaster a weak one can cause. A Facebook group is also trying to save bridges and love locks.
But these things can't hide the fact that these bridges symbolise unbreakable love, romance, and everlasting affection for many, and everyone should visit these beautiful places.