Baklava recipe is one of the Greek recipes which is a baked cuisine created consisting of layers of crisp phyllo sheets sandwiched between layers of a sweet, spiced nut mixture. The entire item is then covered with a fragrant syrup that contains honey, lemon, and cinnamon.
This amazing recipe takes a little while to prepare and is not suited for beginner bakers, but if you can assemble a cake successfully on your own, this is a fantastic next step in your baking education.
This honey baklava recipe is a flaky, crispy, and soft American/Turkish treat that is not too sweet. It is like having a party with one bite in your mouth. Anyone who has had this Turkish dessert understands why. The tastes and textures of this homemade baklava are one-of-a-kind and amazing.
American/Turkish Baklava is a dessert created with layers upon layers of butter-brushed phyllo pastry with cinnamon-scented walnuts in the centre. After baking, you pour a citrus honey syrup over the phyllo to absorb up.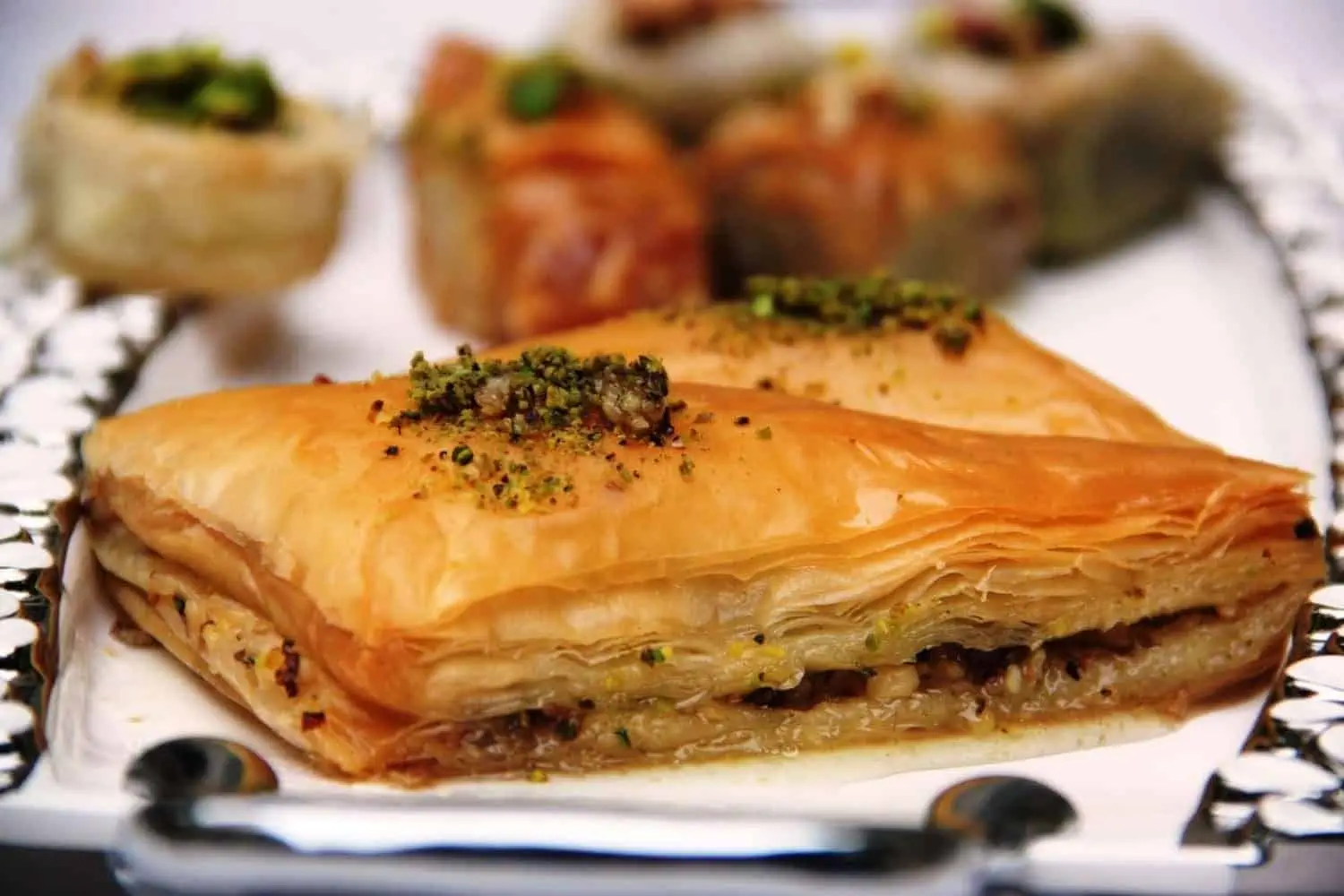 The Origin of Baklava
The baklava recipe is a tasty phyllo pastry popular in the Middle East. Its alleged Turkish origins date back to the Byzantine Empire (or perhaps further), however many civilizations claim it as their own.
It is served in many Greek and Lebanese restaurants, and it is now a popular dessert in various former Ottoman nations.
Baklava in Greece and Beyond
In the late 1800s and early 1900s, Greek immigrants to the U.S. carried their baklava recipes with them, and it was from these Greek Americans that other Americans first heard about the dessert.
Many civilizations, however, have some version of baklava in their culinary heritage that dates back hundreds of years. It is more likely that different cultures in Southeastern Europe, Central Asia, and the Middle East each had their custom of thin layers of bread/pastry packed with various delicacies in between.
Scholars are uncertain about where the treat originated, although many point to Turkey or Armenia because the earliest accounts of the dish exist in those countries. The variation that has been passed down from numerous civilizations is probably what makes the one that you have acquainted with today—thin layers of phyllo packed with nuts, spices, and sugar and topped with a honey-sweet syrup.
Baklava Flavours and Recipes Vary Across Countries and Regions
Baklava is usually produced in Turkey by filling the layers of dough with pistachios, walnuts, or almonds (in some parts of the Aegean Region).
Gaziantep, in southeast Turkey, is well-known for its pistachio baklava.
The baklava recipe in Armenia is seasoned with cinnamon and cloves.
Greek-style baklava is meant to be baked with 33 layers of dough, representing the years of Christ's life. But you can still add more than 33 layers, it is just your choice.
A drier form of baklava is prepared and served in smaller diamond-shaped pieces flavoured with rose water in Iranian cuisine.
Baklava made from phyllo dough sheets, butter, walnuts, and sugar syrup is cut into lozenge-shaped pieces in Lebanese, Syrian, Jordanian, Iraqi, Egyptian, Israeli, and Palestinian cuisines.
Baklava is often eaten at room temperature and is commonly garnished with ground nuts. It is simple to prepare at home for the ordinary individual.
Baklava is a Great Recipe to Bake
Honey Baklava is sweet, but not too so. It has the correct proportions—not too many nuts, but just enough dough to keep it all together. This recipe calls for people craving sweet tooth. Since only a few ingredients are needed in the shopping cart to get started, it is make-ahead friendly because it does need to sit for a bit once it is produced.
The main ingredients in this dish are honey, walnuts, and phyllo dough, with some citrus and spices to round out the flavour. The nicest part about this baklava recipe is that it can be stored at room temperature for up to a week or frozen. If you wish to send some to a loved one, baklava travels well and won't disappoint.
Baklava is all about layering and putting things together. It is not a difficult dish to prepare but is a bit time-consuming. Let's begin by gathering the ingredients for a delicious dish that calls for homemade baklava, a recipe that will provide enough for a party that will appreciate your efforts.
Cooking Time
It will take approx 90-120 minutes to make baklava dessert.
Servings
30 pieces 
Nutrition Facts (per serving)
313 calories

21g fat

30g Carbs
4g Protein
Ingredients required for Baklava recipe
16 oz phyllo dough, thawed according to package directions
1 1/4 cup unsalted butter, melted butter
1 lb finely chopped walnuts (about 4 cups)
Optional garnish: melted chocolate chips and chopped walnuts
Optional garnish: finely ground pistachios
To Make the Syrup
1 cup of water
1 granulated sugar cup
1/2 a cup of honey
2 tablespoons lemon juice, 1/2 lemon juice
1 stick cinnamon '
Or you can directly use maple syrup over the hot baklava recipe if you enjoy having maple syrup. The baklava recipe is mostly all about layering and assembly. It is not a difficult dish to make, but it does take some time. I'm sure you can put together the best baklava than any store-bought baklava recipe. You will probably love baklava once you make this recipe.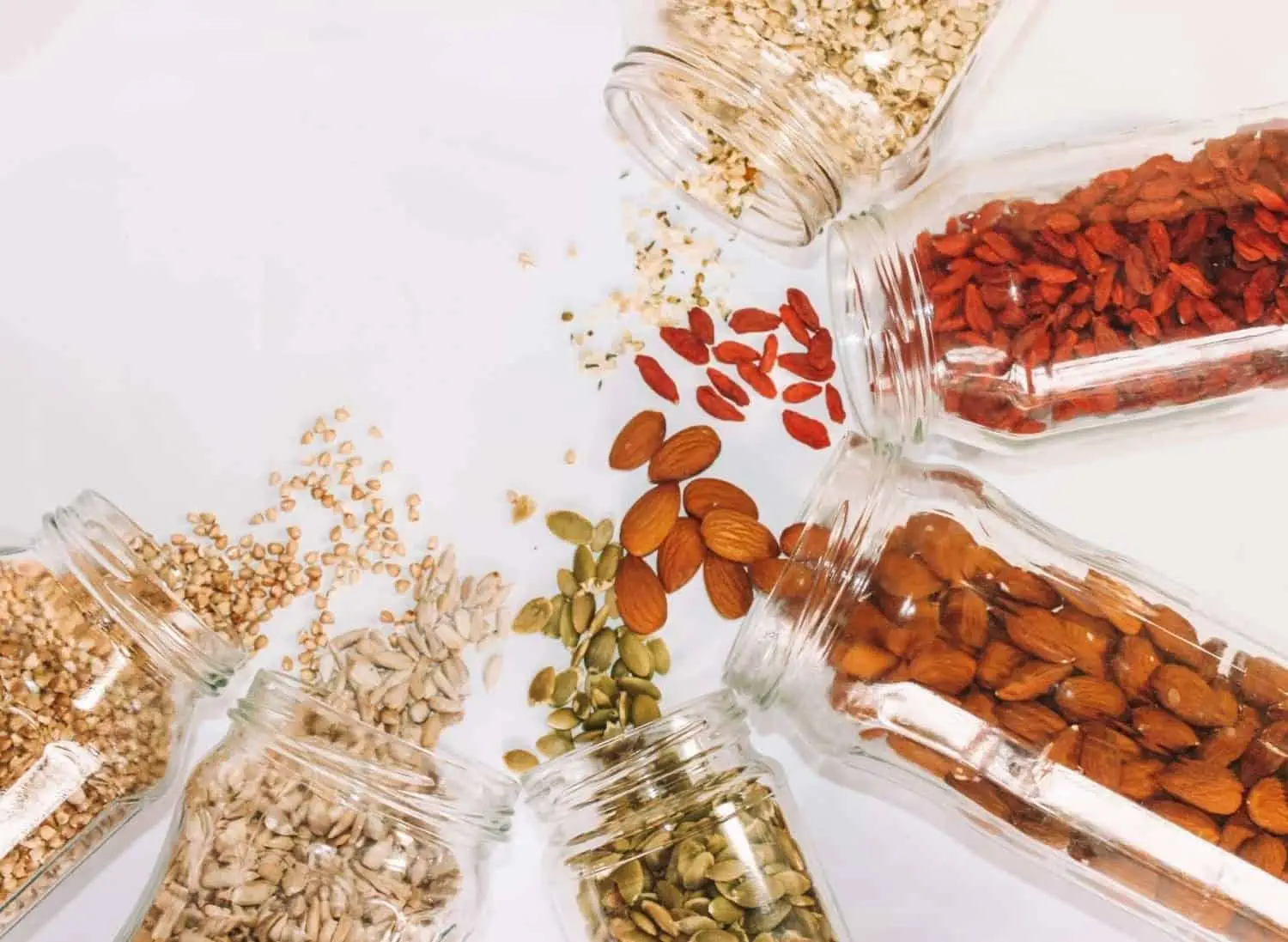 Here is How to Put Them Together
Baklava Tips Before Getting Started
The baklava recipe is the "perfect make-ahead dessert." Here are a few of the best tips and tricks that will help along the way to making a wonderful recipe.
1. Chop the nut mixture in a food processor for baklava filling to save time.
2. Make the dough ahead and use frozen phyllo dough.
3. Ensure the phyllo sheets stay moist during the process of phyllo layers by keeping the stack covered with a damp paper towel or cloth.
4. Are you concerned about tearing the dough when brushing it with butter? Don't be. If you are concerned, spray some melted butter onto the phyllo dough between the phyllo layers instead of using a pastry brush.
5. If the phyllo dough sticks to your hands while you are working with it, keep a bowl of water nearby. Keeping your fingertips moist will keep them from sticking.
6. When it is time to eat, consider serving (and storing) the baklava in cupcake liners to prevent sticky fingers.
The thing that most often scares people away to make this recipe is handling the tissue paper-like filo sheets of phyllo. Believe it, making baklava is not that difficult if you remember a few simple tips.
Working Tips with Phyllo Dough and Phyllo Sheets
The tissue paper-thin phyllo dough is delicate and rapidly breaks if not handled properly, but the result is merciful, so don't be concerned if it all falls apart. You can make a mess of dried-out phyllo and butter for your first attempt, and the baklava will still taste delicious.
1. Refrigerate your phyllo dough to defrost – Place the box of phyllo dough in the refrigerator to defrost the night before you plan to prepare your baklava. If you use frozen phyllo, it will crack.
2. Carefully unwrap it– The phyllo is frequently wrapped in plastic and should be easy to unwrap. Leave the larger plastic sheet underneath it and attempt to unroll it in the location where you will be using it so you don't have to relocate it after it is put out.
3. Cover with a wet tea towel – Place a dampened cotton or linen tea towel over the unrolled sheets. Important: Make sure the towel is thoroughly wrung out. If the towel is too wet, it will stick to the sheets.
4. Keep it hidden – After removing a sheet of phyllo from the stack, always replace the tea towel.
5. Handle with care – Be gentle with the phyllo sheets. Keep the stack close to your baking dish so you don't have to transport it far once you lift a sheet off.
6. Rips and tears are OK – The phyllo dough rips readily, which is OK. Because you are layering the dough, a rip or ragged edge here and there is fine and will likely be buried within the baklava. Even if your last piece splits somewhat, it will just add to the dish's rustic, multi-layered appearance.
7. Phyllo is being trimmed – Because phyllo comes in a variety of sizes, a single sheet may not fit into your baking pan. Trimming the phyllo to fit is one option: Simply measure the inside of your pan and trim the entire stack to fit using scissors. 
8. Trimming is not always required – You can use your sheets without trimming even if they aren't a perfect fit for your pan. Simply fold them over to fit, making sure to stagger the folds so you don't create extra layers in one spot.
9. Use only a small amount of butter – It is not necessary to completely coat each layer with melted butter or unsalted butter to make baklava. Brush the butter on sparingly, without covering every inch of the surface. If you press too hard, the phyllo sheet will be dragged or torn.
Now that you know the baklava ingredients and precautions to handle the phyllo dough, let's get started to make the real Greek baklava recipe.
Step 1
Thaw the phyllo dough according to the package directions (as mentioned in the handling tips this is best done overnight in the fridge, then place it on the counter for 1 hour prior to starting your recipe to bring it to room temperature).
Step 2
Preheat the oven to 180°C/160°C fan/gas 4 and butter the tin you will use for baking.
Step 3
In a medium mixing bowl, combine 4 cups finely chopped walnuts and 1 tsp cinnamon stick.
In a food processor, combine the walnuts, cinnamon, cloves, and salt: Pulse 10 times, or until the ingredients are coarsely ground/finely chopped. That is the stuffing. It is so simple.
Once you have finished using a food processor to chop the nuts into small pieces, be careful not to process them into a paste. Put them in a bowl with honey and a pinch of salt and set aside.
Step 4
Melt the butter in a small saucepan over low heat. On the bottom and sides of the phyllo dough, brush them with butter.
Step 5
Half the first bag of filo pastry sheets (so that they fit the tin). Brush one sheet with melted butter and place it in the pan. Layer another sheet on top and brush with butter again; repeat until the entire pack is utilized.
Place 10 phyllo sheets, one at a time, into a baking pan, followed by another layer of nuts, coating each sheet with butter after it is in the pan before adding the next (i.e. place phyllo sheet into pan, brush the top with butter, place next phyllo sheet in a pan, butter the top. Top with ten layers of buttered phyllo sheets. Brush the entire surface with butter.
Spread the honey and nut mixture over the pastry and use the back of a spoon to gently push it down. Continue layering and buttering by opening the second filo packet, cutting it in half, and layering once more. When you get to the last sheet, pour any remaining butter over the top to complete.
After you have completed 10 layers of phyllo, add about 1/5 of the walnut mixture to the pan, distributing it evenly: you'll need around 2/3 cup of walnuts for each nut layer.
To fill the entire pan, follow these steps:
10 butter layered phyllo sheets, 3/4 cup nut mixture,
5 butter layered phyllo sheets, 3/4 cup nut mixture,
5 butter layered phyllo sheets, 3/4 cup nut mixture,
5 butter layered phyllo sheets, 3/4 cup nut mixture,
5 butter layered phyllo sheets, 3/4 cup nut mixture,
10 butter layered phyllo sheets, 3/4 cup nut mixture,
10 butter layered phyllo sheets, buttered on top
Brush each layer of thawed phyllo dough with melted butter: you don't need to brush each layer thoroughly. Just a quick swish across the surface several times to cover the majority of it.
Step 6
Cut the phyllo dough to fit the baking sheet. The phyllo dough package will include 5-6 rolls with a total of 40-50 sheets that should be measured to the size of the pan and gently trimmed if they come out of the pan. Trim one stack at a time, then cover with a damp towel to prevent drying.
It is the way to go if you want your baklava to be perfectly even.
Step 7
Once the baklava has been layered, cut it into pieces with a sharp knife into whichever form you wish. You can make squares, diamonds, triangles, or any other shape you like.
Step 8
Bake the baklava for 50 minutes, or until the tops and edges are golden:
Reduce the heat to 150°C/130°C fan/gas and bake for 45 minutes more.
Allow the baklava to cool for at least 15 minutes.
Step 9
Meanwhile, begin making the syrup. In a saucepan, combine honey, water, sugar, cinnamon, orange peel, and lemon peel and add them to 200 ml water.
Bring to a boil and immediately spoon, then reduce to low heat for 5 minutes to enable the cinnamon and citrus flavours to infuse the syrup. Bring to a boil over medium/high heat, stirring constantly, until the sugar is dissolved, then reduce to medium/low heat and continue to boil for 4 minutes without stirring.
Gently heat until the sugar has dissolved, then boil for 8-10 minutes, or until the mixture has reduced to the consistency of runny honey. Remove from heat and set aside.
Step 10
Remove the citrus peels and cinnamon stick from the syrup and evenly pour the hot syrup over the baklava allowing it to run into the lines you have cut. Do not allow the syrup to cool. Let the baklava cool completely after taking it out of the oven then pour the honey syrup.
Once you pour the sugar syrup over the baklava; it should soak it up immediately. The syrup must be hot when you pour it over the baklava, or else it will not soak properly.

Allow 

it 

to 

soak completely

 

before 

serving.
Step 11
Now comes the problematic part: let the baklava at room temperature for 8 hours, uncovered, to allow the syrup to thoroughly permeate and the flavours and layers to merge.
Allow the baklava to sit at room temperature for 4-6 hours or overnight to allow the syrup to infiltrate and soften the layers.
Baklava can be topped with finely chopped nuts or drizzled with melted chocolate.
Store at room temperature for 1 to 2 weeks, covered with a tea towel.
To avoid sogginess, you should leave it uncovered. The Baklava is now ready to eat. There are so many delicious layers of taste. This is without a doubt our favourite baklava recipe.
The baklava can be stored at room temperature for up to a week. Alternatively, you can refrigerate for 3 weeks or freeze for up to 3 months. Wrap the baklava tightly in an airtight container to prevent it from absorbing bad flavours.
How to Store Baklava?
Baklava has a reasonably extended shelf life due to its high sugar content. It will keep in an airtight jar for about two weeks. If you want your baklava crispy, keep it in the pantry. Choose the fridge if you prefer it chewy.
Can You Freeze Baklava? 
Yes, honey baklava, or any baklava, can be frozen. Allow the baklava to cool completely before wrapping it in a layer of plastic wrap, followed by a layer of aluminium foil. For further protection, add another layer of aluminium foil. Store in the freezer for up to three months. Thaw in the refrigerator overnight.
How to cut Baklava Properly? 
Another key consideration is to have a razor-sharp knife on hand. To ensure that all of the pieces are separated, the baklava should be sliced before baking and recut after baking. A sharp knife is essential.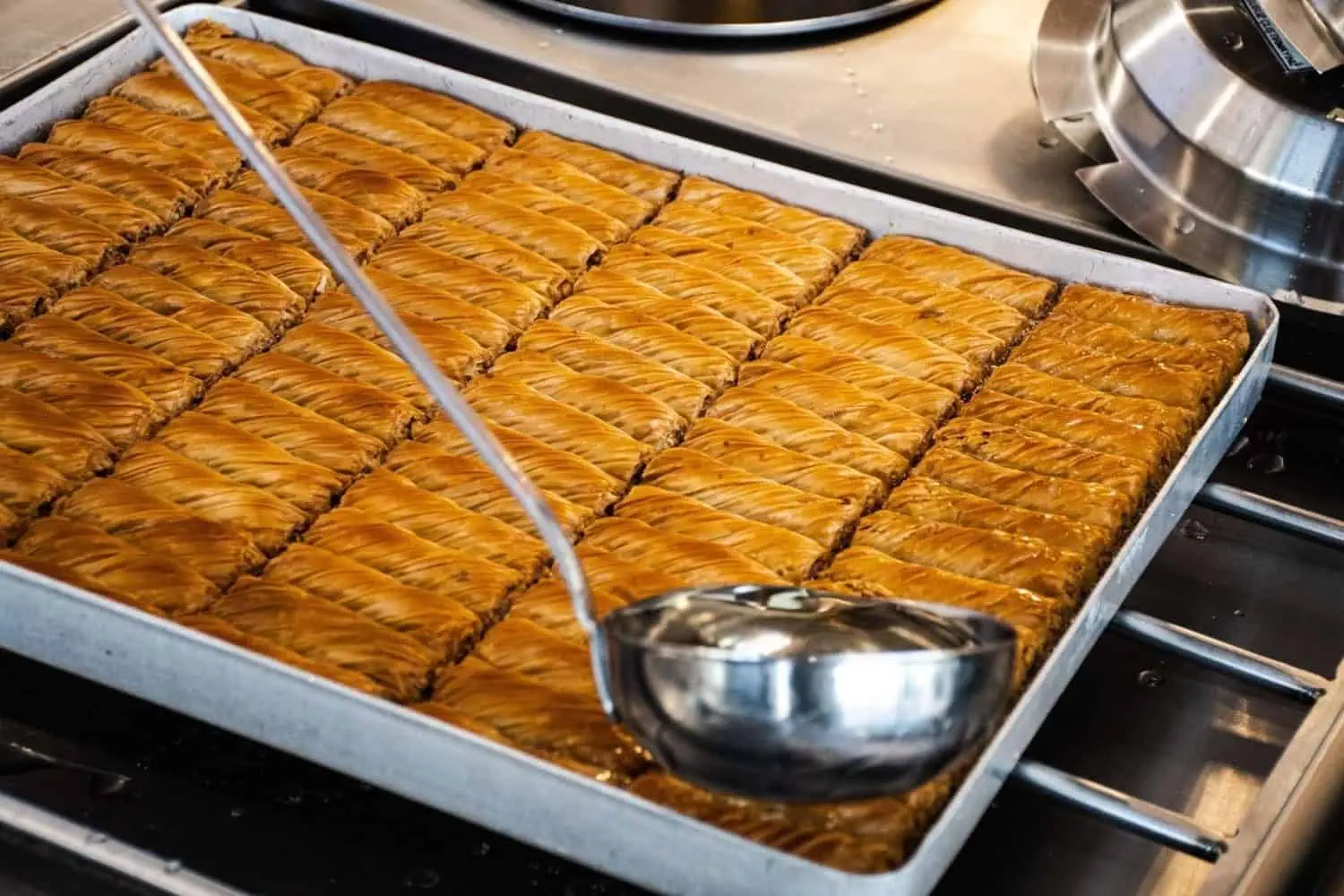 Is your Baklava Falling Apart?
The proper layering of Baklava is essential to preventing this dish from falling apart. The correct amount of phyllo sheets must be stacked to support the weight of the nuts and syrup.
Can you use Rose Water on Baklava?
Even though it is not mentioned in the recipe above you can add rose water while layering or at the end sprinkle it on the top layer if you enjoy the essence of it. It is suggested to put 1 teaspoon rose water and 1/4 cup water in a spritz bottle and mist the nut layers before beginning the next phyllo layers. Here comes the difference between Greek Baklava and Lebanese Baklava recipe.
The biggest difference between Greek and Lebanese Baklava recipes is the ingredients used to prepare the syrup. Greek Baklava syrup is primarily produced with honey that has been seasoned with cinnamon and lemon juice.
Sugar, water, rose water, and sometimes orange blossom water is used to make Lebanese Baklava syrup. Whatsoever, Walnuts are the favoured nut in both countries.
How do not Make Baklava Become Soggy?
The butter brushing, not the sauce, causes soggy baklava. Allow to cool completely before serving; do not store in the fridge or cover. If you leave it out on the counter, it will turn soggy.
Is it Possible to Make Baklava Without Nuts?
Yes. Some recipes use chopped apricots or coconut, which aren't traditional yet one can always experiment with the ingredients.
Hopefully, this recipe and its history inspire you and urge you to try out the baklava recipe at home by yourself. It is easier than you wonder and very satisfying. You can always try to make baklava with your combination of nuts and fillings, just the fact that it should be tempting for you to eat a small plateful of it. This recipe has that essence of tempting you, give it a try!