Today I will introduce some of the Best Facts About Lake Garda.
This lake, also known as Lago di Garda, is one of the famous Italian lakes which can make your holidays special.
It is also referred to as Italy's largest lake and is one of Europe's most popular travel destinations.
The length of this lake from the northern shore to the southern shore is over 50 km, and the breadth from the eastern shore to the western shore is about 20 km.
This is a very old lake formed in the last ice age. Formerly it was named Lake Benaco. This lake provides a mild climate for the growth of plants at the border.
This lake is rich with flora and fauna with great diversity. Mountains and water always give the best feeling with water and climbing activities.
Crystal clear water of Lago di Garda always gives attractions to the visitors. There are many hotels and restaurants available here to stay safe.
It's important to realize that it will take more than one day to cover the entire lake. You require 3 to 5 days to enjoy your holidays at Lago di Garda.
If you want to read more interesting facts about Lago di Garda, you must scroll down this page.
15 Interesting Facts About Lake Garda-
1. Lake Garda Is Italy's Largest Lake
The size of Lake Garda makes it the largest lake in Italy.
The area of this lake is about 370 square kilometres, with length and width of 51.6 Km and 16.7 Km, respectively.
Its surface measures about 65 meters above sea level. The maximum depth of this lake is 350 meters, but the average depth of this lake is about 154 meters.
It can contain 50.35 cubic kilometres of water within it.
2. It Is Covered by Mountains
Lake Garda is surrounded by the Dolomite Mountains and Garda Mountains, situated in the Alps.
These mountains give you the best views of the lake. The shape of the Dolomite mountains is also very unique.
The Dolomites are one of the best alpine destinations in the world, while the Garda Mountains have only a few glaciers.
These mountains are located north of the lake and are popular destinations for climbers, hikers, and bikers.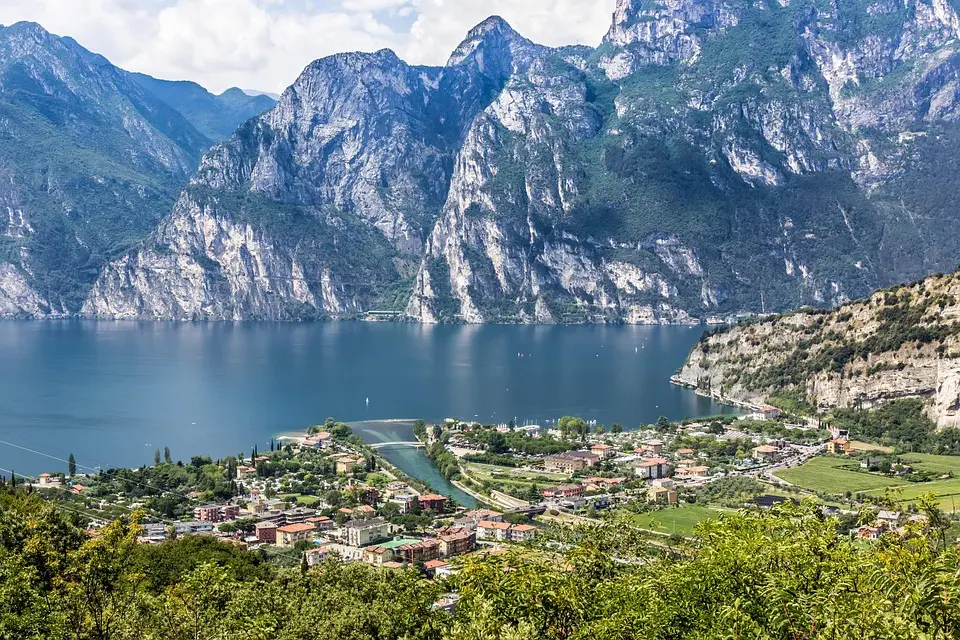 3. The Lake Holds Five Main Islands Within It
There are five main islands and many small islands available in this lake.
The name of these islands are Isola del Garda, Isola San Biagio, Isola di Trimelone, Isola di Sogno and Isola dell'Olivo.
The biggest and the smallest islands in Lake Garda are Isol del Garda and Isola dell'Olivo, respectively.
The luxurious islands make the lake beautiful and charming. Tourists can stay on these lavish islands and enjoy water sports activities in Lake Garda.
These islands may just be the best part of your journey in Italy.
Isola del Garda, also known as Borghese island, is a privately owned island, so an appointment is required to visit it.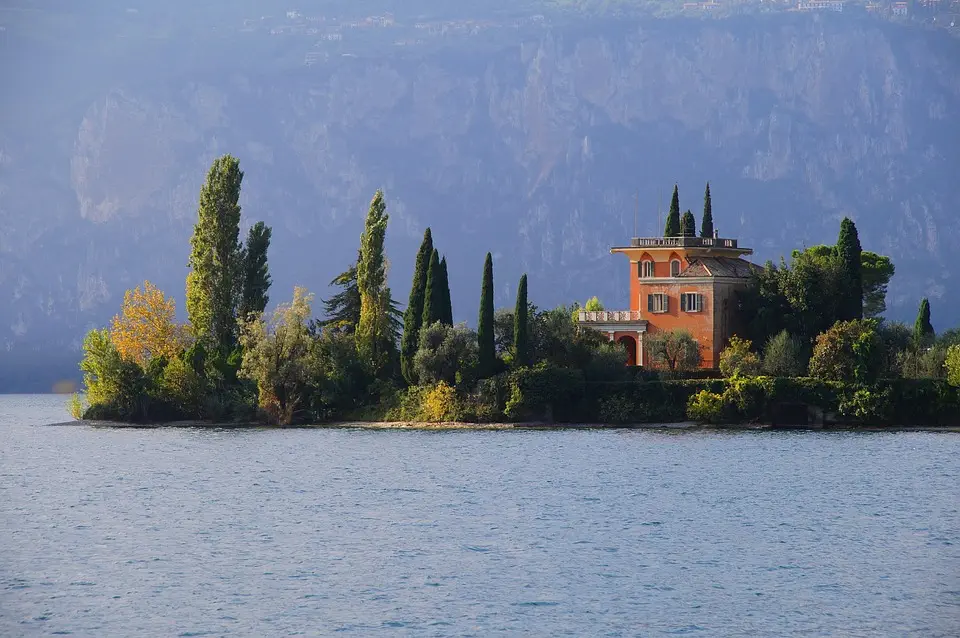 4. Situated in The Northern Part of Italy
Lake Garda is situated in Northern Italy, just below The Alps.
The northern part of Lake Garda is very narrow, and the Gruppo Di Baldo Mountains surround it.
Hill climbing and mountain biking-type activities can be done here.
There are 25 villages in total along Lake Garda's coastline. The culture and character of every town will give you an easy way and ability to celebrate life.
According to the visitors, all town shows different characters.
4.1. Sirmione and Malcesine Towns
You can experience a combination of water and hills in the northern towns of this lake. The northern shore is a great place for daily activities.
The cable car facility is a special attraction in Malcesine Town.
However, if you want to enjoy the flat and wide, then go to the southern shore of the lake.
The southern shore is an attractive wine-producing area. Southern resorts will be the best place to enjoy your day trip also.
Sirmione, the jewel of the southern shore, is one of the most popular destinations for visitors.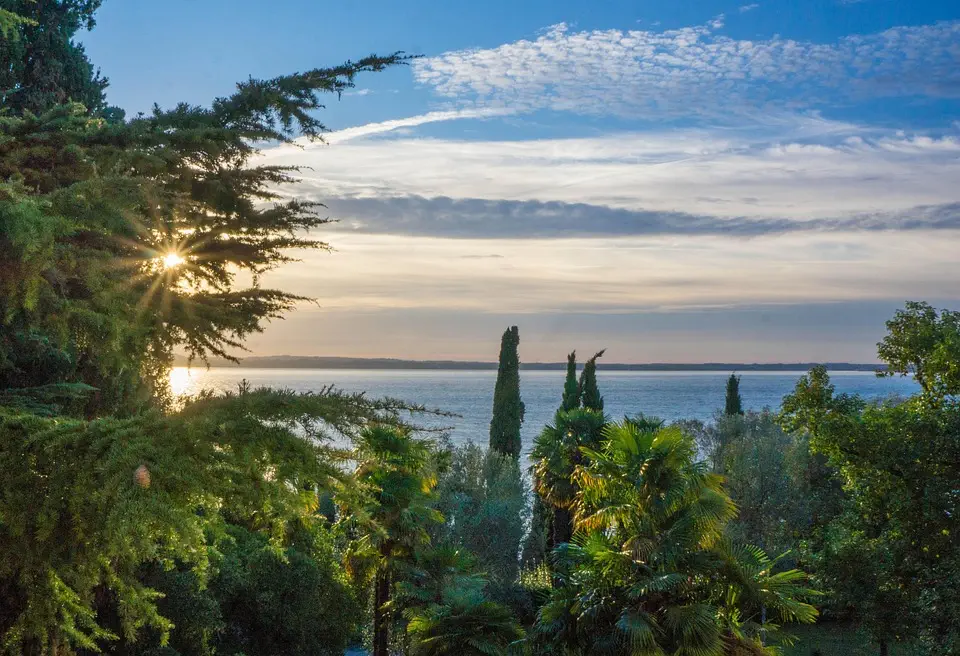 5. Violin Was Born Here
It is also interesting to know that Lake Garda has great importance in the history of a musical instrument called The Violin. Lake Garda is known as the birthplace of this musical instrument.
According to recorded history, the First violin was made by two violin makers in Italy. The names of these violin makers are Gasparo di Bertolotti from Salon and Amati from Cremona.
According to history, Andrea Amati got an order from the french king Charles IX to produce 24 violins for him in 1560.
Cremona in Italy is also known as the World Capital of Violin. There are about 160 violin workshops in Cremona.
Violin is a very popular instrument for both street musicians and nobility.
6. A Lot of Hidden Hot Sulphur Springs Here
Lake Garda is a place where you can enjoy the hidden, hot sulfur spring bubbles produced naturally. Sulfur hot springs are hidden in the secret region of Tucson, Italy.
In this lake, the water contains a high level of sulfur and carbon. All year the water temperature remains at 95 degrees Fahrenheit.
There are many spas and thermal baths available around Lake Garda. Most days, these thermal baths are open to the public.
Persons who want to keep their body and soul in line in holidays go to Lake Garda with a health retreat.
Different types of water are available in Lake Garda, which is certified and graded by physicians.
According to the requirement of patient, these physicians offer consultation for therapies.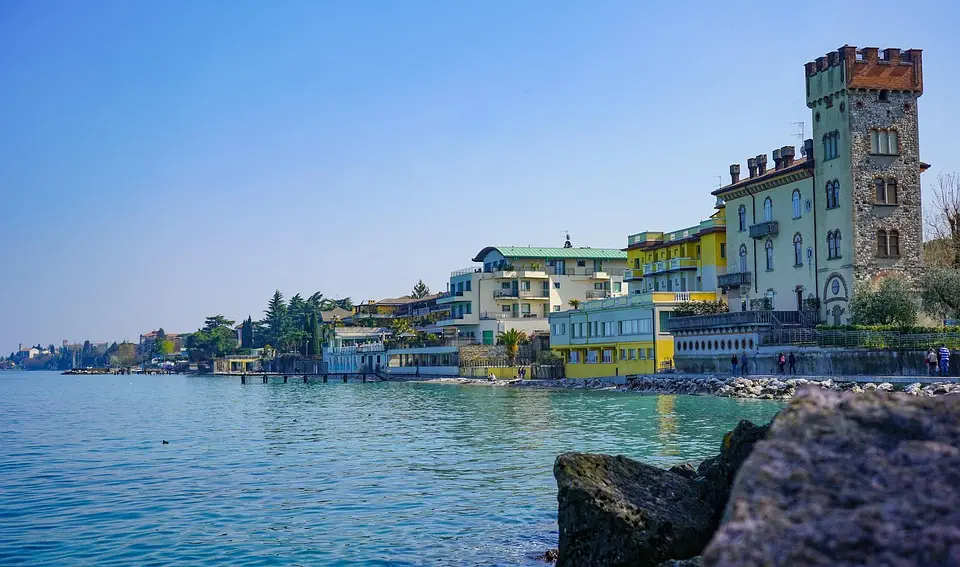 7. Capital of Mussolini
Benito Mussolini was an Italian fascist leader in 1943.
At the time of the Second World War, when Italy was in a hopeless situation because Allies countries were entering Italy and its resources were reducing, Mussolini was pressured to resign, and Hitler ordered to enter more forces into Italy.
Mussolini resigned, and The New Government of Italy declared war on Germany on 13 October 1943 after Mussolini had run away from Rome.
This war ended at Lake Garda, but it was also controlled by Germany. So, Mussolini established the Salo Republic between Lake Garda and Salo.
This was a place that was not under threats of airborne attacks. After two years also Allies countries continued to enter Italy.
After taking a final meeting in Milan in 1945, Mussolini ran away to the north and was arrested.
8. Many Famous Battles Were Fought Here
Lake Garda is also a famous place because many historic battles were fought here.
In early 269 AD, the Battle of Lake Benacus was fought near Lake Garda. This war was fought between the Roman Army and Germanic tribes.
At this time, the Roman Army was headed by Emperor Claudius II and Germanic Tribes were handled by Alamanni and Juthungi.
The Battle of Solferino is also one of the most famous battles fought near Lake Garda in 1859.
This battle started when Italy was trying to reunify small kingdoms. This war was fought between Austrians, Italians, and Frenchmen.
In this war, about 25,000 soldiers lost their lives, and about 20,000 soldiers were wounded.
Austrians had lost this war, and they were forced to retreat.
Several times, the towns near this lake were bombed during the First World War. Many guns and artilleries had been installed here, but Austrian bombers attacked the place and destroyed the guns and artilleries.
The Second World War also had an impact on Lake Garda, even though it was not directly affected by it, as this was the main reason for the establishment of the Solo Republic near Lake Garda.
9. Rare Engendered Carpione Fish Found Here
Carpione Fish, also known as the King of Lake Garda, is found here. In ancient times Carpione was a synonym for Lake Garda.
The other name of this species is Salmo Trutta Carpio, which belongs to the Salmonidae family of fishes.
The Salmonidae family of fishes includes three main species Trout, Char, and Salmon.
It is also highly intriguing that this particular fish family can only be found in Lake Garda.
Carpione has legendary status because it is very hard to catch. Carpione can live below 200 m or more from the surface. Fish come closer to the surface when they reproduce.
Now this species has been declared a critically endangered species.
There are about 25 more species of fish also found in the underwater world of Lake Garda.
10. Developed in The Ice Age
Lake Garda formed millions of years ago in the quarter-nary ice age. The formation of this lake was done by a glacier.
A big island slid to the foot of the mountains and melted. With the melting of the island, the largest lake was formed in Italy. Now, this is known by the name Lake Garda.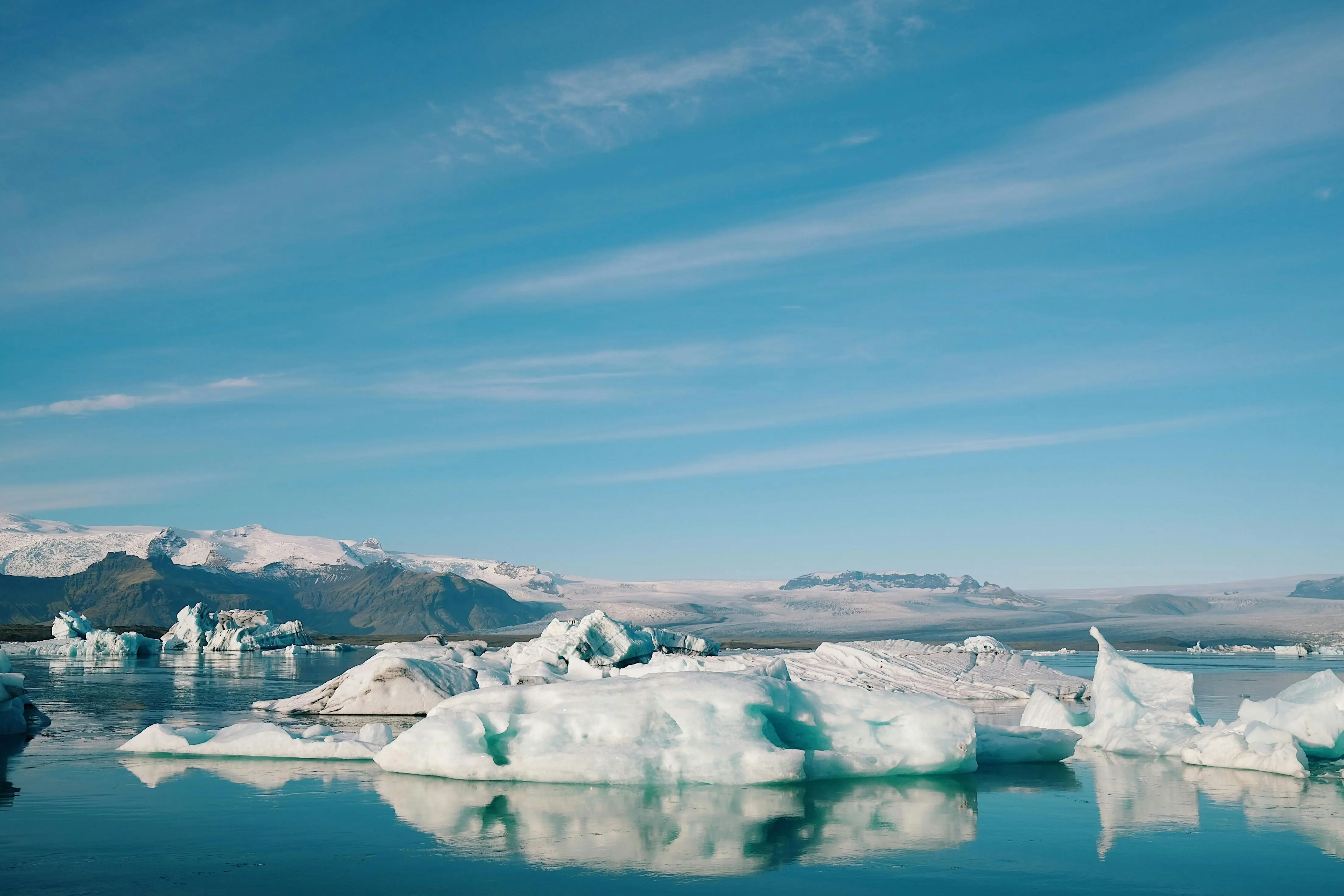 11. Only One Outlet with Many Inlets
There are many inlets for the Lake. Ponale River (Lago del Ledro), the Magnone/Varone River (Cascate del Varone), and various other sources are also available as an inlet of the Lake.
Sarca River is the largest tributary of Lake Garda, but there is only one outlet for the Lake.
Minco River is the only outlet for the lake in the southern part of this Lake.
12. Fully Tourism-Based Economy
It is one of the most important things about Lake Garda that the economy of Lake Garda is mostly dependent on tourism. They provide all facilities which are necessary for tourists.
These facilities may include well-being, relaxation, culture, sports, etc.
Lake Garda is one of the top destinations for more than 20 million tourists visiting Italy annually.
Due to this tourism crowd, nearby villages of the lake are rich in pottery, leather goods, and wooden crafts.
There are also other sources of income like fishing, wines, and olive oil. We also can't forget Bardolino, which is one of the top brands of wines in Italy.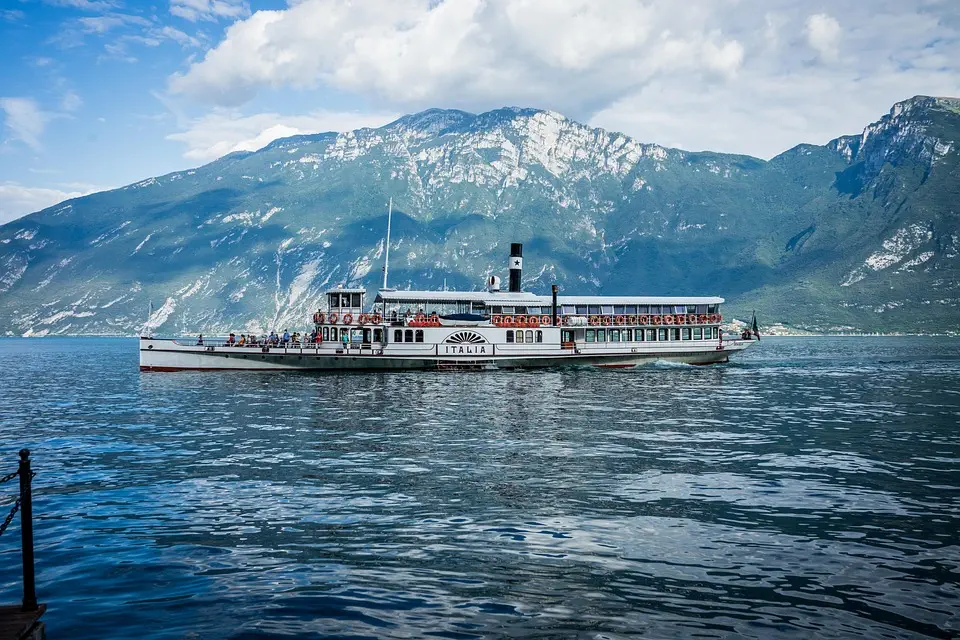 13. Expanded in Three Italian Provinces
The water of this lake touched with three provinces of Italy in the north. These three regions are named Veneto, Lombardy, and Trentino.
The northern shore is located in Trentino, the east and southeast shores in Veneto, and the western and southwestern shore in Brescia.
If we focus on Trentino, then we can find there are many water and mountain sports for sportsmen. These games may be kite surfing, windsurfing, rock climbing, and mountain biking.
Riva del Garda town and Arco are famous places in the Trentino region. These places provide you wide range of sports activities and give you a broad view of the lake's area.
If you want to enjoy your holidays with full attractions, then you should choose Veneto lakeshore.
In this region, Riviera Degli Ulivi is one of the very charming destinations with beautiful villages, theme parks, sports, and many more.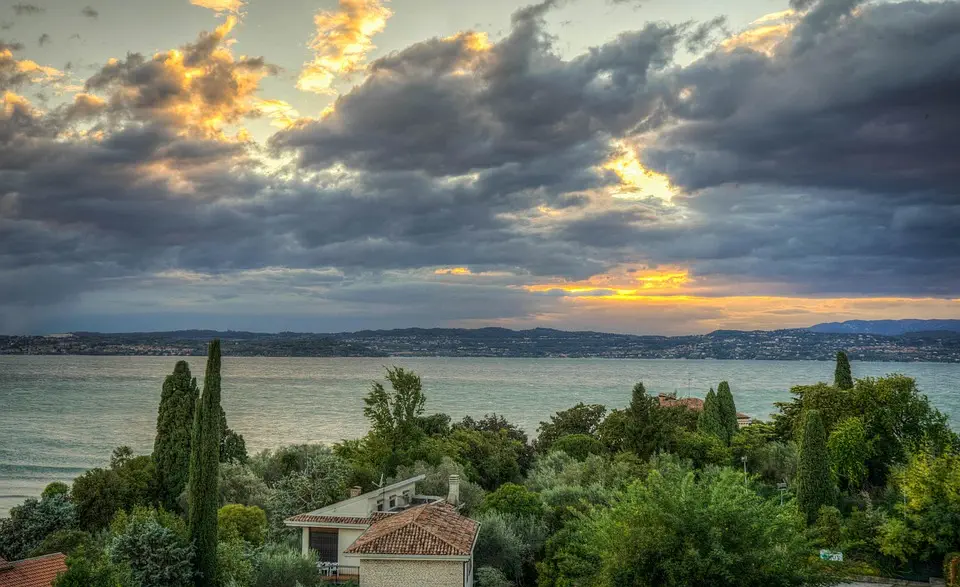 14. One of The Most Popular Destinations for Tourists in The World
It is one of the well-known facts about this lake that this is one of the very popular destinations in the world for tourists. You won't get bored here if you stay for a few weeks.
More than 20 million tourists visit Lake Garda each year to take in its uniqueness. You can enjoy your holidays between the water and the mountains.
You can find the most beautiful towns and villages near this lake. Historic landmarks and spa towns always attract visitors.
Kiteboarding, sailing, windsurfing, and other water activities give you a great feeling in your holidays.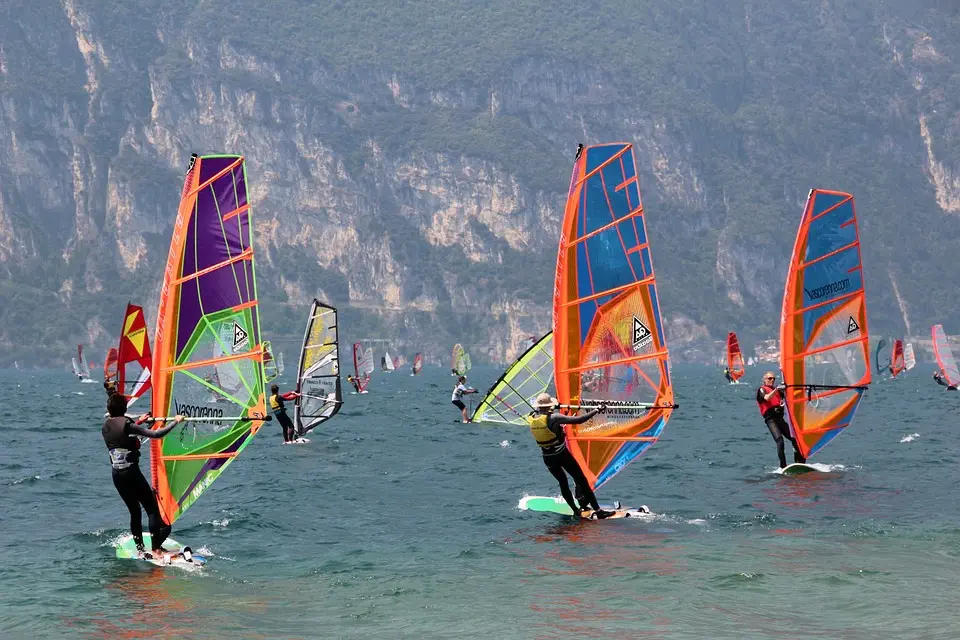 15. Highly Rich in Biodiversity
Another one of the amazing facts about this lake is that it is famous for its rich and marvellous flora and fauna.
You can enjoy here many colours, landscapes, and natural beauties.
There is a great number of natural parks with the beauty of plants, flowers, animals, waterfalls, and streams.
Many beautiful beaches and islands are situated in Lake Garda, which always gives a special attraction to nature lovers.
It is one of the best places for those who love open-air and outdoor activities.
You can also see here many species of coloured and beautiful butterflies and about 60 species of orchards.
15.1. Lemon Riviera and Olive Riviera
Growing lemons and olives in a Mediterranean climate always attracts visitors.
Due to the many terraced gardens of lemon on the west shore, the west shore is also known as Riviera dei Limoni (Lemon Riviera).
Due to the major growth of olive groves in the eastern region, the eastern shore is also called the Riviera degli Olivi (Olive Riviera).
Conclusion
According to the above facts, it is clear that Lago di Garda is one of the best destinations for visitors in Europe.
Millions of tourists visit this lake every year to experience its diversity, beauty, and culture.
There are many clean and beautiful beaches in this area to visit. This lake is also famous for its lemon trees, olive trees, and wines.
The shoreline of this lake measures about 160 Km. If you want to travel around the lake, then you can cover the entire lake by car or boat.
Ferry services and private boats are also available for travellers from point to point, so we can say that a car is not required to finish your journey.
If you want to fully enjoy your journey, then you should choose only one or two destinations per day.
Before starting your journey to Lago di Garda, you must visit the website of The ATOL Scheme to check that your flight should be ATOL Protected.
This scheme is run by the UK Civil Aviation Authority (CAA) and is a protection scheme that protects your money from uncertified bookings of flights.
You should also follow the website of FCDO to stay safe and healthy abroad on your journey.
You should also read this one:- 12 Secluded Italian Lakes for Soothing Vaycay!