Italy is located in southern Europe and comprises several islands such as Ischia island and Procida island. Therefore, it is famous for Italy beaches and the resorts around. The Italian beaches range from rugged to white-sand beaches offering a perfect place to relax and rejuvenate the country's bountiful seascapes. Along with this, one can also explore the 14 best beaches in England.
Pine forests amidst some incredible beaches protect secluded nooks. Some best beaches in Italy include Isola Bella, The Salento, and Fornillo beach.
There are many beautiful water destinations across the world. But, Italy is a wonderful water destination out of all as it is mainly famous for its water. People travel by boat and enjoy exploring beautiful islands and calm waters that attract thousands of tourists every year.
However, its main attraction is the crystalline sea that surrounds its beaches. However, Italy's beaches are most crowded during July and August because of the heated weather.
Things to Explore near Italy Beaches
1. Santa Maria
Santa Maria is the Famous Church in Italy, built by The Augustinian Friars. It sets an outstanding example of Peripheral baroque architecture.
Things to do in Santa Maria
Marina Piccola: It is a clean and cheerful family spot and has a lively beach, ideal for swimming and snorkeling.
Lido Castellabate: It is a famous Bathhouse, far from the Amalfi coast crowds. It is equipped with a delicious food restaurant- Lido Restaurant and Bar.
Hotels near Santa
• Hotel Santa Maria: It is a five-star rated hotel with a free high-speed internet facility and free breakfast.
•Diplomat Hotel Florence: It is located near Via Luigi Alamanni, Firenze FI offering a sleek bar, free breakfast, and free wifi. It has a 4.2 rating.
2. Amalfi Coast: Lemon Orchids and Olive Groves
Amalfi coast is grown in a terrace garden along the entire coastline and is famous for the production of limoncello liqueur.
Things to Explore
1. The Emerald Grotto: It is a beautiful sea cave that is always flooded with amazing blue or emerald light. Therefore, this cave is known for its peculiar lightning conditions.
2.Fiordo di Furore: The Fiordo di Furore is located 4 miles away from Amalfi coast. The name comes from the Latin word 'Terra Furoris' which means 'Land of Fury'. It is free to visit and entry is available 24 hours. It is famous for an ancient gorge, a hidden place for the bandits in the past.
3. Ravello– It is the hidden treasure of the Coast, located in the province of Salerno and known as one of the prettiest towns on the Amalfi. It is famous for its sweeping seascapes and breathtaking scenery because it fascinates many tourists through its musical events. Ravello Festival is one of the famous musical events held every year.
4. Villa Rufolo– Villa Rufolo is the famous Villa of Amalfi. It was built in the 13th century. It is full of magnificent gardens and inspiring vistas. Villa Rufolo is often known as a smaller version of Spain's famed Alhambra.
5. Salerno Cathedral– This is a major tourists attraction in the city of Salerno, Amalfi. Salerno Cathedral is the main church dedicated to Saint Matthew.
3. Italy Mainland
Photo by Rodrigo Soldon on flickr
The Italian mainland is a long Peninsula that resembles a tall boot. Italy has diverse offerings, ranging from the Italian coastline to lakes and rivers to impressive mountains.
4. Zingaro Nature Reserve
The Zingaro is one of the famous natural gems in Sicily with a coastal hike of about 8km long. The reserve gives shelter to many animals. There are 6 small pebble beaches around the reserve.
5. Spiaggia del Principe
Spiaggia del Principe also known as Portu is a clear and calm water area. Cable Car is often used in the city to get you to your destination.
6. Some Famous Streets of Italy
There are 7,870 streets in Italy, adorned with flowers and potted plants. Streets are simple cobbled paths with colourful buildings present on both sides, and the houses and shops are painted with wonderful pink/blue flowers that offer a beautiful sight. All, Via Polo is a famous street to shop in Italy. Some of the other streets are:
Via Toledo.
Via Mazzini Verona.
Via Del Corso.
Portofino.
Galuppi, Burano
Corso Porto Borsari, Verona
The Barbaresco Path
Sorno, Tuscany
Attractions of Beautiful Italy Beaches
Water sports- Italy Beaches draw huge crowds and are popular for windsurfing, parasailing, and boating.
Beach umbrella- It acts as one of the major attractions of the beaches which protects people from the sun's harmful rays and heavy winds.
Sun loungers-It is a long chair, which is used for lying and relaxing near the water at Italy beaches.
Shuttle boats- Boating is one of the favourite things for beach lovers and Italy is also known as the perfect country for boating. Therefore, one can enjoy strolling on shuttle boats.
13 Delightful Italy Beaches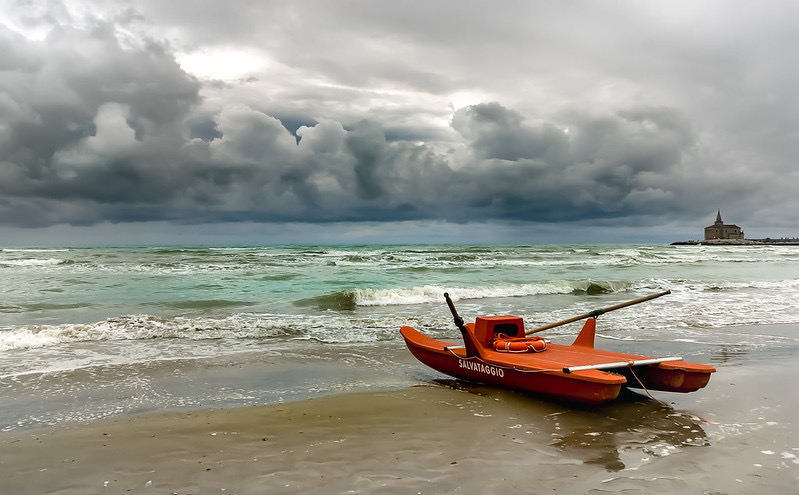 Here is a list of Italy Beaches to make your trip convenient, adventurous, and memorable:
1. Chia Beach in Sardinia
It is a beautiful and the best beach on the south coast of Sardinia to relax. Here, the sand is found in golden and turquoise waters giving an incredible shade to the water. The beach is famous for its wildlife spotting, kitesurfing competition, and adventures including windsurfing, paddle boating, scuba diving, and snorkelling. Also, bikes are given for rent to get around the place.
2. Forno Beach on the Island Of Elba, Tuscany
Forno Beach is a small and attractive sandy beach during the days of Sirocco. It is located in the middle of the Northern Coast of Elba, about 120 meters long, and is surrounded by palm trees and rocky cliffs.
Though the beach is small, it is famous for its beauty of crystal clear blue water. It makes the best place for families and friends because it is known for its secluded, quiet atmosphere, boating, and the smallest of three Italian beaches.
3. Tropea Beach in Calabria
Tropea Beach is the most beautiful beach with shelving white sand, crystal clear aqua waters, and scenic cliffs. The beach is also known as the 'La Costa degli Dei', which means the coast of the Gods.
The entire coast is covered by dramatic cliffs and adventurous sports including canoes, rubber boats, snorkeling, scuba diving, and many more. Major attractions of Calabria are the beautiful resort town and the tiny islet around the area.
4. Poetto Beach in Cagliari
It is an 8000 meters long beach located in Sardinia, Italy. It is known as the best beach and the favourite destination of sun worshippers in Italy. It is known for its alluring turquoise waters and white sand, kitesurfing, and windsurfing championships.
It is a type of nature reserve beach that is mostly crowded with Italian families, offering variable weather conditions to enjoy the beauty of sunset and sunrise. In summer, Poetto is known as the centre of nightlife because it is surrounded by various beach bars and restaurants where you can find the best food in Italy.
5. Spiaggia dei Conigli
The beach is also famous as Rabbit Beach and it is the main beach in southern Italy. The shallow waters and white sands make the beach incredibly beautiful and fascinating.
Loggerhead sea turtles are found to lay their eggs in the water during the nighttime. Boats and bikes are accessible to get around the places around the beach.
6. Marasusa Beach
It is located at the southern tip of Calabria, Italy, close to the Mediterranean Sea, which is the old town of Tropea. Soft white sands, cliffs, and crystal clear blue water make Marasusa beach one of the best beaches in Tropea town.
It is often called 'La Costa degli Dei' which means the coast of the Gods. The facilities around the place include restaurants, bars, cafes, and activities like riding, and swimming.
7. San Fruttuoso Beach in Liguria
San Fruttuoso beach is a pebbly beach having aquamarine water, located in Liguria, Italy. It is one of the seven best beaches in Italy.
It has a lot to offer in sports activities such as boating is done by maximum people. Sun loungers are available for rent and the great thing about them is that it is not much crowded.
8. Lannio Beach
It is a small and the most famous beach of Italian beach located on the Amalfi Coast, away from the crowded regions of the city. It is having shallow turquoise waters and tiny white pebbles. The beach is covered with soft white sand, and pebbles, and is famous for fishing. You can reach here by an hour's drive because it is far from the city.
9. Marina Grande
Marine Grande is located in Capri, Italy, and is known to be the central and popular beach of the island. It is a long beach of about 9000 meters long, which is covered with tiny white pebbles and is mostly crowded. Also, it is one of the main beaches for boating and other sports activities.
10. Spiaggia La Pelosa
Spiaggia La pelosa is a small beach of 300 meters, located on the west coast of Sardinia. With its shallow waters and fine sand, it is a thrilling beach in a nature reserve and mostly crowded during the weekdays. One can enjoy exploring the beach on shuttle boats that are accessible here.
It is a favourite spot for Italian families and one of the most beautiful beaches in Sardinia. Water adventures such as kit surfing, windsurfing, and sailing make this place more tempting.
11. Family Beaches
Family beaches are enjoyed by adults and children because there are palm trees and water adventures on these beaches that make them the fascinating beaches in Italy.
•San Vito lo Capo: It is one of the best family beaches in Italy for families due to its relaxing environment and availability of eateries. San Vito lo capo is one of the famous long-stretch white sand beaches.
•Ischia: It is the favourite destination of the family and is an island of sandy beaches and peculiar coves.
12. Sporty Beaches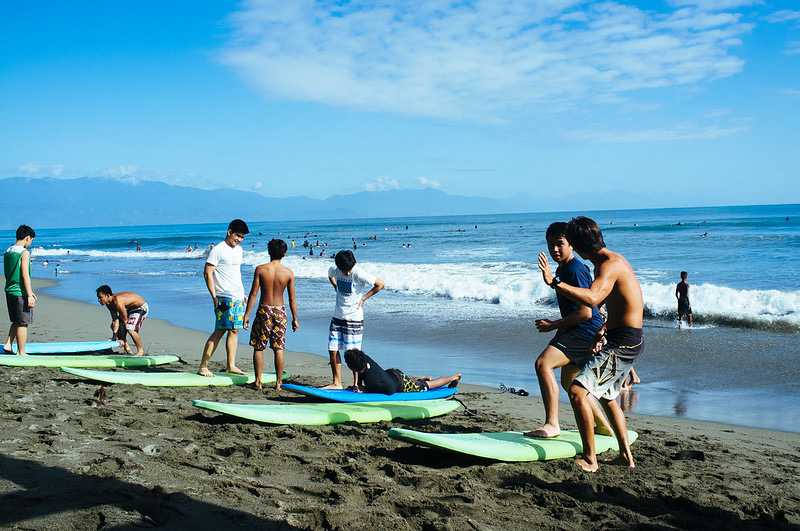 Sporty Italy beaches are the favourite destination of adventure lovers and those who love to hit the water for scuba diving, fishing, and boating. It includes beaches like:
•Anzio, Lazio: It is one of the main beaches in Italy and is popular on the Lazio coast. Kitesurfing and windsurfing are famous sports adventures.
•Ischia: Scuba diving in Ischia is done in the Tyrrhenian Sea. Ischia offers a great package of scuba diving and other adventures. There is the Tyrrhenian Sea is north of the Gulf of Naples.
13. Pet-friendly Beaches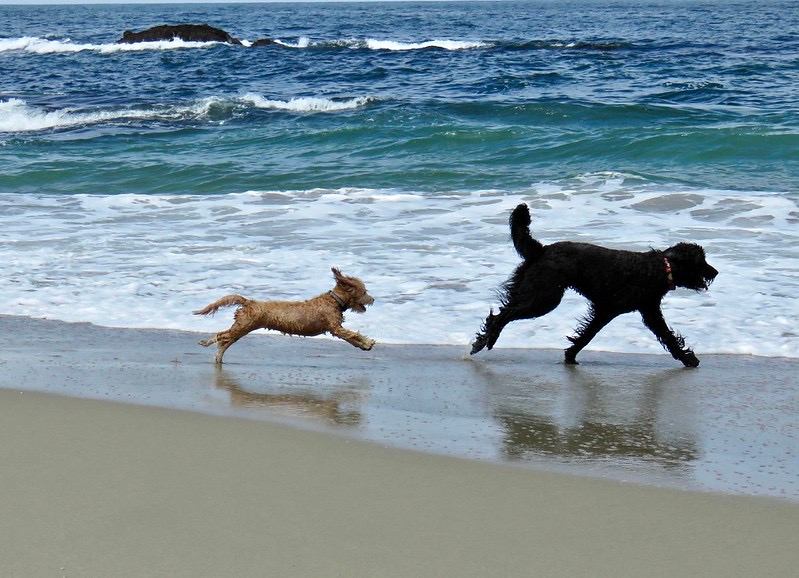 A friendly place for your four-legged friends because these are small beaches with clear water and a calm environment. It includes beaches like:
•Savona: It is a lovely and favourite destination for your pets because of its clean and healthy surroundings. Pets enjoy running on sand and they like splashing out the water.
Free Facilities on Italy Beaches
Some Italian beaches also offer free facilities to their tourists such as sun loungers, beach umbrellas, mats, and others. Such Italian beaches attract more tourists, hence these are mostly crowded.
The Last Word
Besides the lavishing Italy beaches, attractive streets, and delicious food make Italy a favourite destination for thousands of tourists. Cinque, Colosseum, Pompeii, Leaning Tower of Pisa and Lake Como are some famous tourist destinations in Italy.
One of the lakes named Lake Como is one of Italy's most scenic areas surrounded by mountains. Other Italy tourist attractions are:
•Colosseum- A huge amphitheatre, built by Vespasian.
•Leaning Tower of Pisa- It stands on the Piazza dei Miracoli.
•Lake Como- A scenic area, surrounded by beautiful mountains.
•Clinque Terre- It is a lovely coastal region with steep hills.
Italy is one of the most popular tourist hotspots in the world. If you are looking for an experience to last a lifetime, this place is waiting for you.
So what are you waiting for? Grab your camera and pack your essentials to mesmerize the sight of wonderfully laid-out floral arrangements on different Italy beaches. Take a plunge into its marvellous culture.