There will be times when you don't even have time to dry your hair before stepping out. You come straight out of the shower and must rush for work or an event. The main problem in such cases for you is how to style wet hair.
Therefore, these quick and easy hair fixes can save you from those wet hair looks.
There can be many different ways to style your hair. If you are someone who always has to rush in the morning with wet hair, then these quick and easy hairstyling tips are for you.
Before starting, look at all the precautions you must take while styling wet hair to avoid damage.
Things to Avoid while Styling Your Wet Hair
When hair is wet, it tends to be more fragile and more prone to damage. This is because the hair shaft absorbs the water and swells up. It will be best to take these precautions in soaking wet hair.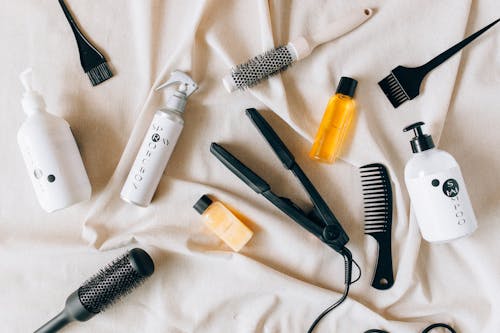 1. Avoid using a Cotton Towel Roughly
Rubbing cotton towels will result in friction. Use a microfiber towel or a cotton t-shirt instead.
2. Stay Away from Strongly Brushing your Hair
Try to brush your hair lightly or use a wide-toothed comb. Starting from the ends to the roots of your hair
3. Always Use Detangling Products First
Using a leave-in conditioner or a serum before starting wet hair hairstyles is best. This will soften your hair and make it easy to style.
4. Serums for Fizzy Hair
If your hair is frizzy or if you have wavy hair or curly hair, remember to apply a serum or a curl cream before you start to style your hair.
5. No Heat Styling for Wet Hair
Trust me, you should never use your hair styling tools on wet hair. This will damage your hair.
How to Style Wet Hair?
At times, we get out of the shower, and immediately, we have to go and run some errands; at the same time, we are required to look presentable, and open hair is not an option.
Now, what do we do?
We can style our wet hair in these various chic styles:
1. Style into a Bun
A high bun can be a game-changer if you have short or long hair. It's for those who want a chic and elegant look.
A high bun goes with almost every outfit, whether informal or formal. So, let's go ahead and try this bun and slay the look.
Firstly, apply some leave-in conditioner or a styling product, whatever you have.

Comb your hair with a wide-toothed comb, or brush your hair lightly. Remember to be gentle.

Take an elastic hair tie and tie all your hair in a high ponytail.

After all your hair is secure, start twisting your hair around the pony. It will automatically sit around the band in the shape of a bun. Now secure it with bobby pins.
Use a hair spray to keep your flyaways in place. Give them special attention for a neat and clean look.
You can also make it into a low bun. You have to tie your ponytail where you want your bun to be.
2. Quick Slick Back Hair 
This is a hairstyle that is trending everywhere. Many celebrities have pulled off this wet hair look on the red carpet.
If you have shorter hair, this two-minute pull-back hairdo is for you. This will make you look very polished and indeed mysterious. Therefore, let's begin with this popular wet hairstyle.
After towel-drying your hair, use a generous leave-in conditioner or a styling serum. This will make brushing your hair manageable.

Brush your hair back from the scalp to the ends of your hair.

Now, use a hair gel to keep your hair in one place. Take the product on your fingers and comb your hair with your fingers. Make sure you distribute the product evenly throughout your hair.

Pull back your hair neatly behind your ears, keeping in mind any flyaways.

Finally, brush your hair for the last time. It will look good even if your hair has little comb lines.

Lastly, use a little bit of hair spray for a glossy finish.
You can carry this look with center-parted or side-parted hair as well. Do whatever suits your face and outfit. This hairstyle will look superb, especially if you have straight hair.
How do you Style Wet Hair if you Have Curls?
Use a curl cream before styling your wet hair if you have wavy or curly hair.
Well, that's it. You don't even have to brush your hair. Just let your hair air dry. Using a curl cream will give you well-defined curls which you can flaunt proudly.
1. Simple Fishtail Braid for Damp Hair
If you think a fishtail braid is stiff, then you are wrong. It can be made quickly with medium as well as long hair.
After using a serum or any detangling product, comb your hair. You can use a wide-toothed comb or a brush. Just remember to be gentle.
Tie your hair with a clear elastic hair band. You can choose whether you want a high or low fishtail braid. Well, both look lovely, so accordingly, tie your hair.
Now, part your ponytail into two equal sections. Try to keep these separate when you braid.
Take a section of your hair from the left and cross it over to join the right one.
Now, do the same thing on the right. Take a section of hair from the right and cross over to join the left side.

Again, take a section of hair from the left and join it on the right.

Keep repeating these steps, and then you will see a fishtail braid.

Try to braid it until you reach your hair's ends and tie it with an elastic band. Use a hair spray, and that's it!
The cross-over of every section of hair makes it look like a fishtail. If you use smaller sections of hair, your braid will look more defined.
2. French Braid 
This one is a classic hair braid, which looks chic and is, undoubtedly, a timeless wet hairstyle. It is very defined, especially if you style it on damp hair.
If you have even a little idea of making braided hairstyles, this French plat will be a piece of cake for you. Let's get going.
Comb your hair softly after using a conditioner or a serum.
Take a significant section of hair from the centre of your crown area and split it into three equal sections, just like in a three-strand braid.

Start braiding over. Cross over the left section in the middle and then the correct area in the middle. Start just like you would a regular braid.

Add hair from the left, above the ears, to the middle section and the left area.

Repeat the same thing on the right side as well. If you want a more intricate braid, take small sections; otherwise, you can also take more significant sections

. It depends on your choice and how much time you have.  

In either case, continue braiding until the end to combine all the hairs.

Once you reach the end of your hair, tie it with a hair elastic. Use a hair spray to give an added texture. Pull some hair strands from the front to provide a soft finish.
If you have braided your hair tightly, it won't move the whole day.
This braid will undoubtedly go with every outfit. It could be a dress, a formal suit, or a casual T-shirt and jeans. In either case, you will make heads turn.
How do you Style a French Braid into a Bun?
You can also roll up and tuck your braid just above your neck. This will elevate the look and make it seem like a low bun.
1. Bow Fish Tail Braid
This hairstyle can be done with both long hair and short hair. You can easily do this hairstyle together in less than five minutes; it goes with every outfit.
After applying some smoothing product, pull back the top one-third section of your hair.
Secure it with a hair elastic, and then flip the ponytail inward. Now, pull it out from the bottom.

Again, take a small section of hair from both sides and tie it with hair elastic.

Flip it again on the inside and continue.

Make sure the ponytails are close to each other.
You can stop at any level if you feel that your hair is looking good enough.
Pull some hair strands from the front to give it a soft look. Finish it off with a hair spray.
With practice, you can create this hairstyle even with closed eyes. This hairstyle comes out reasonably well, even if you have just stepped out of the pool or shower. It will save you much time and keep your hair away from your face.
2. Twist and Pin it Up
This hairstyle is indeed everybody's go-to hairstyle when you don't know how to style wet hair.
You can try this hairstyle in long hair as well as short hair. Even if you have just walked out of the shower, just towel dry your hair and proceed with this hairstyle.
Firstly, lightly comb or brush your hair to remove any knots. You can apply whatever serum or cream you have to make brushing easy.
Side-part your hair with the help of a comb or use the tip of a teasing comb. You can also centre part your hair, but side-parted hair gives a better look.
Take a small top-front section and split it in two.
Now, start twisting both sections away from your face. While turning, add small branches from the front of your hair with your fingers, like in a French braid or a Dutch braid.
Keep twisting till you reach behind your ears. Take some bobby pins and tuck them behind the ears.
Do the same twist on the other side and tuck them with some bobby pins. Make sure you take smaller sections.
If you are a big fan of low buns, you can make a loose bun with the rest of your hair at the back. You must tie a low ponytail with the hair and twist it to form a bun.
3. A High-Bubble Ponytail with a Hair Tie
This ponytail is a big trend these days. It is excellent for those who don't know how to braid.
You can make this informal hairstyle when meeting your friends casually after a lazy morning.
If you have small girls, it also looks super cute on them. It does not take much time, but you need to have hair elastics for this hairstyle.
Try to dry your hair as much as possible with a microfiber towel. Use a regular towel or an old T-shirt if you do not have it, but be gentle.

Use a leave-in conditioner or a styling cream and comb your hair softly.

Tie a high ponytail after brushing your hair to avoid bumps and knots. It should not be too tight to break your hair. This will also give you a face-lift look.
Comb the hair of the high ponytail with a brush.
Now grab a hair elastic and tie it about two and a half inches down the ponytail. This will create a little bubble.

Tie another hair elastic again at about two and a half inches below the first one.

Continue until the end of the ponytail. Make sure the elastics are at an equal distance.

Loosen the hair a little bit. Pull out a few strands from the front if you want to.

Give it the finishing touch with a shine spray, and you are done.
If your hair is cut in many layers or small steps, you should skip this hairstyle. It won't come out as neat then.
Wrapping Up
Well, I must say the struggle of learning how to style wet hair is natural. You don't always have time to blow-dry your hair properly before leaving, thus take help from these hair styling hacks shared in this artcile, and voila! be ready in minutes.
To summarise, these beautiful hairstyles are quick and easy. They will be your best buddies for styling wet hair. Ultimately, it's your hair; go out and beyond with your wet hairstyle and looks.
FAQs
Q1. Which is the quickest way to dry hair without damage?
Ans: The fastest way to towel dry your hair is to use a microfiber towel or a silk scarf. Tie it until fifty percent of your hair dries. Avoid using heat on your wet hair. Air-drying your hair is the best way to protect it from damage.
Q2. How do you style wet hair for a formal meeting?
Ans: You can opt for a high bun or braids you feel comfortable in. These will look formal and go with every formal outfit. You can also try a loose bun with wet hair.
Q3. How often should we wash our hair?
Ans: An ideal number depends on your hair type. If you have oily hair, then certainly wash it on alternate days. With dry hair, twice a week will be best for you.
Q4. For how long should we oil our hair?
Ans: One hour of oiling increases the tensile strength and prevents hair damage. However, keep a dry scalp a bit longer if you have a dry scalp.
Q5. Can we do back-combing on wet hair?
Ans: Back-combing or rough combing is a big no for wet hair. Therefore, skip back-combing, on damp hair, to protect them.