Manchester is well known for having a thriving music and Manchester nightlife scene. It will be challenging to stroll along a street in the city center without seeing a huge arena, mixed music venue, bar, pub, club, restaurant, café, live entertainment venue, or just about anything else in between! Let us discover Manchester's bars.
Although live hip-hop music has long been at the heart of Manchester's bars scene and "going out" culture, recent investments in the city Centre have increased the variety of beverages on offer (in particular the cocktail range) bars in Manchester. There is already a variety of new bars, best bars, quirky bars, and best cocktail bars to suit all preferences as a consequence like contraband cocktail bars and bespoke cocktails. It's Manchester's fancy and quirkiest bar in Manchester. Let us discover Manchester's bars for all the booze fans out there.
Discover Manchester's Bars
If Manchester were a person, it would be the last one standing at a party since it is vibrant, bold, vivacious, and offers a wide range of things to do. The Stone Roses, The Smiths, and (temporarily) the storied club nights. The Hacienda is just one of the musical icons that the city is most famous for having produced. Discover Manchester's bars through this list of 6 most famous bars.
1. 20 Stories Manchester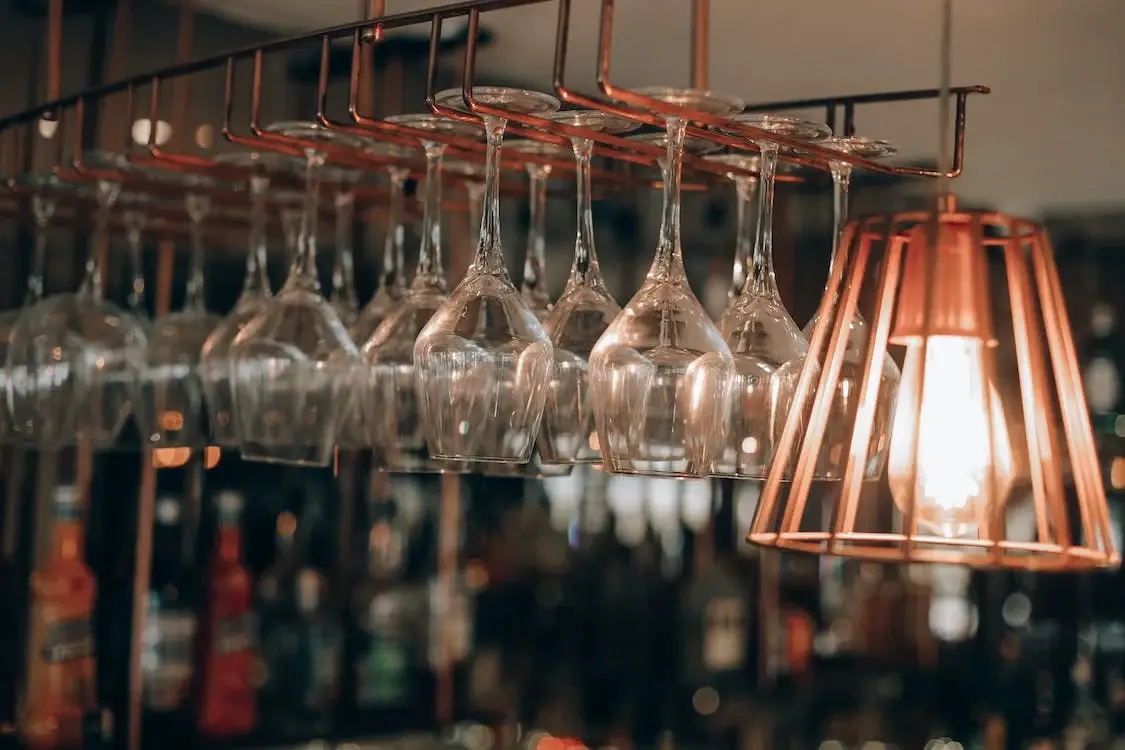 20 Stories, which is built on the 19th floor of No. 1 Spinning fields, features a chic restaurant, a buzzing bar, and a sizable rooftop terrace, well-stocked bar with unrivaled 360-degree views of the Manchester cityscape is the best quirky cocktails drink bar in Manchester.
To acquire foods from no more than 50 miles outside of Manchester, Oldham Street the 20 Stories menu highlights the best of the Northwest. The bar offers a wide selection of wine, and craft beer, and mixes cocktails with live jazz music. Perfect for a date night.
The dress code at 20 Stories is formal style. They request that you refrain from donning hats, athletic gear, tracksuits, flip-flops, or football jerseys. Up until 7 o'clock, smart or tailored shorts are permitted. Fancy dress is not permitted there.
Discover Manchester's bars, A gorgeous rooftop garden patio with trees that rise two stories high is available at 20 Stories, making it the ideal place to relax. This location is fantastic for any occasion since it has a lounge bar outdoors that is covered by trees and has spectacular lighting, making it the coolest spot in town. The Manchester skyline is the ideal backdrop while outdoor fires and a BBQ on the terrace create a comfortable atmosphere.
Why not choose a spot for drinks where there is nothing but a blue (pending availability) sky above? For big groups and occasions, you can reserve your own private space on the patio for a night.
Events & Private Dining at 20 Stories
Featuring a private room with metropolitan views that can accommodate up to 16 people for lunch or supper, 20 Stories is the pinnacle of opulent entertainment.
20 Stories is the ideal location whether you are with close friends, close relatives, or work colleagues. providing mouthwatering appetizers', platters, set dinners, magnificent vistas, and their signature strong drinks on the menu.
If you're planning a big fancy event table, you may speak with the events team personally. Whether you're renting out 20 Stories exclusively for up to 600 people or hosting a small family reunion, they're here to make sure everything goes as planned.
2. Alcotraz: Cell Block Three-Four Bar
Alcotraz, one of Manchester's secret bars, combines slick drinks, covert entrances, and smuggling into a delightful package. Come hang out with the team on Watson Street for a night of illegal drinks and prison-themed orange jumpsuit style.
Once convicted, inmates are introduced to a thrilling world of mayhem as they are given instructions by a renowned bootlegging group inside to bring in alcohol to be utilized in creating delectable, custom cocktails. As this is a prison, there isn't a defined menu of drinks.
Every night, depending on the alcohol you sneak in and your preferences, the "serving" inmates will deliver a variety of specially crafted beers.
As new convicts, anticipate having custom, modern, and traditional cocktails made during your time in prison using your illicit alcohol along with liqueurs, bitters, and various syrups. Be as inventive as you can when trying to sneak in.
A worthwhile experience of high caliber behind closed doors. The actors engage you from the time you enter, and all of them, along with the drinks, people, dancing, food, and environment, serve the best behind closed doors.
3. The Pen & Pencil
The Pen & Pencil bar and café on the junction of Hilton and Tariff Street brings a little bit of New York glitz to Manchester.
Discover Manchester's bars the ideal setting for the NQ's creative locals to unwind, reflect, network, and savor delicious food and beverages.
It takes its name and inspiration from the infamous mid-20th century best bars on East 45th Street in New York, which was popular with newspaper journalists and ad men – the original "Mad Men."
The food menu expands to include a few larger items with an international flair throughout the evenings and weekends. The facility is ideal for mid-afternoon cocktails, after-work groups, and those who want to eat and drink into the early hours because it is paired with a carefully crafted cocktail program.
The in-house produced quirky bar cocktail menu includes several energizing summer drinks, such as Hot of the Press, which is blended with Manchester Gin, lemon, and cherry bitters and topped with its own logo.
The Pen & Pencil, located in Manchester's lively Northern Quarter, features a private space that may be rented seven days a week. A projector, screen, microphone, separate volume control, and air conditioning are all provided in the space.
It can seat up to 70 people and has exclusive access to a manned bar. A wide selection of carefully crafted cocktails, craft beers, wines, and champagnes are available on the Pen & Pencil beverages menu, making them ideal for any occasion.
Additionally, they provide customized buffet packages, sliders, and bottomless breakfasts for special events. Perfect for conferences, gatherings, private parties, and product launches.
Every weekend, a resident DJ starts the festivities, and the crew has planned several monthly live music evenings. Additionally, a room can be reserved privately for networking events, private gatherings, and product launches.
4. Twenty Twenty Two
Twenty Twenty Two discover Manchester bars that is a unique bar and club, table tennis room, hidden darts club, and events venue in the center of the Northern Quarter that offers more than the typical pub experience. It offers all-night ping pong and late-night live music, a wild weekend party place.
The facility, which was initially intended to be a blank canvas, has evolved into its own niche and created its own aesthetic while directly drawing inspiration from the cool city. As artists remodel the walls, the venue itself undergoes many visual transformations each year.
The location offers space for hire seven days a week and completely supports the musical, artistic, and cultural industries. It features complete accessibility for people with disabilities and Wi-Fi throughout. Perfect place in town to step inside.
Ping-Pong Competition
Discover Manchester's bars that every month on the second Tuesday, a wholly frivolous tournament is held. The winner receives a $100 bar tab and sometimes a cheap trophy. No wristbands are accepted! Timing The second Tuesday of each month.
5. Junkyard Golf Club Manchester
The Junkyard Golf Club features wacky golf, entertaining beverages, and everything junk!
Discover three crazy golf courses, Gary, Pablo, and Bozo, which offer groups the chance to put their way through absurd holes. Think polluted jungle clubs, surreal UV chambers, and junkyard slides when thinking about each course's distinct and bizarre theme.
Putters can enjoy garnished cocktails like Bubblegum Sunset, Pablo's Lover, and Junkyard Love Club at the venue's five distinctive bars, three of which are located midway through the courses. The roof terrace bar is open in the summer for enjoying open theatre.
50% off golf with a student discount serving the best cocktail bar.
All day Sunday through Thursday, students can play golf for 50% off; just choose the "Student ticket type" option when making your reservation. Please be aware that upon arrival, a valid student ID will be requested.
So, each game costs £4.25 Depending on availability! Available every day from Sunday to Thursday.
6. NQ64
Discover Manchester's bars, an underground drinking establishment on Short Street in Manchester's Northern Quarter, where you can find the greatest vintage arcade games and vintage consoles, is NQ64. Along with the activities, there is a drinks menu with carefully selected pints of beer and themed mix cocktails.
And now NQ64, a distinctive gaming arcade, and pub nestled away along a quiet street in the Northern Quarter are sending us all on one huge nostalgic trip to better times.
The retro-style pub is located next to Crazy Pedro's Northern Neighborhood venue, only a hop away from the bustle of Manchester's trendiest quarter and is lit up in purple neon with a sign that makes a nice gesture to the rusty Nintendo's stashed away in our attics.
The real fun, though, starts inside, where you'll find a ton of classic games waiting for you as soon as you enter through the lit doors.
The pub has a large selection of vintage video games, including Mortal Kombat, Pac-Man, Street Fighter II, Tekken, and more recent favorites like Guitar Hero. As if that weren't awesome enough, the hipster hangout also includes a Sega Mega Drive, Super Nintendo, N64, and a PlayStation from the beginning. We are completely hooked; it's like the early 1990s all over again in Manchester city centre.
The games are played using tokens, with 15 tokens costing only £6 and most games only allowing one token per player. You may be confident that you can focus on your game without being interrupted by a 10-year-old who appears innocent and is desperately trying to pinch your equipment because the bar is also child-free.
In addition to games, NQ64 offers a variety of beverages, including gaming-themed cocktails like Princess Peach, the Mad Max, and the Root Beer Tapper, as well as an ever-changing beer menu with both local and craft beer.
Conclusion
Additionally, Manchester's innovative craft culture offers a wide variety of edgy tap rooms to discover Manchester's bars, and the city's fashionable outskirts are home to other energetic independent venues. The way we drink around here is changing as a result of a new breed of mixologists. Without a doubt, this city sets higher standards for drinking. You can Discover Manchester's bars from the list above.