The splashes of diverse deep waters drive us crazy and fascinating when it comes to beautiful beaches in England. The sandy beaches splashing its water to the deep coasts of this magnifying place enriches you with the flavor of love and peace within your soul.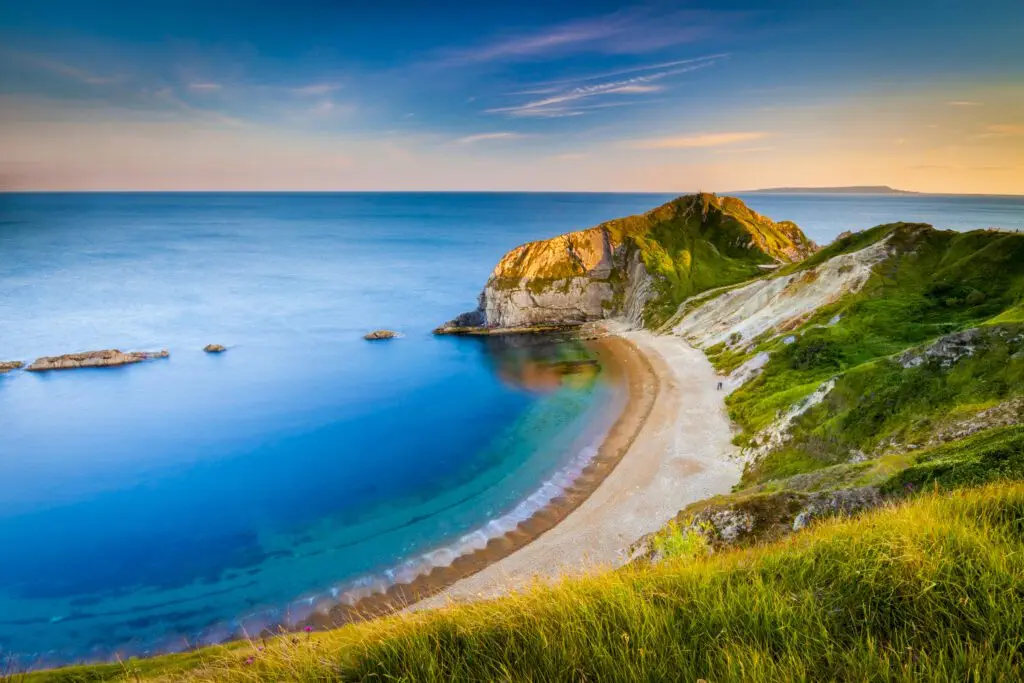 The touching of waves of water to walking across the best beaches gives you amazing joy and happiness. The sandy beaches to the finest beaches make us experience the feel of coral pebbles and the beauty of nature. So, let us dive into the 11 best beaches in England and experience their colors.
Beaches In England: The Woolacombe Beach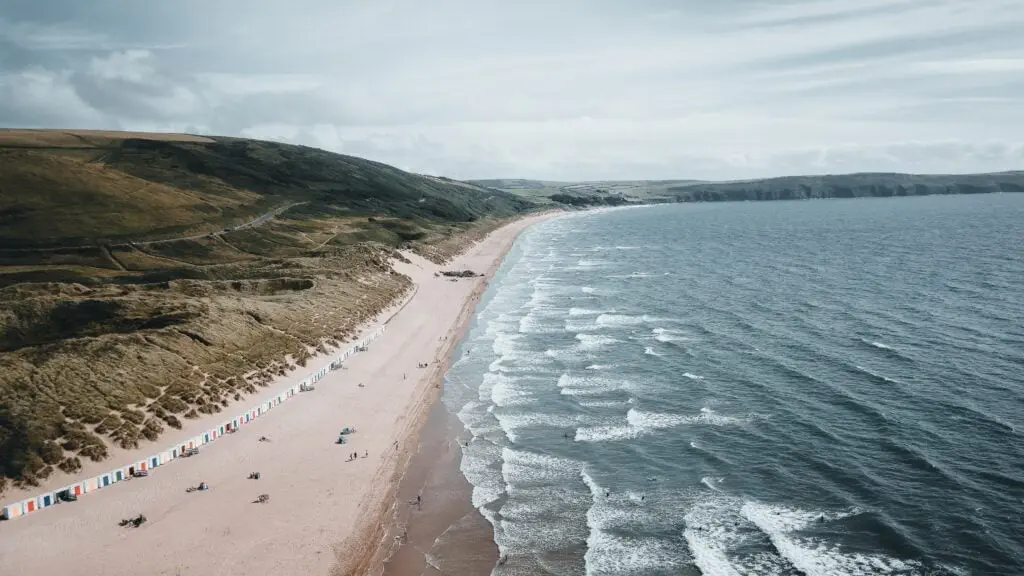 Woolacombe Beach is immensely wide, giving you a scenery view of sand and sky at low tide. It's popular with families and surfers, and there's a separate section of the beach for dog walkers.
In summers, it's a lively and beautiful beach where there are plenty of facilities, including changing rooms, lifeguards, restaurants, ice cream vans, and even bouncy castles.
The coastal town is situated on the lush hillside that surrounds the beach, giving it a natural vibe. A walk along the coast to the next headland reveals more beaches, like Combesgate Beach and Grunta Beach, which are fun to explore. 
Woolacombe beach is known for its finest beaches in the West Country. It's so loving with families and surfers which attracts thousands of people each summer to the beach and Woolacombe village. The rolling surf brings adventure to the unbroken Atlantic breakers from across thousands of miles of ocean to pound on this three-mile-long stretch of golden sand.
Here, lifeguards ensure safe family swimming during the summer and surfers come from all over the country to enjoy the great waves and clean water. Woolacombe itself is a lively village with great pubs, restaurants, and places to stay, and is a perfect place for a family holiday, surfing trip, or stop-over when walking the South West Coast Path.
There is a friendly atmosphere where visitors come to enjoy themselves. While visiting the best beaches in England and you will admire people who come to visit the golden beaches back summer after summer.
Beaches In England: The Whitby Beach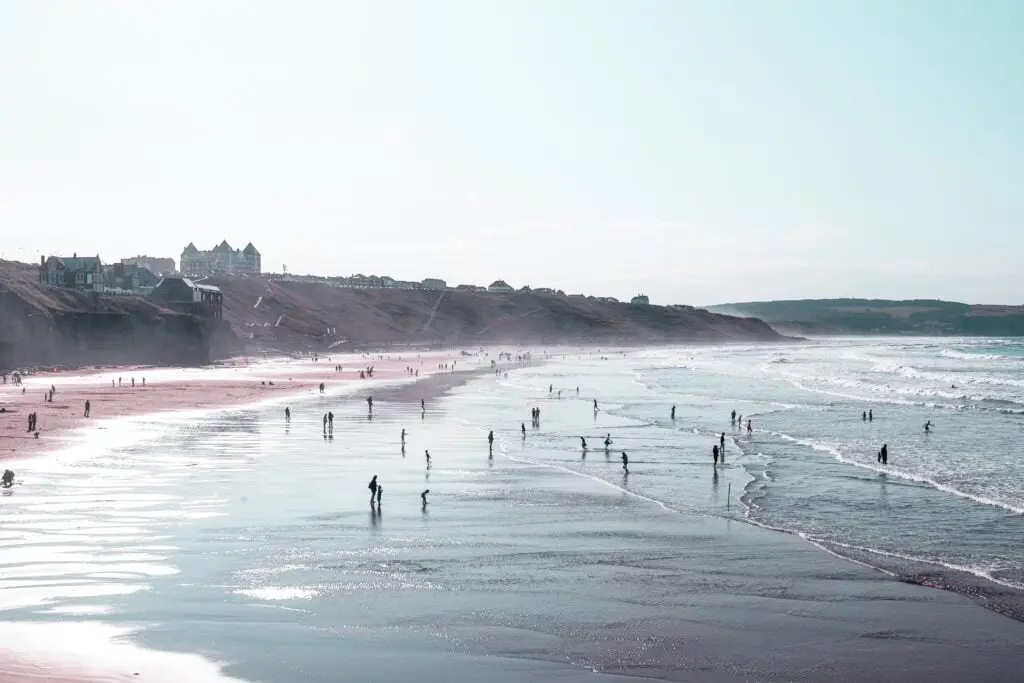 Whitby beach is known to be the best beach in England where surfing, kite flying, and fossil hunting are done for fun and enjoyment. Whitby beach is an interesting coastal seaside town with beautiful scenery and an amazing view. It is known to be a small place, clinging to the coast on the edge of the North Yorkshire Moors, but here in the village, you will find diverse characteristics of character.
Here one can visit the beaches in England throughout the year, but the North Sea can be mighty chilly in anything but peak summer. The village of Sandsend is situated right at the end of Whitby Beach, which is one of the most popular places to sit in the sun with beach huts to sit and chill with fascination and fun.
These brightly painted beach huts are lined up there through the summer. This is the most popular part of the beach where visitors come and become the perfect base for families. When the tide is out it's a fair distance down to the water. However, there's great visibility, so here children can play with fun and joy.
There are various sets of steps and ramps down onto the beach. This makes it the best beach for the whole family. Children can play happily on the sand, whilst grandparents or those requiring pushchairs, prams, or wheelchairs and stick to the prom to enjoy fully out there.
Beaches In England: The Bamburgh Beach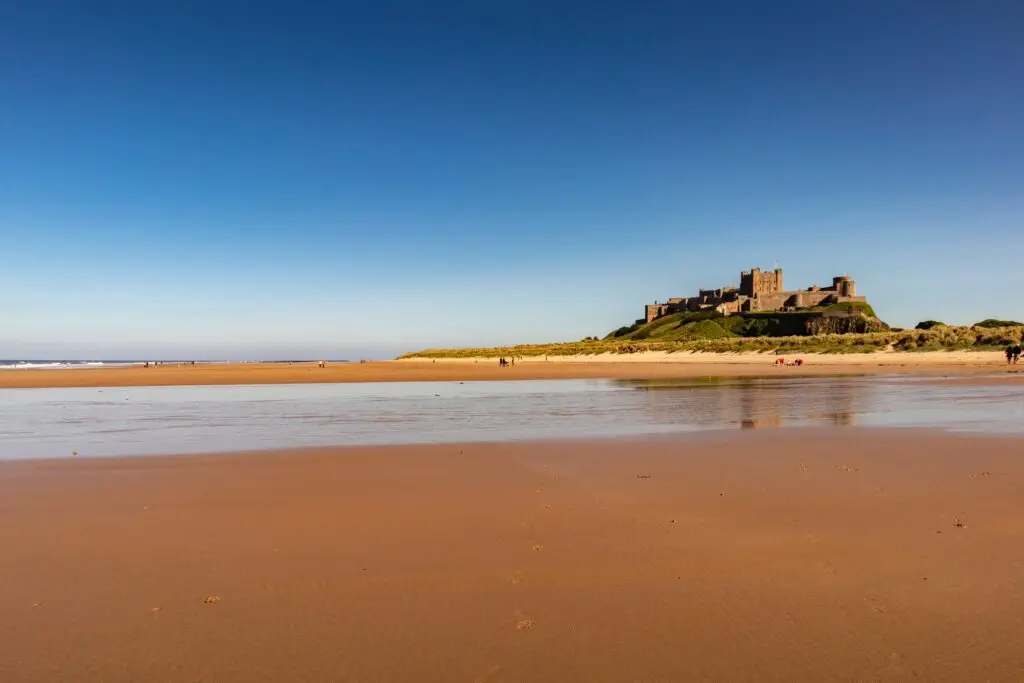 Bamburgh Beach is known to be the best beach and is a rugged and iconic stretch of coast in northern England. It is located 20 miles south of the Scottish border, here the North Sea is found to be chilly. The wind whips in off the coast, making it a popular spot for surfing.
This vast beach is the perfect place to go for a walk on a sandy beach after a visit to the village of Bamburgh. The beach pours its colors down the dramatic ramparts of Bamburgh Castle, which is known as the most iconic castle in the UK, and also makes us view the Farne Islands to the east.
Here, the most fascinating beaches can be idealized with the golden sands and provides you with a short walk across the dunes. The admiring features of the beach indulge you in playing in the soft golden sands and enjoying a joyful picnic on the beach and paddling in the sea.
The beaches in England draw you to the most beautiful beach which is Bamburgh beach. It is also popular with surfers and horse riders, so can be an excellent place to sit for a while and watch the world go by.
Here on this beautiful beach one can explore the beach and walk south to Sea houses, where it's rockier and there are unusual shells, and where you can have a glimpse of the grey seals. It's great bird-watching territory too.
Beaches In England: The Bournemouth Beach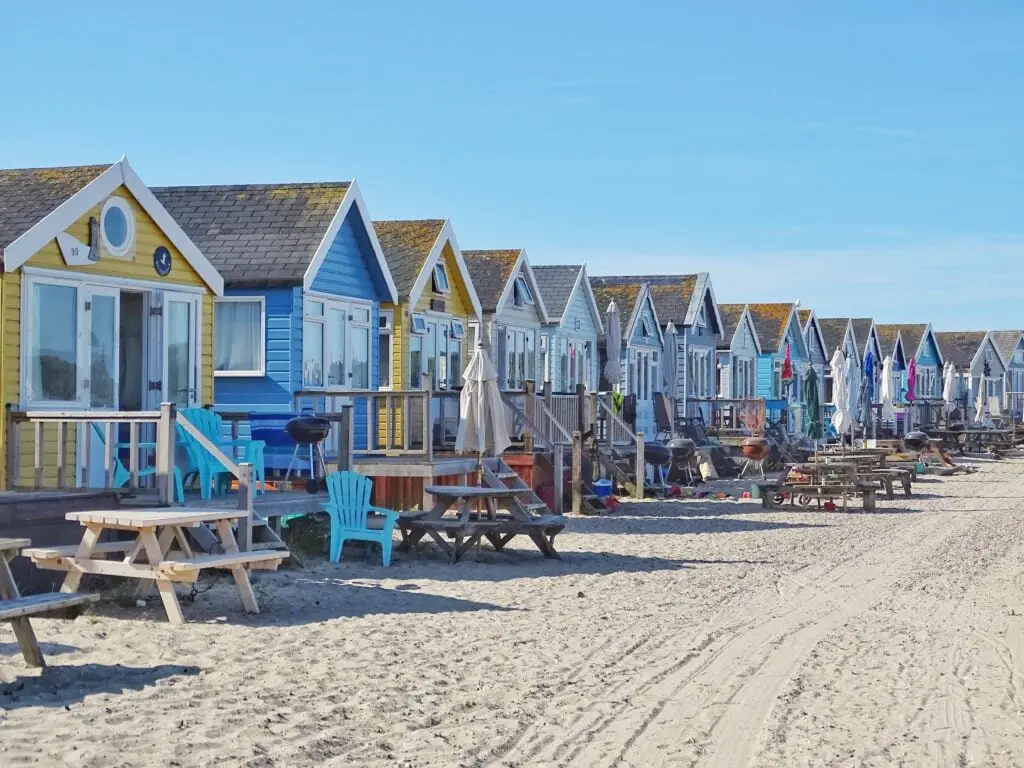 Bournemouth Beach has one of the pristine beaches in England, with wide and soft golden sands stretching its coast for miles. It's known as the best beach in England where one can spend some quality time exploring the place full of joy and adventure. Every section of Bournemouth's beach offers a different experience, so here don't forget to try out one of many superb water sports or enjoy plenty of family attractions with outstanding natural beauty.
It's situated in a sheltered bay on the South Coast of England in the picturesque county of Dorset, there are plenty of things to do in Bournemouth Beaches in England. Here when the sun raises its rays, then Bournemouth shines too and it's great to be outside to enjoy the experience that this beautiful beach comes up with. There's so much to do on this fascinating beach during the summer months with attractions and activities coming alive for you to adventure.
There are plenty of places for you to visit, where you experience any weather. There are museums, galleries, amusement arcades, a climbing center, beach-to-shore zip-wire, mini-golf, play parks, beach huts, and an oceanarium. Here you can also enjoy so much from hiking, walking, or cycling in the most beautiful countryside and gardens or head to the seaside for paddling, swimming, and a bit of sandcastle building.
It's the most relaxed place to visit and go for hiking and camping activities to explore the place fully. Bournemouth beach is naturally an active place. Where we can find golf courses, gyms and leisure centers, bowling lawns, tennis courts, and an adventure to try beach sports.
Beaches In England: The Weymouth Beach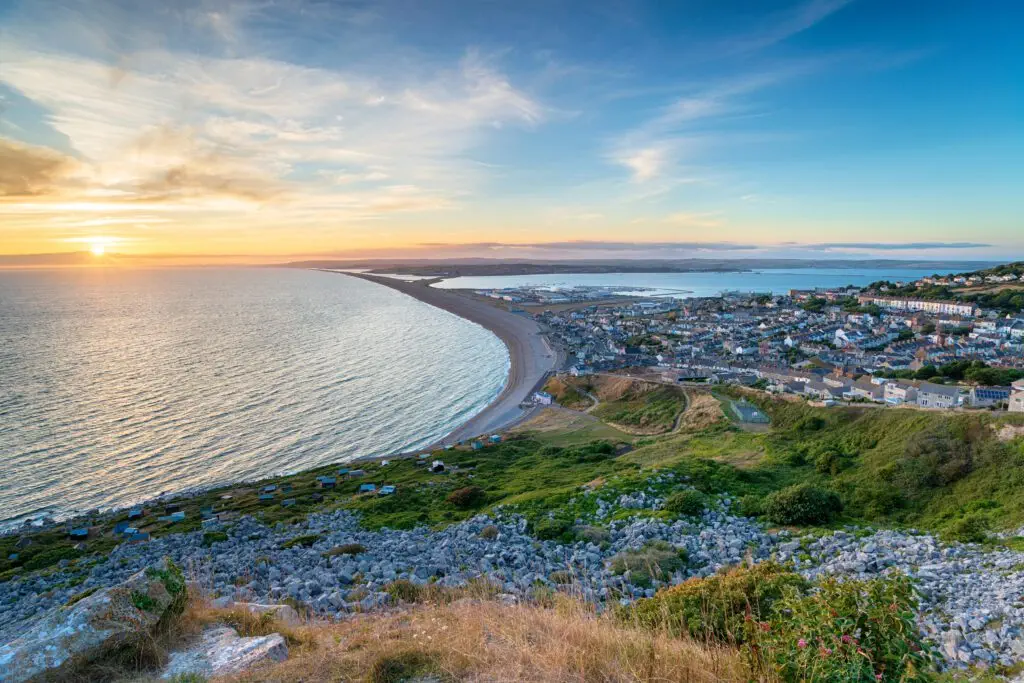 The Weymouth beach comes among the best beaches in U k known as the traditional seaside town with a beautiful sandy beach and historic harbor.
These are spectacular beaches in England with their diverse beauty and picturesque town, seaside town, is famous for its long stretches of golden sand. The beach is extremely popular with families where you go with shallow waters and experience its adventure.
Here one can find traditional entertainment along the length of the sand, which makes it perfect for keeping everyone entertained.
This place is filled with children who love the fairground, donkey rides as well as the sand sculpture pod, where they could find a relaxing time to enjoy. The eastern end of the beach is quieter and popular amongst water sports enthusiasts looking to kayak, jet ski, or standup paddle board.
There is a lifeguard station and beach patrol during the summer. There are all the facilities that you would expect from a popular seaside resort of this size and popularity including toilets, several cafes and restaurants, beach shops, deck chairs, and sunbed hire.
As you move further away from the town center the beach becomes much quieter and the fine sandy beach turns to shingles and small pebbles. It drives you to the golden sand and makes you experience its colors besides the colorful beach huts to relax and have fun.
Weymouth has a car park facility for the majority of people out there. There is also a park and ride bus service which is a convenient way to escape the busy town center. Dogs are allowed on the beach, however, some restrictions are followed there.
They are known as the best beaches in England one can visit and explore the spectacular beach in one go.
Beaches In England: The Fistral Beach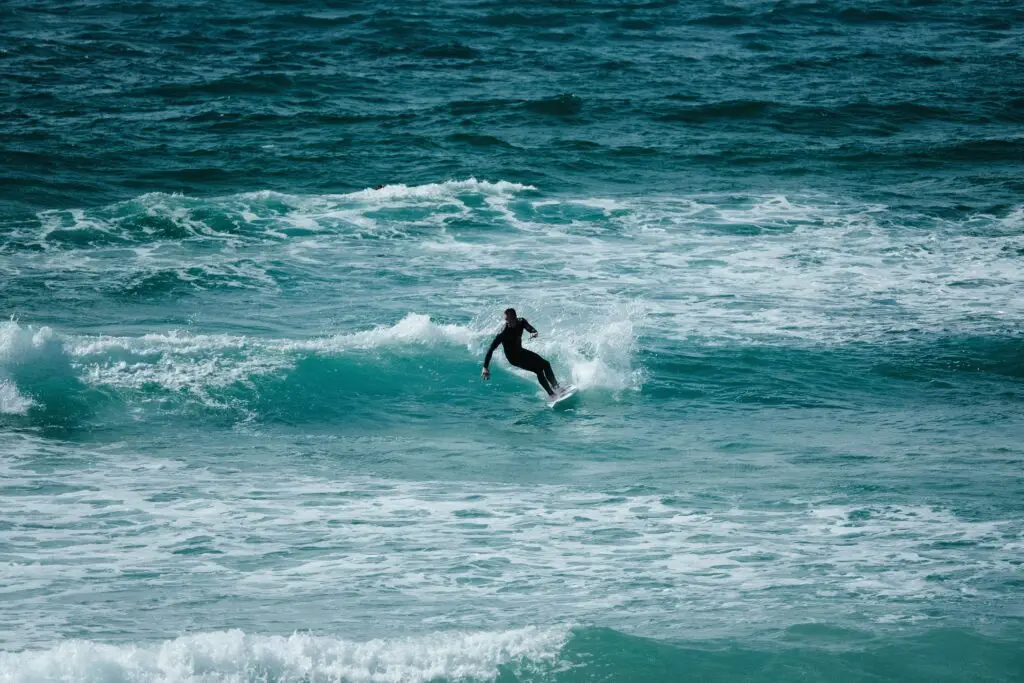 It is known as the best beach in England as Fistral Beach is famous for surfing, Here it makes us feel blessed and peaceful, where it's only a few miles away from the popular seaside town, Newquay.
This beach takes us to idealize the adventure of soft sand and rugged hills. Its water waves are surprisingly strong at times and thrilling to see which attracts plenty of weekend surfers where there is also a lifeguard tower for a cup of peace out there.
It is idealized with its outstanding natural beauty where you will find a collection of restaurants and bars at the far end of Fistral Beach which makes it a fun place for a meal and a few beers. The best beaches in England collaborate with Fistral beach which is one of the world's top surfing destinations, it's backed up by high cliffs and sand dunes.
Fistral Beach is the playground for hundreds of enthusiasts who come to visualize the splashing waves on the beach to explore its thrilling surfing activities within it. These beaches in the UK are famous for competitive surfing competitions that thrill you with magnificent adventure and fun.
It is the perfect family beach offering simple pleasures of sea and surf combined with first-class beach and seafront facilities including surf equipment hire, lessons, boutiques, showers, toilets, car parking, restaurants, and cafes.
Beaches In England: The Cromer Beach
While we have so many attractions, it's no surprise that this Norfolk coastal town is the first choice of holiday destination for many families, and Cromer beach is one of the main reasons why this Norfolk town gets importance for holidays time and time again. Here, time seems to stand still in Cromer Beach with its amazing positive thrilling vibes.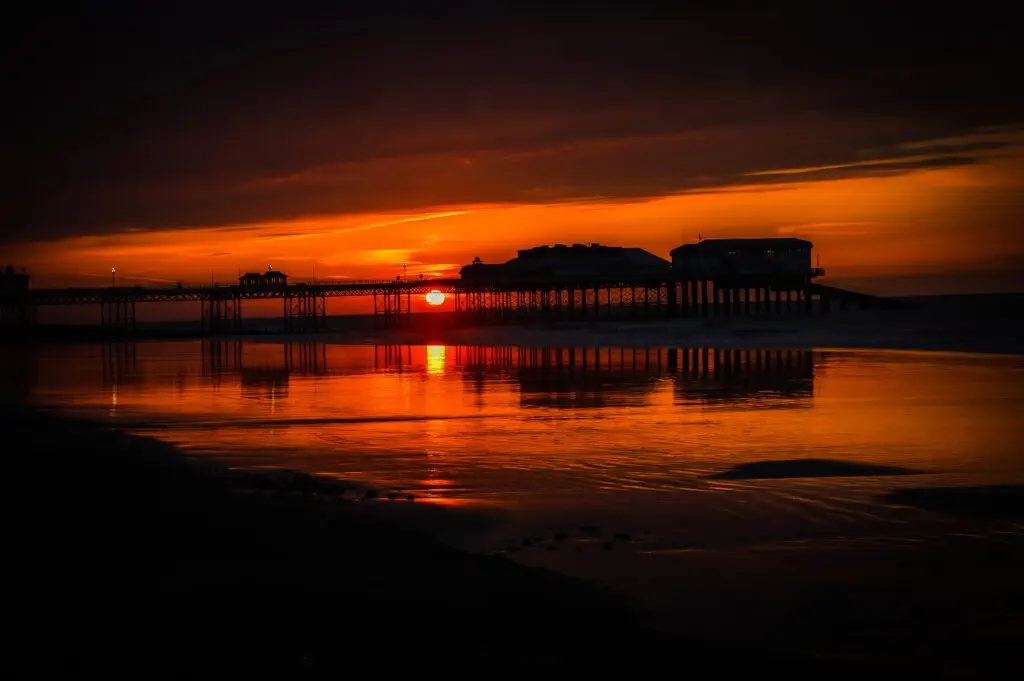 Even though Cromer Beach is very popular in the summer, you will still get huge pleasure from this lovely and very unspoiled beach. This beach binds you with its original charm and makes you feel like an old seaside resort, waiting for you to come and experience its colourful beach huts out there.
When the tide is out at Cromer beach, we come to these amazing stretches of beautiful sand and sand dunes where there is plenty of room to play, walk and build sandcastles to have fun.
The beach is surrounded by lifeguards in the summer months, so it's nice to be at Norfolk beach for enjoyment. Going for a ten-minute walk can be much more relaxing on this beach, whether going east or west. 
It's known as the best beaches in England where you will find a magnificent place to chill and go for outings with your loved ones. Cromer beach is one of the few Blue Flag beaches along the Norfolk Coast which becomes the ideal place to stay and explore its bright beach huts.
Cromer beach has quite a few beach huts along the promenade on the east side of the beach. And is facilitated by seaside resorts which makes it easy for families to spend their time on sandy beaches.
It takes you to the peaceful beaches and crystal-clear rock pools aside, the magnificent Victorian pier is the main attraction here. Refreshingly, it's home to a thriving theatre, where regular soul nights, comedy shows, and original productions keep tourists and locals entertained.
It's such a scenic beach, with pristine sands to explore where you will find yourself overwhelmed that you visited this one. 
The lovely wet sand as the tide goes out is so pretty to visualize and feel the low tide within just a short walk. There are car park facilities in Cromer which we require a short walk to reach the beach. 
Beaches In England: The Blackpool Beach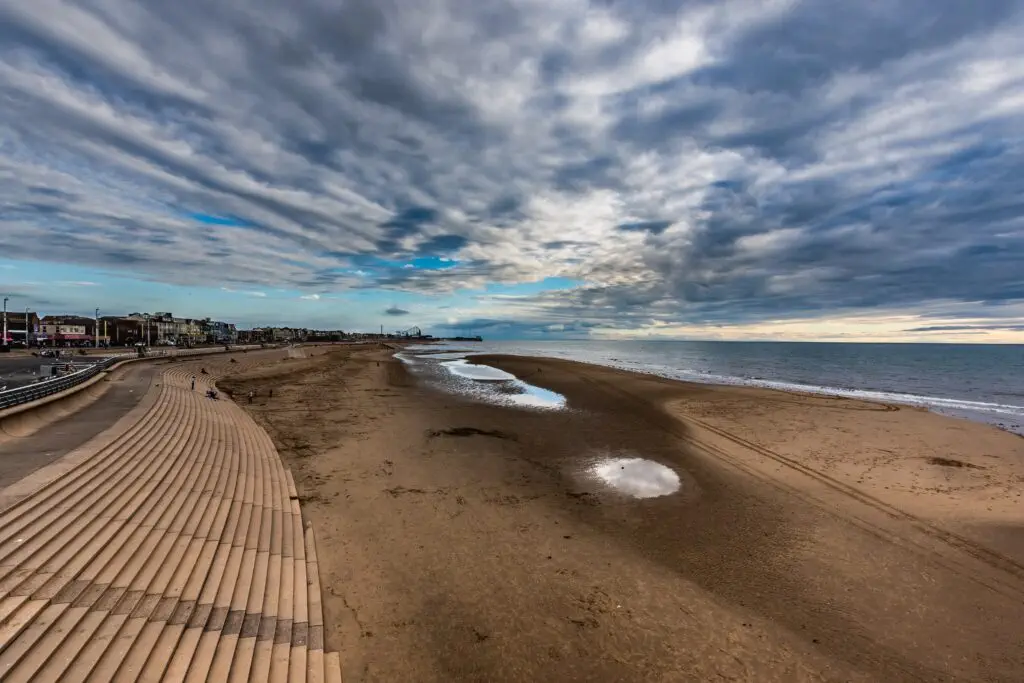 There's nothing quite like a day at the seaside, and Blackpool Beach is one of the best beach resorts you will find in the UK. Blackpool Beach is so named purportedly because of a drainage channel that ran over a peat bog and discolored the water that ran into the Irish Sea.
With nearly 7 miles of golden sandy beaches, and Blackpool sands complete with lifeguards keeping watch, the beach alone is a draw for both holidaymakers from the UK and around the world. 
On this beach, the area boasts 3 different piers with various entertainment activities, where one can't forget to visit Blackpool Pleasure Beach, an amusement park featuring one of Europe's most renowned rollercoasters.
Here you will get a glimpse of Blackpool Tower right off the beach which offers an adventurous view of a circus.
These gorgeous beaches take you to amazing activities for fun and adventure off the sand as well. This beautiful beach comes up with The Blackpool Winter Gardens area which is a place to cherish, and the Sandcastle Water Park is an indoor aspect of offering a day of adventure for the whole family.
These incredible beaches make you love to relax in the sun, taking a foot in the sea is almost fascinating and loving. There you will spend your time making sandcastles, and playing games, so you really can make a day of it.
Beaches In England: The West Wittering Beach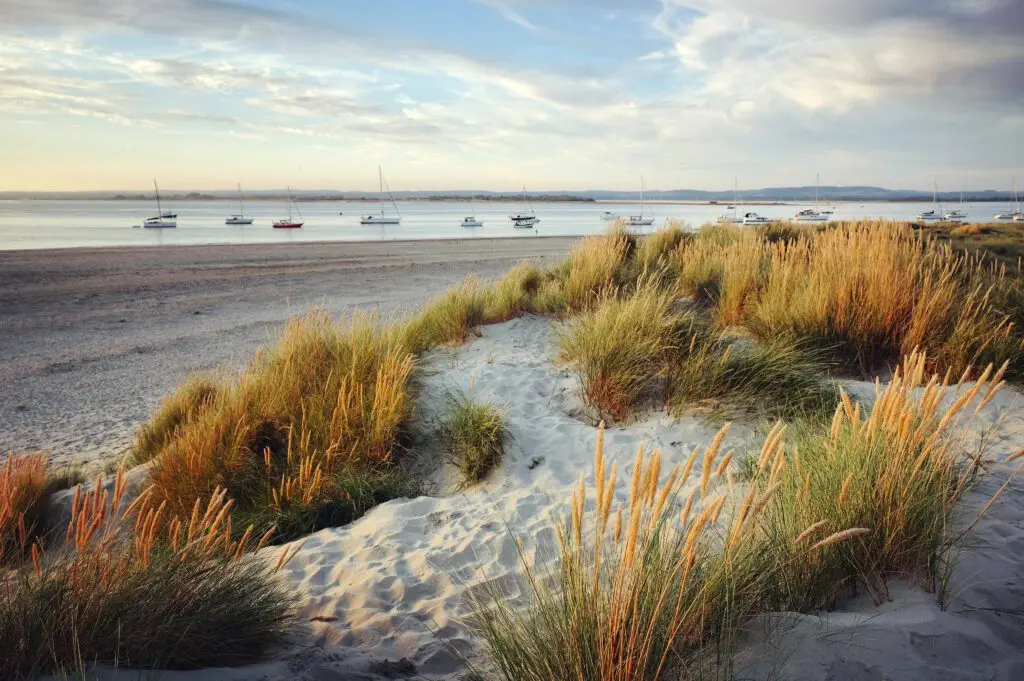 West Wittering Beach is a beautiful vast expanse of golden sand where you can enjoy a day on the beach, walks, or watersports. It's known as the best beach in England where you will like to enjoy and have fun. The sloping sandy beach is lined with multi-colored beach huts in a relatively flat coastal area.
The west wittering beach offers a wonderful view of Chichester Harbour and the South downs beyond, the natural and unspoiled sandy beach of west wittering beach has been a favorite destination for a family day out for generations. The highest water quality and excellent facilities have made it one premier blue flag beaches in the country.
The extensive acres of neatly grassy dunes close to the beach are perfect for parking and picnics. The sea is idealized with wind and kite surfers, where we found shallow lagoons which are left on extensive sandy flats at low tide. The whole area is internationally recognized for its wildlife, birds, and unique beauty.
Beaches In England: The Formby Beach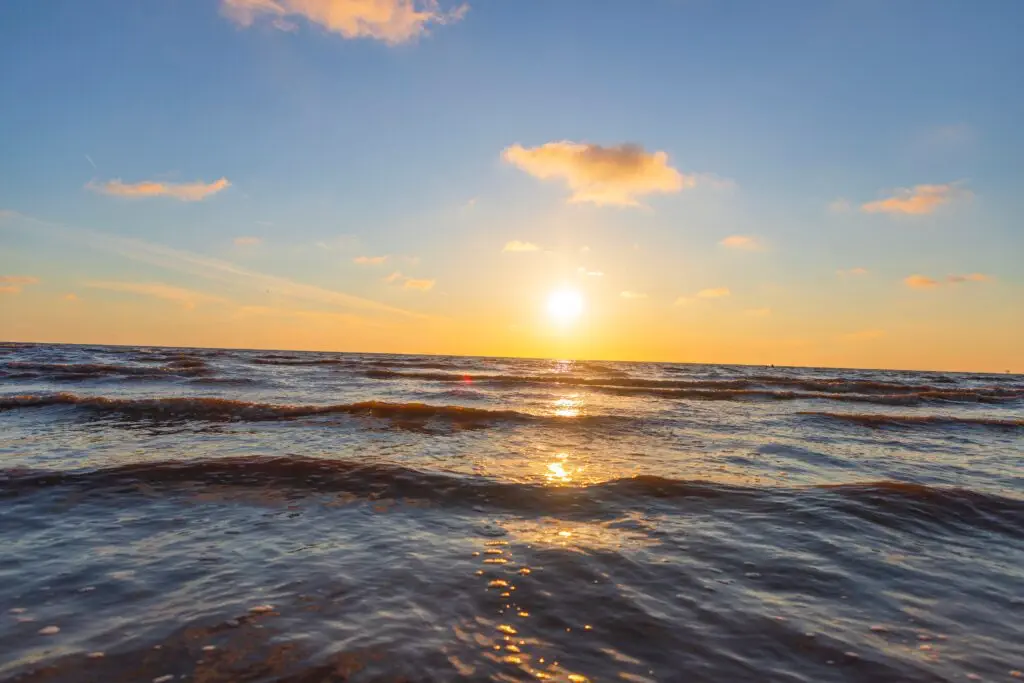 Formby Beach is a fascinating and fun beach that lets you explore not only an inviting west coast, but prehistoric remains revealed by erosion.
The stunning views of the Irish Sea are reason to glance at the place as it's mesmerizing and delightful. Everyone can find fun at this beach, from adults who are looking to relax to kids who would rather run around a bit on the sand.
The erosion activities at Formby Beach are one of the most iconic places to visit and view the natural erosional process. This beach comes up with stunning views that make you view the dynamism of the Irish Sea.
On especially clear days, you can view the peaks of Cumbria. Several picnic spots are found along the beach as well, where you come across the surrounding woods and wildlife habitat.
The town of Formby takes just a short walk to the western coast offering shops and restaurants away from Liverpool's town center. Formby beach is a spectacular expanse of beach, sandy dunes, and pine trees on the edge of a metropolis.
Formby Beach is ideal for families, with a large car park, picnic areas, and waymarked paths to the beach, dunes, and woods. The coast here undergoes erosion and the tides often come up with prehistoric layers, some of which depict human and animal footprints.
The rolling dunes take you on an amazing adventure on the sandy shore in a diverse way and indulge you with joy and a thrilling experience.
Beaches In England: The Scarista Beach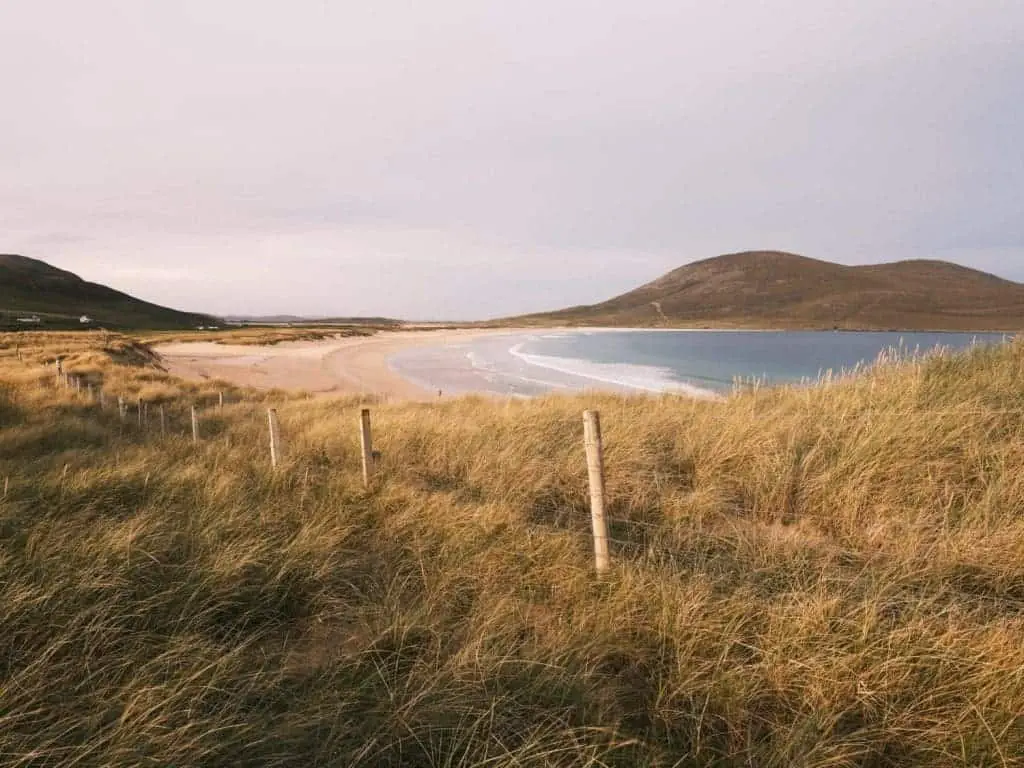 The Scarista beach runs a few kilometers between Scarista village and Northern village. Here at low tide, the dynamism of watery waves forecasts the area with two villages which is one of the large sandy bays, and where we walk over the shore. Walking along the beach is interesting with fabulous views out to sea and views of the South Harris hills.
The height of the tide makes no matter of concern much for walking this beach but it's surrounded by beaches at Seilebost and Luskentyre are much more beautiful at low tide.
When we come across the top of Ceapabhal, the panoramic views over Scarista beach and out towards Luskentyre beach and the Harris hills are amazing. These are known as the best beaches in England.
This is an amazing beach on the west coast with lovely white sand and breathtaking views from all sides of the place putting you on the best beaches in England. Here, Scarista House is a small hotel with a restaurant serving local dishes and a beach bar.
The beaches in this area are popular with surfers who indulge in white sand and golfers are also found to be in the Isle of Harris Golf Club. Scarista is a good base for exploring the rest of South Harris with great adventure and fun.
It's fascinating and attractive for its pretty seaside town where children on the south coast play with white sand make sandcastles and enjoy walking at low tide.
Final Words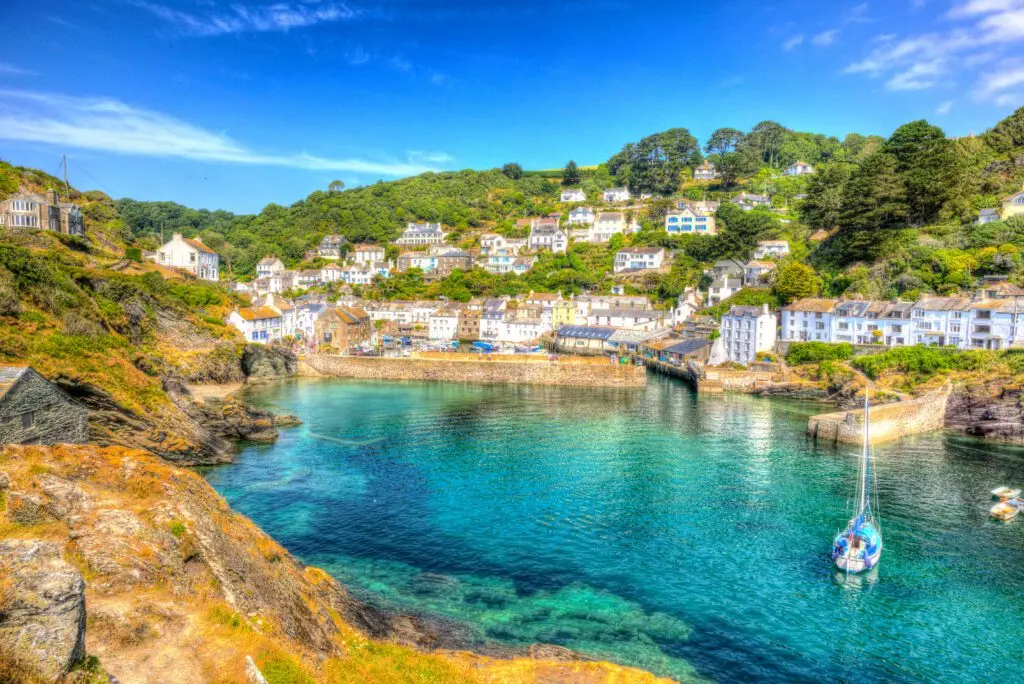 As a whole, we come to experience the thrilling water waves which splash their colors deep within the surface in the beaches of England. The adventurous sports make it more fun and joyful in every aspect of life at the most beautiful beaches throwing its sandy shores to magnified beaches altogether.