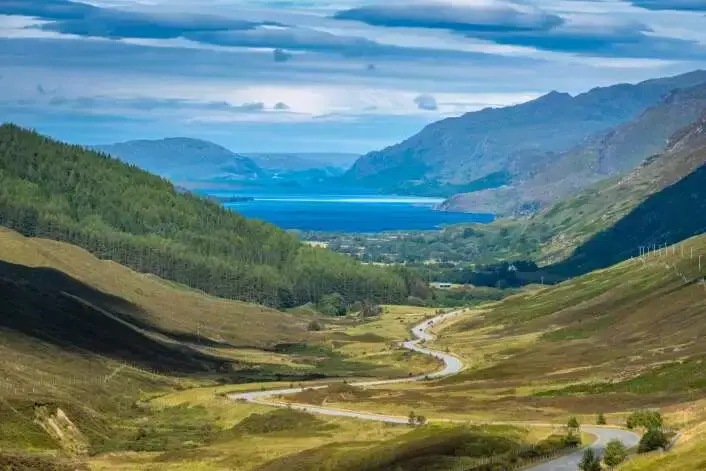 Included in the list of some of the best road trips in the world, the NC500 route stretches to almost 516 miles of the ultimate beauty of Scottish highlands and jutting mountains. The route is full of scenic viewpoints, castles, golf courses, whiskey distilleries, museums, and beaches.
Rebranded as Scotland route 66, North coast 500 is a popular route to plan a camping trip in a motor home or regular tents. In some areas, one can experience wild camping as well.
About North Coast 500 Route
The North coast 500 starts from Inverness and ends in the same. Driving north from Inverness, one can witness beautiful, fickle dolphins and historic castle ruins. The Route then turns towards the farthest part of the north coast to Thurso, where one can explore amazing Smoo caves and have hot chocolate at Cocoa mountain.
When heading south, it is easy to notice beautiful white sand beaches and unearthly sea views along the coastline towards Wester Ross. Further, drive through Torridon Mountains and pass through lochs to Applecross Peninsula before you reach Inverness again.
North Coast 500 is filled with unearthly landscapes, from huge sea caves and spectacular beaches to the views of beautiful Scottish mountains from Scotland's most northerly coastal points. Though the north highlands deserve all the attention they are now getting, North Highland Initiative is to be thanked for bringing North Coast 500 into existence.
NC500: An Overview
North coast 500 is an ideal road trip to the Northern highlands that starts from Inverness castle; a short walk away from the city's bus stand and railway station. The journey continues towards the west coast for about 80 miles to Applecross.
From there, the trip heads towards the beautiful cities of Torridon and Ullapool, where one can witness the most northerly coastal points in Scotland. Then the path, heading towards Inverness, passes through Caithness.
Where To Start
One can start the trip simply by reaching Inverness and seeing and doing everything the city has to offer beforehand. The capital of Highlands has a handful of things one can do before starting their road trip to North coast 500.
One should definitely sign up for a walking tour or buy tickets for Hop on Hop off bus tour, which would include attractions like Inverness' five castles, cathedrals and some notable buildings, Caledonian Canal, river Ness and battlefields of Culloden.
To save time on your North coast 500 trips, you can also take a detour to Black Isle. Black Isle is a beautiful peninsula located to the north of Inverness. The major attractions here include its brewery, a cathedral ruin and waterfalls.
Black Isle is the best place for dolphin watching when the tide is right. You can watch these lovely creatures from Chanonry point.
How To Reach Inverness
Inverness is the largest city in the highlands of Scotland and is accessible almost everywhere. You can travel to and from the city by train, bus, air or even by ferry depending on where you are coming from.
1. Train
Inverness rail station connects trains from almost all the major cities in the UK and is quite accessible. It takes about 2 hours from Aberdeen and Perth and approximately 4 hours from Edinburgh and Glasgow.
While there is no direct train from London to Inverness, you would have to change a maximum of up to two trains to reach the Scottish city of Inverness. One can opt for an overnight journey from Caledonian Sleeper, which takes up to 12 hours to arrive at Inverness.
2. Bus
Inverness is well connected with all the nearby cities by buses. One is recommended to get all the tickets much earlier to get a seat at reasonable rates.
3. Drive
Driving to Inverness makes sense if you are thinking of doing the North coast 500 road trip by your own vehicle. It takes about 3 to 3.5 hours to drive from Edinburgh and Glasgow, About 8 hours from Belfast and Manchester and about 10 hours from London.
4. Ferry
If you travel from Ireland, there are regular ferries between Belfast and Cairnryan to facilitate your journey to the Scottish highlands.
Cairnryan is about 5 hours drive to Inverness if you decide to rent a car, or you can travel to Inverness by bus and train.
Preparations To Be Done Before The Road Trip
When one takes off on a road trip, certain preparations must be made before leaving the starting point.
1. Stock Up On Snacks
The first thing that needs to be stocked before starting your journey to amazing Scottish highlands is snacks. To avoid needless stops that can delay the trip, making it a long one, it is important to keep some snacks in hand with you when you decide to break on a road trip.
2. Rent A Car/ Motorhome/ Motorbike
If you decide on car hire or hire a motorbike or a motorhome, ensure you have a valid driving license.
Also, if you are driving a motorbike, do not forget the needed safety gear.
3. Get Camping Gear
North coast 500 is filled with camping sights if you decide to add a raw experience to your trip. Do not forget to pack your camping gear to have an amazing camping experience in the beautiful Scottish Highlands.
A 7-Day Itinerary On NC500 Route
Though the time one covers North coast 500 solely depends on the one travelling, the 7-day detailed north coast 500 itinerary is more expanded and relaxed. One can cover as many attractions as they want and take their time to seep in the beauty of the Northern highlands.
Day 1: Inverness To Dornoch
Route: Inverness-Beauly-Muir of Ord-Dingwall-Alness-Tain-Dornoch
Distance and Time taken on the drive: about 50 miles, may take up to 1 hour (without a halt)
If you are the one who started their journey directly from Inverness and had no time to explore this beautiful city, some of the major attractions that fall on the route starting from Inverness castle are the Inverness museum and Inverness botanical garden. You can also stroll along river Ness or take boat tours.

Beauly is the first stop home to 12-century church ruins where John Keats wrote about the ruined Abbey. You can also listen to Beauly's pipe band performing traditional music every Thursday at the town square.
At Muir of Ord, one can visit a beautiful golf course with the sight of Castle Hill Henge or Muir of Ord Fort and a whiskey distillery with a visitor centre; you can always have a tasting and tour.

One can halt at Dingwall to visit several historical monuments and grab a bite. We recommend you give your car a break and take a stroll around this pleasant town. Some major attractions include Dingwall Museum, Major General Hector Macdonald's memorial tower and Tulloch castle.

Evanton is a small village that comes on this route and offers several hiking trails, one of which covers Black Rock George, a shooting location for Harry Potter movies.

On the way to Tain, one can take a brief detour to the Nigg Bay Reserve, a part of The Royal Society for Protection of Birds Reserve.

One can have a look from outside at Skibo castle on your way into Dornoch, as the castle is not open for public viewing.
Dornoch is a little town with a famous championship golf course named Royal Dornoch Golf course, Dornoch cathedral, Dornoch Castle, which is now a hotel and Dornoch beach which is ideal for a seaside stroll.

If you have some more time on your hands, we recommend you to check out, HistoryLinks, and if you like, check out some trails for places like the witch stone and old Mercat cross.
Day 2: Dornoch To Wick
Route: Dornoch-Golspie-Helmsdale-Wick
Distance and Time taken on the drive: About 63 miles which may take up to 1.5 hours (without a halt).
Embo Beach is a beautiful beach that needs to be detoured.

Loch fleet, a nature reserve, can be a halt for people who enjoy birdwatching and wildlife. This fleet is a unique sea loch amidst mudflats, sand dunes, pinewoods and coastal heath. If you are extremely lucky, you can spot some otters and seals.

Skelbo castle ruins are something you can spot in the Loch fleet. Hike lovers can choose some short trails over longer ones. Skelbo Forest walk is an ideal train for families with several wood-carved animal sculptures.

A short walk in the town, Golspie is a must for its interesting stories about the first Duke of Sutherland and his wife. Golspie has a huge statue of the Duke with gorgeous views on a clear day, and you can hike your way to it from the town centre.

If interested, one can further hike up to Dunrobin Castle estate.
Whaligoe Steps are artificial stairways of 330 steps, hand-cut to lead down to a beautiful harbour between dramatic cliffs.

Old Wick castle is your last stop for the day, a 12th-century castle ruin along a beautiful cliff.
Day 3: Wick To Tongue
Route: Wick-John O' Groats-Thurso-Tongue
Distance and Time taken on the drive: About 63 miles, may take up to 1.5 hours (without a halt)
The roads on this part of North coast 500 are single-track, also known as one-lane roads. If you have never driven on single-track roads, please know about road laws and how to drive into passing places beforehand. You need to pull over in passing places to enable faster traffic.

Castle Sinclair has to be your first stop of the day after you leave Wick. It was built by the Sinclair clan along with Ackergill tower, which is not open to the public.

Nybster Broch is yet another iron age structure situated along the coast. Nearby one can also look at Old Keiss castle from the outside as it is not open to the public.
John O' Groats is another pretty fishing village when you head north coast. It is the most northerly town in Great Britain. You can also have nice views of Orkney from here and take the ferry to take a detour to Orkney islands.
Duncansby Head Lighthouse is another attraction northwest of John O' Groats. It is not open to the public but has an epic landscape, and you can see beautiful seabirds on cliffs.
Castle Of Mey, another former Sinclair property, is the next attraction when you move further on North coast 500. It was a holiday home of former queen Elizabeth who was Queen mother.
Dunnet Head being the most northerly point of mainland Britain has a viewpoint with amazing views. You can also take a leisure stroll in the nearby area of Dunnet Bay Nature Reserve, which is home to several important flora and fauna.
Thurso is a lovely little town where you can have a quiet lunch and walk along the river towards the lovely beach to spot seals.
Scrabster harbour could be your next destination for the day; from here, you can take a ferry for a detour to Orkney islands. Holburn Head is a stone's throw away from the harbour, where you can have a nice view of Orkney through blowholes.

The tongue is perfect for your night's stay and is the last stop of your day. Here you can stroll around the lovely village and go through the Tongue causeway and bridge over the kyle of Tongue sea loch.
Day 4: Tongue To Lochinver
Route: Tongue-Durness-Scourie-Kylesku-Lochinver
Distance and Time taken on the drive: About 83 miles, may take up to 2.5 hours (without a halt)
When you head west from Tongue, you can enjoy beautiful views of Kyle of Tongue, Ben Hope and Ben Loyal on the route.

North West Highlands GeoPark, which is a UNESCO-declared Geopark, is your first halt of the day. The geopark is choke-full of outstanding landscape.

The Golden Eagles Zip Line can be your next stop if you love to have some extra adrenalin rush. This is the most northerly zip line and is located near Ceannabeinne beach. As the adventure is seasonal, you can always stroll on the golden sand of Ceannabeinne beach.
Smoo Cave is this day's major attraction. It is a huge freshwater and sea cave and is magnificent inside out. Though a major part of the Smoo cave can be explored on foot for free, a guided tour of all the waterfalls and sinkholes in the cave is worth every dime.
Durness, the next plausible stop, has two beautiful beaches: Sango sands beach and Balnakeil beach. You can also visit Balnakeil craft village nearby, where you can find beautiful little craft shops and restaurants that serve food cooked with delicious local produce.

Cape Wrath is a wildlife area; one can visit it outside Durness. It also has a lighthouse.

Handa island is one of the most mesmerising islands in Scotland and is accessible from Tarbet.
Kylesku bridge has an amazing viewpoint, gorgeous backdrops, and a huge car park. You can also book a boat trip here to experience serene waters, various seabirds, and animals.

Lochinver is today's last stop; it is packed with incredible white sand beaches and is famous for its hiking trails.
Day 5: Lochinver To Ullapool
Route: Lochinver-Ullapool
Distance and Time taken on the drive: About 37 miles, may take up to 1 hour (without a halt)
Apart from some easy hikes, one can try some challenging ones if time allows. Several hikes around Lochinver and Loch Assynt, like Suilven, Canisp, and Creag Liath, are considered difficult.
Ardvreck Castle, sitting along Loch Assynt, is the next stop. The ruins are an amazing site to cherish.
Knockan Crag is yet another just after Ardvreck castle, which is a geologically significant attraction with billions of years old rocks and a trail with some of the best views.
Ullapool is the largest village on the west coast part of North coast 500. You can just stroll around the harbour or walk up to Ullapool, Loch Achall and Loch Bromm for some magnificent scenery.
Day 6: Ullapool To Kinlochewe
Route: Ullapool-Poolewe-Gairloch-Kinlochewe
Distance and Time taken on the drive: About 60 miles, may take up to 1 hour (without a halt).
Corrieshalloch Gorge National Nature Reserve is the first attraction on this route, where you can see a mile-long box canyon from the Victorian suspension bridge. There are a few options for walking trails along both sides of the Gorge.

Inverewe Garden is among some of the most beautiful gardens on the Scotland route.

Gairloch offers a whale cruise during which you are likely to spot not only whales but otters, sharks, dolphins and seabirds in the summer months.

Victoria falls is a waterfall just near Talladale; while the views from this part of the north coast 500 are magnificent, the falls are something nice and lovely for the ice to see.
Day 7: Kinlochewe To Inverness
Route: Kinlochewe-Applecross-Inverness
Distance and Time taken on the drive: About 94 miles, may take more than 2 hours (without a halt).
Torridon countryside centre with all the sights of water and rock has to be the first attraction of this day. One of the five Munro's can be seen here. You can always enjoy a picnic here by Loch Torridon.
dBealach na Ba is a mountain pass to cross by taking some dangerous single-track roads to drive across the remote Applecross peninsula. The roads twisted with steep turns are not recommended for timid drivers.

The beautiful village of Lochcarron is perched on the banks of lake Carron. The village is famous for its weavers and weaving styles, which you can check out in some local shops.

You can do a few more exciting things on your way back to Inverness. Try the Monro hike by Ben Wyvis, visit Rogie Falls, and Visit the Highland Museum of Childhood. See Eagle Rock. Visit Castle Leod
Bottom Line
After looking at detailed North coast 500 itineraries, it is sure that the views of Scotland's west coast are to die for, but the east coast also is more than what meets the eye. The east coast of North coast 500 is also filled with singing dolphins, beautiful castles and Iron-aged brochs and both the coasts are worth the visit.
A large part of the NC500 route is one lane, so if you have any hesitation driving up the routes, please refer to all the guidelines and rules to be prepared beforehand.
We have mentioned all the important attractions but every small village on North coast 500 is worth a visit; you can always admire the local infrastructure, have decent evening meals and enjoy gorgeous views of the northern coast.
So, why wait? Prepare your wheels or explore car rental options and start the trip. Get ready with your google maps and have a great journey to mesmerising Scottish world of serene beaches, mountains, waterfalls and amazing landscapes!