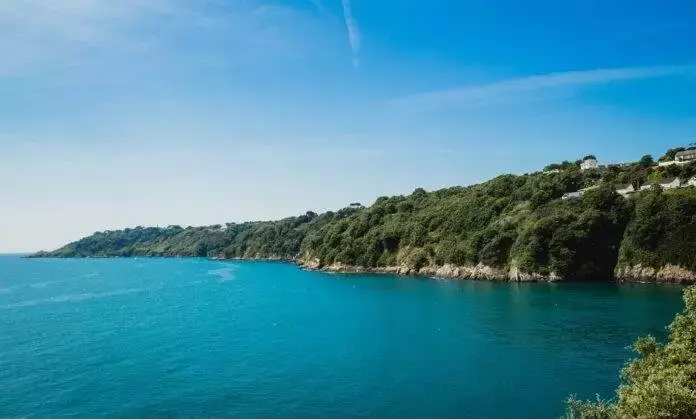 Have you ever heard of Guernsey Island? It is a British crown dependency, which is 30 miles west of the coast of Normandy in the English Channel.
So, Guernsey Island is not associated with the British government or UK Parliament. Together with the Bailiwick of Jersey, it is regarded as the Channel Islands.
Guernsey Island is only 25 square miles in area. It was split from the French coast of Normandy due to the rising sea levels, which happened nearly 8000 years ago.
Even though it may not be a part of the United Kingdom, it is a part of the British Isles. Guernsey Island is the epitome of an enriching tourist experience.
It is an adventurous spot with several museums, restaurants, beaches, and quirky new shops.
An ideal family destination in the capital, St Peter Port, is a trading post. Guernsey is compelling in its historical background and is a gorgeous place of serenity, peace, and fun.
1. Things to Do on Guernsey Island
Guernsey Island has a shocking number of wonderful places to check out, contrary to its island size. It has several incredible sight spots for families, couples, or anybody.
It has an ample amount of excellent restaurants, along with a dozen of lovely shops for souvenirs.
Guernsey Island is for you if you're looking for an ideal family or friend destination with endless fun and a good time.
Read more to know what intriguing activities you can do to enjoy Guernsey's authenticity.
1.1 Pay a Visit to The Hauteville House
Also known as the Victor Hugo House, this place is situated at Rue Hauteville in St. Peter Port, Guernsey. The house is infamous for the Author Victor Hugo who lived here in Guernsey for 15 years of exile.
Booking a reservation before you go is a must due to this house's popularity. On the tiny Island of Guernsey, the Hauteville House is a hidden gem you cannot miss.
1.2 Watch the Noon-Day Gun Fire at Castle Cornet
Formerly known as the Cornet Rock or Castle Rock, Castle Cornet was built during the time of 1206 to 1256. It is 800 years old and is situated at the mouth of the harbour of St Peter Port.
Mainly, it talks about the English Civil War History and the stories of the German Occupation in World War II.
On every noon-day gun, it fires a heavy canon by a gunner in the uniform of the 19th century and serves as the main act while visiting the Castle Cornet.
Later, follows by some tea time at the cafe and other spots visiting afterward.
1.3 Visualize the History of German Occupation Museum
This is the Guernsey Museum in the English channel islands, which is special for the mysterious well collection of relics from World War II, Authentic occupation street, and Potato Peel Pie Society. The owner of the Museum is Ricard Heaume.
He opened this famous Museum in 1966 at Les Howards in the Forest Parish. The Museum has a unique way of storytelling the history of Guernsey.
The German Occupation Museum is popular for its audio-visual technology, display, and dioramas.
They are used to communicate the story of the island residents when they were attacked by enemies five years ago.
1.4 Enjoy an Island Full View from the Victoria Tower
When Queen Victoria and Prince Albert visited Guernsey Island in the year 1846, the Victoria tower was built in honour of their visit.
It has a narrow spiral staircase leading to the platform with a 360-degree view from the Island's north, west, and east coasts. It is an ideal monument to visit if you want to get a wholesome view of the entire guernsey island.
Located on Arsenal Road, the fun and adventure of this tower come at an absolutely free cost. You have to climb a total of 99 steps to enjoy a panoramic view of the St Peter Port Harbour.
The tower is mostly built with red granite and stands 100 feet tall at the capital of Guernsey. The designer of the Victoria Tower is William Colling.
He took inspiration from Medieval Italian Buildings to create a monument with significance and royalty.
The tour to this monument is free with a ticket to the next visiting spot, Candie Gardens.
1.5 Relax at The Candie Gardens
Candie Gardens is a lovely garden from the heart of St Peter Port with only a 5 minutes walk. It serves an amazing view of the neighbouring islands and the St Peter Port Harbour.
It is a stunning garden park with beautiful flowers, green grass, and decorative ponds.
There is an Art Gallery and Guernsey Museum within Candie Gardens, which is home to over 200 fascinating paintings and art. There have been tons of exhibitions here throughout the Guernsey Years.
The Victoria Cafe in the garden has terrace tables and windows of glass, providing a great view of the peter port harbour and castle cornet.
The garden library has many book collections of Guernsey's local history and other maps and documents.
1.6 Lose Yourself in The Beauty of Little Chapel
The Little Chapel is one of the most beloved spots on Guernsey Island. Brother Deodat built it in the year 1904.
It is like a mini church with intricate and stunning designs compared to its small size. It is like a fairy tale place with a small staircase located downwards towards the floor.
An exit gravel path leads to the back of the little chapel so you can view this iconic landmark's exterior beauty. On their first visit, anyone would be surprised by the little chapel's elegance, so it is worth it.
1.7 Enjoy the Magic of Fermain Beach Cafe
To properly taste the island life in Guernsey, pay a visit to this award-winning cafe with top-quality, delicious food. This is an ideal place to eat out with your friends and family.
With a stunning view of Fermain Beach located at St. Martin, this cafe ranks the most popular when it comes to expensive and finger-licking meals. It is beloved for its yummy desserts like pudding and cheesecakes.
This place has top-quality food, especially when it comes to steak and plates of seafood. Fermain Beach Cafe is an ideal example of the food experience on Guernsey Island.
1.8 Watch The 'Guernsey Literary and The Peel Potato Society'
The little movie depicts the time during the Occupation era on Guernsey Island. At that time, the Island was controlled by the Deutsch Occupation during the Second World War.
It is good historical fiction for those intrigued by Guernsey Island's history. Directed by Mike Newell, the movie displays a brief situation realistically when the Island's inhabitants join groups to protect and save one another.
It is definitely a worthy film to watch if you want to dig deeper into the buried stories of Guernsey Island.
1.9 Wet Your Feet at The Cobo Bay Beach
It is one of the most beloved beaches, serving a ton of amenities along the street with its wonderful sea waves and enchanting white sands.
As beautiful as the beach sounds, it has won the hearts of people for its impeccable service. On the west coast, you will find the Cobo Bay Hotel. You can enjoy the serenity and spend a romantic time there.
Cobo Bay is only a few miles away from the Guernsey capital, St Peter Port. If you're hungry for a delicious snack time, Cobo Fish Bar and Cobo Kiosk are at your nearest to keep you full with amazing food at all times.
1.10 Have a Ride on The Petit Train
The Train departs from the Albert Pier and the journey time is around 35 to 40 minutes. The Train offers a picturesque view of the St Peter Port capital and commentary throughout.
The Train is white and will remind you of the toy trains you may have played with as a kid, bringing a happy nostalgic time. It starts off on the opposite side of town, from Albert Pier.
The Train ride is always open every day in summer, excluding only Tuesdays. A family-friendly train where everyone is welcome, but sadly wheelchairs are not accessible.
1.11 Make a Hobby out Of Candle-Making
Visit the fascination store of Guernsey Candles art workshops at St. Sampson. There is a ton of gift shops at St Sampson and St Martin, but this place is a must-visit.
It is located in the Bailiwick of Guernsey and is an extraordinary gift shop where you buy candle souvenirs and can try your hand at candle-making.
It also sells jewelry and toys, other than candles, and is welcoming to all age groups islanders. The gift shop has provided constant sets of fabulous crafty candles for over forty years.
1.12 Learn About the Guernsey Cattle
Guernsey Island is exclusively famous for its dairy production and industry. The livestock and the Guernsey Cow are well-known for producing high-quality milk with rich butter fat and protein concentrations.
Try visiting the cattle from the Island in the Channel Islands. The cattle are usually larger than jerseys. The milk of the Guerney Island is prominent in yellow, and the cattle need to be more proper for the beef since jerseys are more suited for that.
The cattle breed originated between France and England in the Channel Islands. Now, cattle serve the best quality milk and dairy products, which has earned them popularity in the world.
1.13 Spend a Good Time at Saint's Bay
Saint's Bay, or Portelet Bay, is an elegant cobbled hill ( Mill Street ) at St. Martin's. Located on the country road, the Bay is a hidden treasure on Guernsey Main Island.
It brings gorgeous views of the entire Island and other amenities for further relaxation. For a short, sweet snack time, visit the Saints Bay Kiosk for every need of your growling tummy.
Along the cliff path, the Saints Bay Hotel is located at the top, where you're provided great food, coffee, and other dining services.
1.14 Spoil Yourself in The Guernsey Spa Salons
Guernsey is bound to impress you with a few 5-star spa houses, mesmerizing views, and relaxing spa services. Some include St Pierre Park, Old Government House, and many more.
The Old Government House has incredible facilities for your calming spa time for rejuvenation for mental health and immersing you in tranquillity. There are services like Relaxation Suites, studio gyms, Sauna Steam rooms, and heated pools.
It is great to have my time while you're travelling, and Pierre Park never disappoints. It has advanced facilities like Hot Tub, Marble Steam Room, 5 Treatment rooms, and Dual Aspect Volcanic Stone Sauna.
1.15 Unravel the Corners of Fort Grey Shipwreck Museum
The shipwreck museum is also popularly known as the 'Cup and Saucer.' The Museum is a collection of rare artifacts gathered from shipwrecks along with their informative panels.
Fort Grey has become a part of the Museum and was built in the year 1804. Fort grey has been defending the coastland of the Island ( Rocquaine Bay ) from the dangerous waves since then.
There are a few adorable things like you can dress up as a sailor, pirate, or octopus in the dressing rooms. For puzzle lovers, there are a series of quizzes and spotting picture boards hidden all over the Fort walls.
1.16 Learn Hands-On Surfing at Guernsey Surf School
If you're ready for an aquatic adventure in Guernsey, this is the right place. Guernsey surf school is situated at Vazon Bay in Castel.
With years of experience in surfing, the coaches and the instructors at Vazon Bay take pride in their passion for surfing and teaching. The school takes safety measures and ensures your experience remains fun throughout the Island.
There are group lessons, and the coaches are friendly, attentive, and patient. Guernsey surf school has qualified teachers who will guide you through the surfing basics at every step.
1.17 Trek up The Lihou Island
This Tidal Island is situated at the Bailiwick of Guernsey, St Peter Port. The Island sets you up to once in a lifetime adventure that you would not want to miss.
There are various places to explore, like the Venus Pool and the Priory Ruins. However, there are no dining places in Lihou, so bring your packed lunch boxes.
It is enjoyable to visit here on summer days since it is usually cooler. There are several marine species that you can witness, luckily, if you spend some time on the Lihou Island Shore.
1.18 Immerse Yourself in the Eateries at St Peter Port
The enchanting capital of Guernsey, St Peter Port, is infamous for its series of restaurants and eateries. If you want to grab a bite or a big meal after an exhausting journey, St Peter Port is your welcoming call.
St Peter Port restaurants specialize in British-French Cuisine and Seafood. The Boat House is a renowned bar and restaurant in Peter Port for its delicious seafood meals and other food.
Other restaurants like Le Nautique, Da Nello, and The Hook are chic fancy restaurants with mouth-watering meals of seafood, meat, and steal. There are restaurants in St Peter Port that have expertise in Cosmopolitan cuisine as well.
1.19 Pop Along the White Rock Cafe
Once again situated at the St Peter Port in the Channel Islands, this little cafe is a great snack shop to stop by. It has a lovely ambiance along with friendly, hospitable staff members.
They serve yummy meals and also offer takeaways. It is a traditional cafe popular for affordable, customer-friendly dining experiences.
Nearly every customer will find something delicious to eat and reasonable to pay for at the white rock cafe. It is the perfect place to enjoy and spoil yourself with the most delicious breakfast food.
1.20 Have a Day Trip to The Ladies' Bay
Ladies Bay is situated near St Sampson's and is well-known for its family-friendly spot. The sandy beach is a tourist favourite for its windsurfing and kitesurfing activities.
Apart from the sea, the beach serves fun courses on windsurfing, with Guernsey trainers for every level – beginner, intermediate, and expert. With a huge parking facility, it is also a great place to bring your dogs.
There are also several dining places nearby for grabbing a bite whenever you want. If you're lucky, you may witness a few aquatic creatures on the shore once the tides return.
1.21 Discover New Hotels to Stay in on Guernsey Island
A dozen well-maintained, high-quality hotels are available in St Peter Port and St Martin's. A few of the renowned hotels to stay in are Old Government House Hotel, Ziggurat, Pandora Hotel, and other catering cottages at Camps Du Moulin.
Pandora Hotel is located right next to the Victor Hugo House. It even has elegant gardens with a terrace view to make your day. There are 55 bedrooms in this hotel, along with delicious continental cuisine and delicious wine.
The Old Government Hotel is a 5-star hotel with an expensive high status. As mentioned before, it has top-notch spa services along with an amazing panoramic view of the Island.
1.22 Take a Tour to Other Nearby Islands
Apart from Guernsey Island, there are other channel islands like Herm and Sark, which are also called Sister Islands. You can easily reach Herm in 20 minutes from Weighbridge Clock Tower at St Peter Port.
When visiting Sark, the ring of stones at Sark Henge is a must place to visit. Along with another beach named Grand Greve, they are both gorgeous sandy beaches in Sark.
Herm Island has a series of comfortable cottages, great eateries, and luxury hotels. It is a natural landmark, and its wildlife is more prominent than that of Guernsey Island.
1.23 Roam Around the Folk and Costume Museum
Located at Saumarez Park in Castel, this Museum is for those interested in Guernsey Island's traditional and cultural side. It doesn't even take 10 minutes to reach there from St Peter Port,
The Museum depicts the daily lifestyle of Guernsey's inhabitants and displays apparel, accessories, and other textiles used by the Islanders.
There are also special exhibitions for those interested in costumes. They hold a selection from a large number of pieces, and the chosen one would be displayed at the Museum on a yearly basis.
1.24 Stroll Around the Town Centre Market
The Town Centre Market at St Peter Port is a hometown of food, accessories, events, and many more. It is an all-rounder market that is always bustling, especially during holidays.
The place shines during Christmas and stays decorated with lights, gifts, trees, and cakes. Islanders purchase items with their Guernsey pound, a currency union in the UK.
Here, you'll find the perfect Christmas present for every family member. The market also specializes in hand-crafted gift items like candles, jewelry, cushions, and even hand-painted plates.
1.25 Learn About Guernsey's Seaweeds Through Port Soif Tours
The Seaweed foraging tours are held in Port Soif. The tours will provide you with all the information you need about seaweeds and their uses for different purposes. Each seaweed tour takes approximately 1 hour and 30 minutes to complete.
Learning about seaweeds is fascinating once you dive deep into this tour. Seaweeds are used in Farming, Fashion, and Cosmetics. Apart from them, seaweeds are now booming in the cooking area.
During the tour, you'll gain hands-on experience in the world of seaweed. Apart from the knowledge, you'll be able to enjoy different types of delicious seaweeds as a bonus throughout the tours.
Conclusion
Guernsey Island is like the Jack of all Trades. You are bound to be spellbound by its various charming activities, places, and services.
Guernsey has a place for everyone from the elegant designer Victor Hugo House to the simple, affordable White Rock Cafe.
Check Out: Scottish Islands – An Awesome Guide
Among all the wonderful tourist spots in the World, Guernsey is one of those destinations that always impresses everybody.
Guernsey Island is undoubtedly the best for families and friend groups looking for an ideal spot to enjoy their vacations. Have you ever visited Guernsey Island?
Leave a comment down below and let us know about your experience!