Best beaches in the Italian city, Malta are a historical collection of islands, which are situated between Italy and Tunisia. It features stunning beach resorts, swimming spots, and water sports that are great for adventurous travellers, sociable groups, and even families with young children.
The beautiful and best beaches in Malta city are indeed dramatic, with a rocky shore, and sea-sculpted, with fewer soft and sandy Mediterranean coastline curves than you might expect. Malta is a sun-worshipping beach lover's paradise. The islands of Malta are blessed with a warm Mediterranean climate, with more than 300 days of sunshine per year.
10 Best Beaches in Malta
The below-mentioned best beaches in Malta city are a fantastic selection of popular beaches to suit every type of traveller. Check out the list of the best beaches in Malta city, whether you are looking for a family-friendly beach, sandy beach or a lively seaside scene.
1. Ghajn Tuffieha Bay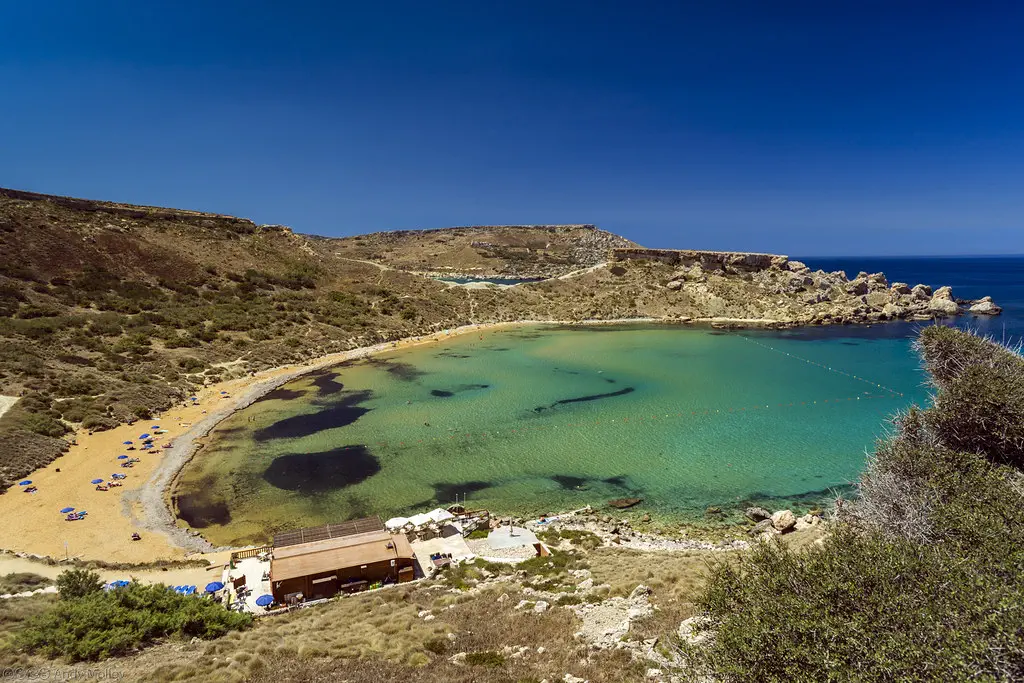 Ghajn Tuffieha Bay is amongst the best beaches in Malta city. It is next to the popular beach Golden Bay Beach and has a similar magnificent perspective and butterscotch-coloured sand, which is a more sedate option for sunbathing.
It is not backed by hotels, unlike Golden Bay, and the slightly longer walk to get there also helps to reduce crowd size. This is a great option if all you want to do is lay in the sun on the golden sand and periodically cool off in the water.
Other excellent sunbathing spots include the rocks surrounding St. Peter's Pool and the secluded serenity of Fomm ir-Ri. It is a sandy beach with crystal-clear water, and high surrounding cliffs on each side of the bay, it easily takes the top spot on everyone's list of best beaches in Malta city.
Sun umbrellas and sun lounger hire are available, and a snack bar on the beach offers some reasonably priced fare. Despite being excellent for swimming in the summer season, Ghajn Tuffieha Bay is renowned for having strong undercurrents year-round.
2. St Peter's pool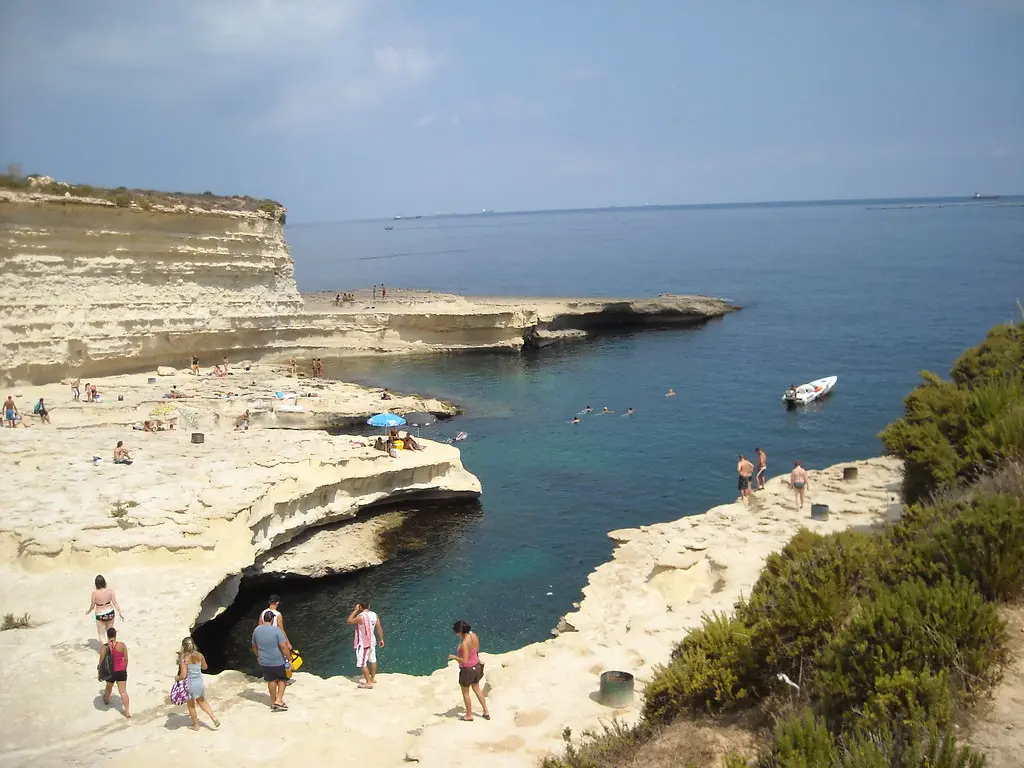 Malta is renowned for its breathtaking coastline scenery and swimming places with pristine water. The stunning natural swimming hole known as St. Peter's Pool was created by limestone erosion.
Due to the water's pristine clarity, it is well-known in Malta. On a bright, sunny day, the sun bounces off the white bottom of the pool to create a lovely blue glow. On Malta's southeast coast, close to the end of Delimara Point and the fishing community of Marsaxlokk, is where you will find St. Peter's Pool.
This is a relatively remote location for visitors staying in tourist areas such as Valletta, Sliema, or Mellieha bay. Furthermore, the flat rocks around the pool serve as the perfect spot to relax and enjoy the Mediterranean summer sun in the summer months.
3. Ramla Bay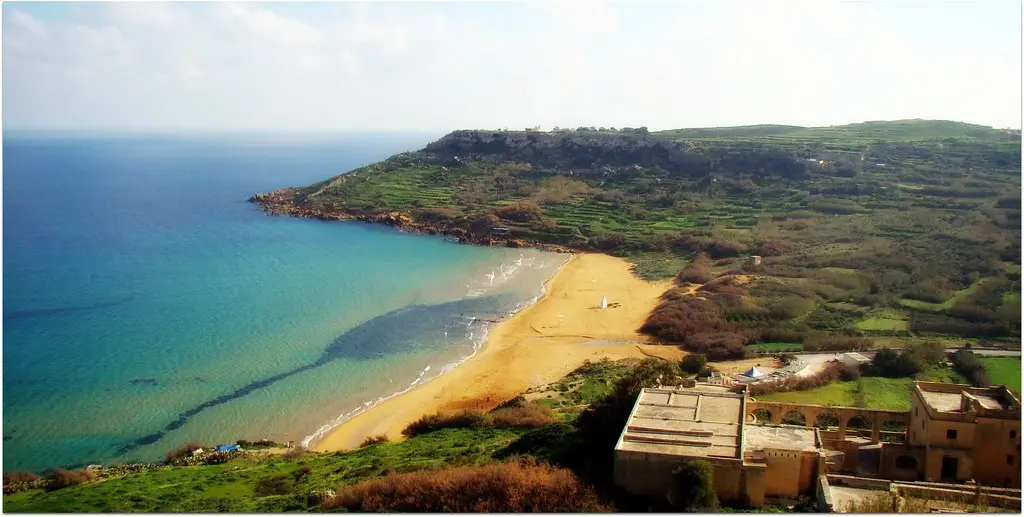 The terracotta-coloured sandy beach Ramla Bay in Gozo is amongst the best beaches in Malta city and is easily reached by bus and automobile, and it is bordered by a restaurant that rents out umbrellas and sun loungers.
If anyone starts to get bored, there is a scramble up to Calypso's Cave to take into consideration. The beach slopes gently into the water, and the views up across the hills are lovely. One of Malta's top family beaches is Ramla Bay, however, Golden Bay, Mellieħa Bay, and Paradise Bay are all deserving competitors.
In the middle of the sandy beach, there is an attractive statue of the Holy Mary with baby Jesus in her arms, evidence of the strong religious faith of the Gozitans. Ramla Bay Gozo island and Golden Bay both have a unique quality about the colour of the sand that draws so many visitors to these beaches.
The bay is included in the blue flag beaches list. There is a nearby restaurant at the entrance of the bay.
4. Blue lagoon
The magnificent Blue Lagoon is one of the best beaches in Malta, is on the island of Comino, and is amongst the island's lesser-known treasures. This is a must-see destination known for its clean and clear blue and turquoise waters and spiky cliffs, and it is ideal not only for swimming purpose but also for awesome photography hikes.
Comino, as a part of the biosphere reserve called wildlife sanctuary, includes wildflowers and herbs. The Maltese name for this small island called Kemmuna, is derived from the most common of them all: cumin. The aroma of small plants called herbs from the fields fills the air frequently.
Beginning with the boat ride towards the island, the journey is scenic whether you want to go on a cruise. So, get your camera stays ready for Instagram-worthy shots of the stunning cliffs and cyanic waters.
The Blue Lagoon is now one of the most popular tourist destinations on the islands of Malta during the summer, so don't be astonished if you see a beach full of people. It is popular among both tourists and locals. Avoid going on weekends because that is when most locals with pleasure boats will find the time to visit.
5. Gnejna Bay
Gnejna Bay, nestled between clay slopes and limestone cliffs, is one of Malta's most scenic sandy beaches, with distinct natural settings and a quieter, more private location than those nearby. It is a popular and one of the best beaches in Malta city with both locals and visitors searching for a peaceful location to enjoy the sun and water.
It is located in the western portion of the island, just a few kilometres from the small, rural settlement of Marr. Nejna, a reasonably big sandy beach, is notable for flanking clay hills and limestone cliffs.
In reality, the only way to go towards the bay is to descend a steep, twisting route via Nejna Valley, which has one of Malta's few remaining permanent freshwater springs that flow through the valley towards the sea.
Not easy to reach via public transport. No direct route to most popular resorts, passes once in the hour and the closest alternative bus stop is pretty far away in Mġarr.
The beach is sandy with a moderate slope drop into the water. Ideal for inexperienced swimmers as well as youngsters. Smooth sandstone, is a natural platform for sunbathers who don't like the sand around.
Because the parking space is located on the beach's edge, it is quite easy to reach for those with mobility challenges and impairments who use private vehicles.
6. Golden Bay beach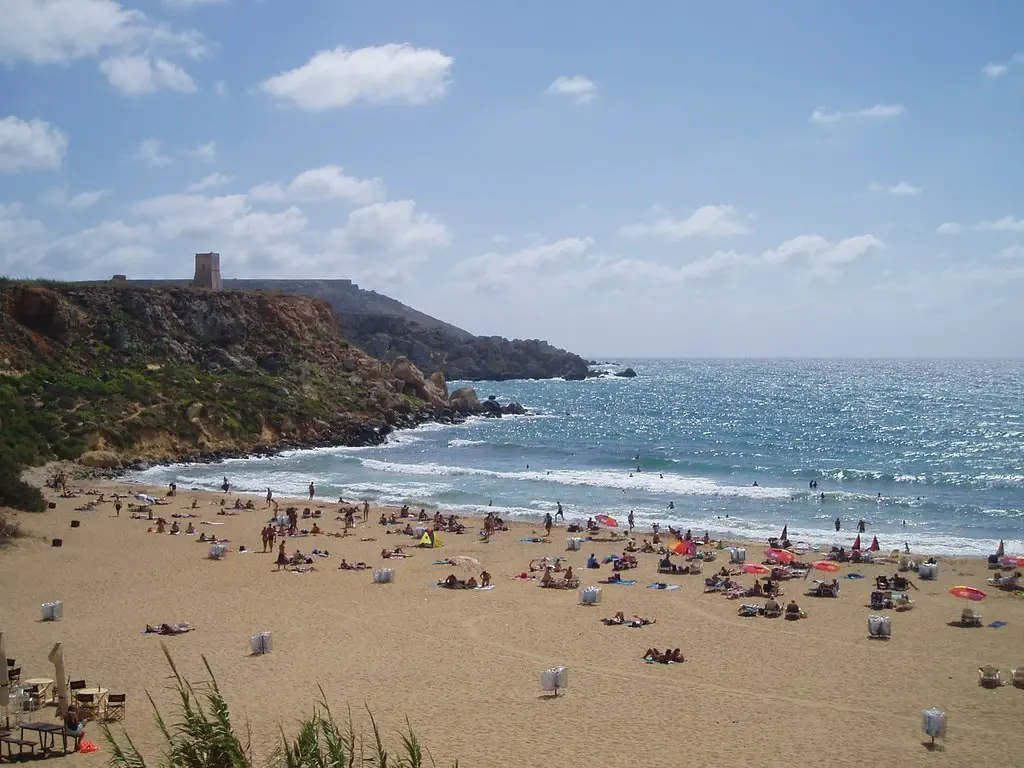 Golden Bay is situated on Malta's northwest coast, close to the hamlet of the place Manikata, and is notable for its red coloured sand and originally created dunes on its periphery rocks. Golden Bay is a popular and one of the best beaches in Malta city, thanks to part to the vicinity of the highly rated Radisson Golden Sands hotel and beach club.
Golden Bay is a beach full of sand like Ghajn Tuffieha bay, but it is a very popular beach since it includes a long area covered with sand, is simpler to use, and has improved facilities, including some restaurants, and a small snack bar nearby golden bay.
It is relatively easy to get there by automobile or public transportation, however, parking might be difficult on weekends and holidays.
The beach is a famous spot for activities like sunbathing, swimming, water sports, water skiing, banana boating, scuba diving, boat trip and get together, especially after the afternoon as soon as sunset watchers light up their grills and have fun at a laid-back night during the summers at the beach.
7. Mellieħa Bay
Mellieha Bay, also known as Għadira Bay, is the vastest and amongst the best beaches of Malta city, present in the northern section of the main island, close off the urban area of Mellieha. The beach's shallow water, which is quite deep for around 50 metres outside the sea, and ease of access make it one of the most suitable beaches in Malta for family.
Mellieha Bay offers a plethora of sports such as windsurfing, canoeing, kite surfing, water skiing, and also a blow-up water area for the kids in the sea, which will keep bathers entertained for hours. It is larger than other beaches.
Mellieha Bay has no underwater currents and seldom encounters severe waves, making it excellent and safe for children. Ghadira Nature Reserve is located across the road from Mellieha Bay and is home to a variety of tiny animals and reptiles as well as a stopover for migratory birds travelling via Malta.
Renting sunbeds and umbrellas is available, as are water sports facilities such as paddleboats, canoes, and jet skis. Various beachfront establishments serve food, drinks, and delectable ice cream.
Relaxing at the beach is highly popular among Maltese since it provides an opportunity to get away from it after a tough work week.
8. Dahlet Qorrot
Dahlet Qorrot is an ideal place for photographers. There is a new shot ready to be taken at every bend and twist. The article is a list of the best beaches of Malta city that includes a few photographs to whet your appetite and urge you to visit this quiet bay.
Dahlet Qorrot Gozo is a little lovely tranquil and one of the best beaches in Malta city on the northeast coast of Gozo, between Nadur and Qala.
It is a tranquil setting where one may unwind and enjoy the natural beauty all year, especially during the busiest summer months. This modest enclosed bay is ideal for spending quality time on your Malta trip.
There is no public transportation near the bay. The nearest bus station is approximately two kilometres away on foot. Although the majority of the trip is downhill, bear in mind that the return route will be a tough hill climb. If you decide to take on the task, it is advised that you bring as few items as possible.
During the summer months, there is a snack bar, however, it is not always open. Bring your food and water for a peaceful and pleasurable stay. There are parking lots near the beach for convenience.
Because the coastline is shallow, it is great for youngsters to play on the sand and swim. However, keep in mind that the sea may become rather deep very rapidly, therefore youngsters should be kept under constant supervision.
There is a designated location where more daring swimmers can leap or dive into the water, which is served by a ladder that allows swimmers to safely climb back out of the sea. Some small inlets in the rocks along the beach give protection from the hot heat, and the seats provided for guests are covered by trees that also provide shade from the sun.
In the winter, the setting is great for individuals seeking seclusion, who appreciate watching the waves, reading, or simply spending some time quietly away from the rush and bustle of everyday life. During the winter, the turbulent sea in Dahlet Qorrot bay can be dangerous for inexperienced swimmers. Because of its remote position, establishing a cell phone connection may be difficult.
9. Dwejra Bay
A trip to the Maltese island of Gozo would be incomplete without a stop at Dweira Bay Beach. It is one of the cleanest and best beaches in malta. A spectacular seascape is created by powerful waves smashing on enormous cliffs, while sunset paintings awe visitors with their unparalleled beauty.
Dwejra Bay Beach is exceptionally clean: local officials preserve order and do not permit beach barbecues. Parking, multiple restaurants, snack bars, beach equipment rental businesses, and bathrooms comprise the leisure area's infrastructure.
Among the nearby attractions are the Mushroom Rock, which has been designated a nature reserve, and a 17th-century watchtower.
Dwejra is a beautiful sight, with its stunning coastline cliffs and surf overflowing over the rocks so best for rock climbing too that is the reason it is considered as one of the best beaches in Malta city. Swim in the bay's beautiful deep sea, the inland sea's peaceful shallows, or the frothy seas around the Blue Hole, one of Gozo's best diving destinations.
Another stunning natural phenomenon discovered in Dwejra is the Inland Sea. Qawra, as it is frequently referred to in Maltese, is a saltwater lagoon on the island that is connected to the sea (Mediterranean Sea) through a naturally created arch-shaped entrance.
It was most likely constructed when a geological fissure in the limestone built a cave, and the ceiling fell over time, making the hole and creating the crystal lagoon itself.
10. Fomm Ir-rih
Fomm Ir-Rih is a tiny island on the west coast of the island of Malta. A fault line in the area produces an unusual environment with towering cliffs and a pebble beach. Behind the shore, there is also a unique syncline.
The bay and headlands have some of the most beautiful scenery and geology on the Maltese islands. Unlike the other beautiful beaches and one of the best beaches in Malta city, Fomm Ir-Rih is the wildest and most remote. The beach is well-known for its breathtaking coastline views.
If you are keenly interested in doing scuba diving, this is the place to be. Snorkelers and divers are the primary visitors to the beach. The beach has a distinct charm that makes it worthwhile to visit.
When the sea is quiet, Fomm Ir-Rih Bay's crystal pure blue waters are ideal for swimming. Swimming is not suggested when the winds are blowing from the north or northwest because of the dangerous rolling waves.
The only route down to the remote Fomm Ir-Rih Bay is a 20-minute walk down a rocky, hard, and often steep and slippery road. Remember that the return climb in 30°C (or more) heat and the sun is not suggested for the unfit, children, or elderly.
The picturesque waters of Fomm Ir-Rih provide not only fantastic snorkelling and diving but also good fishing. Fomm Ir-Rih is not only one of the Maltese islands' most remote and picturesque bathing sites, but it is also an excellent trekking destination.
Only one road, which is now unlawfully barricaded, allows public access to the peaceful pebble beach. Access to the beach is now by a tiny trail dug into the side of a high cliff, followed by a descent to the beach.
The region is particularly well-known for its Maltese freshwater crab, which lives high above the bay and the sea. Blat Moga Tower was erected near Fomm Ir-Rih in the mid-17th century, but it fell in the 18th century and was never rebuilt. As part of the Victoria Lines, a redoubt was erected in the region in the nineteenth century.
The picturesque waters of Fomm Ir-Rih provide not only fantastic snorkelling and diving but also good fishing. Fomm Ir-Rih is not only one of the Maltese islands' most remote and picturesque bathing sites, but it is also an excellent trekking destination.
Activities and Attractions in Malta
The number of things to do in Malta is infinite, whether you are a history buff, a night owl, an adrenaline addict, or simply a rambler looking to be blown away by natural beauty.
Whatever you are searching for in a vacation, a journey to the Maltese Islands is an unmissable experience for any sort of tourist, with so much to see and do.
Malta, a little country in the middle Mediterranean 50 nautical miles from Sicily, is a location that has not made an impression on average American tourists.
It lacks the instant name recognition of well-known tourist destinations like France and Britain, which have long drawn large numbers of Americans. It is also not the kind of destination you would stumble into by chance when wandering about Europe on a summer vacation. You can also read about the 15 best beaches in Europe, considering the island's remote position.
1. Sea and Sand
Apart from its lengthy history, Malta is an island in the Mediterranean. In other words, there are many outdoor things to do, ranging from walking and cycling to diving, and it is surrounded by gorgeous water.
Scuba divers love the pristine, blue waters that surround the Maltese Islands. Buttigieg stated, "We have 20 metres of visibility in the sea. There are also many reefs, caverns, and wrecks to explore around. Additionally, there is almost little chance of coming across harmful creatures, making it the ideal environment for novice divers."
2. Beaches
There are several best beaches in Malta city (Maltese islands) for people who prefer a slower pace, including Mellieha Bay, the largest beach on the island (and a great family beach), and Golden Bay, towards the north-west coast of Malta.
3. 300 Days of Sunshine
The climate of the Maltese Islands is recognised for being pleasant and sunny. There are about 12 hours of sunlight every day. According to Buttigieg, "We love to be outside."
4. A Year-round Vacation Destination
In contrast to many other Mediterranean vacation spots, Malta provides a wealth of opportunities year-round. For the remainder of the year, people enjoy the moderate winter weather in Malta by engaging in outdoor activities like bicycling and hiking, as well as visiting museums and historical sites.
5. Dynamic Nightlife
Some of the greatest names in the worldwide club scene, like Tiesto, Paul van Dyk, Ferry Corsten, and Carl Cox, have been drawn to Malta by its bustling nightlife. Open-air clubs offer a distinctive experience, and both residents and visitors find them to be quite appealing.
Three Islands to Explore in One Place
Malta, Gozo, and Comino are the three islands that make up this country, which is situated in the middle of the beautiful Mediterranean Sea, south of Sicily and off the coast of North Africa. As you have read above that there are numerous activities to do while enjoying the trip to Malta with your friends or family or if you are planning a solo trip. Nevertheless, Malta offers the best beaches to explore and create memories and cherish the moments spent there with beloved ones.
Being a hub of the best beaches in Malta city, Malta is the biggest of the islands, while Gozo, which is recognised as a calm refuge and the cultural and economic hub, is more rural and famous for its fishing industry, tourism, crafts, and agriculture. The smallest and least populated island is Comino.