Off the southeast coast of Africa in the Indian Ocean, there is a stunning island nation called Mauritius. The country is made up of the Mascarene Islands, which also include Rodrigues and Mauritius islands.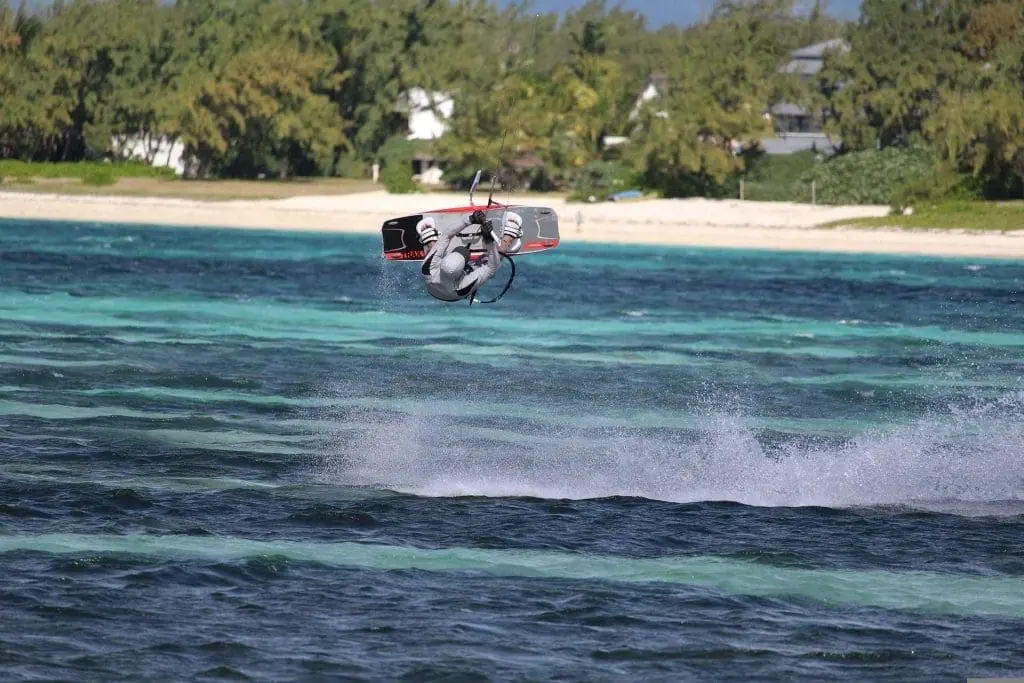 You won't run out of things to visit in Mauritius with its magnificent white sand beaches, gorgeous blue ocean, mountains, UNESCO World Heritage Sites, and so much more all crammed into one country!
20 Things to Do in Mauritius
Here is a short selection of suggestions for things to do in Mauritius that will make your trip unforgettable.
1. Take a Look Around Black River Gorges National Park
Black River Gorges National Park, one of Mauritius' most well-known sites, is situated in the southern part of the island. One of the largest national parks on the island, this natural marvel was created in 1994.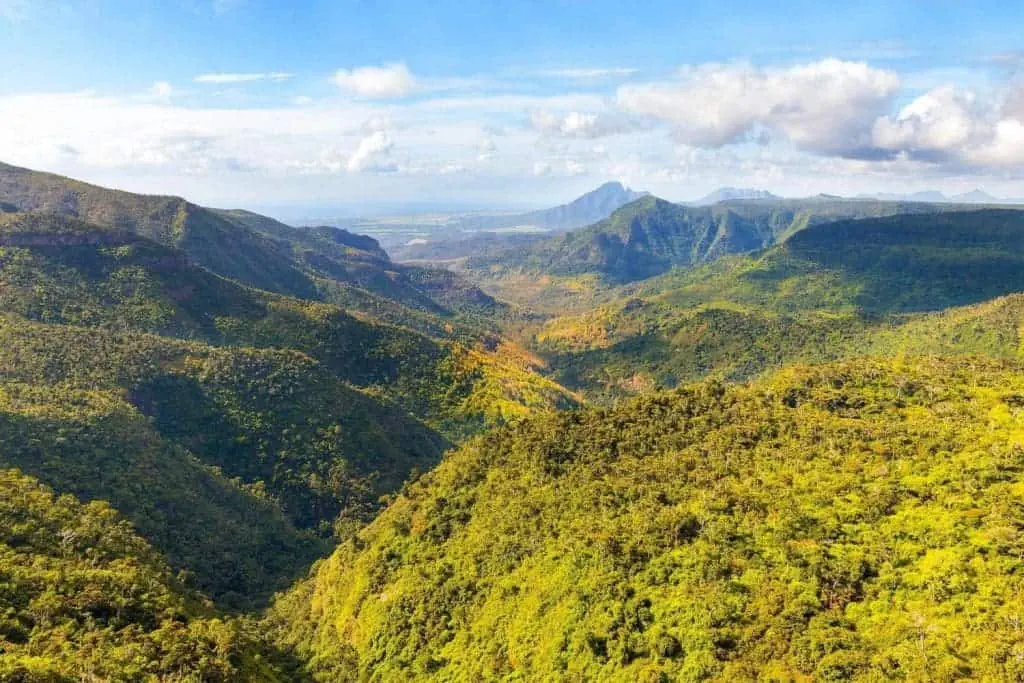 Black River Gorges National Park is around 68 km2 in size and is home to several rivers and lakes, rare bird species, woods, and the Mauritian flying fox.
Great tourist attractions in Mauritius can be found inside the Black River Gorges National Park, including Alexandra Falls and the amiable river dolphins. It is one of the best things to do in Mauritius.
There is a unique wooden staircase that leads to a location where you may observe Alexandra Falls, a secret waterfall. If you find yourself in the Black River Gorges National Park, it is absolutely worth a visit!
2. Visit Port Louis
The capital and largest city, Port Louis, is unquestionably one of the first locations to see in Mauritius. There are so many different things happening here that a day would not be enough to cover everything.
You can find suggestions for things to do in Mauritius at the country's beautiful Port Louis central market or bazaar. Locally grown veggies, unusual cuisine, regional goods and spices, as well as arts, crafts, and souvenirs, can all be found here. The affordable clothes that Port Louis is famous for are available.
Port Louis central market offers excellent value for the money, with some being locally produced and others being imported from China and India. The residents go there to buy their own goods as well, including things like curry and tea.
While there, you can also visit the Port Louis Theatre. Overall, spending a day at Port Louis is a lot of fun and one of the best things to do in Mauritius because of the amazing cultures and traditions there. It is one of the best things to do in Mauritius.
3. Check out Aapravasi Ghat
The Aapravasi Ghat UNESCO World Heritage Site is one of the best places to go if you're interested in learning more about Mauritius' past and history. Visitors can get a glimpse of the "Indentured slavery" experiment that the British started in Mauritius at a Port Louis location in the 19th century.
This system, now referred to as "the great experiment," was established to replace slave labour with "free" labour. It is one of the best things to do in Mauritius.
Between 1849 and 1923, this location near Port Louis is thought to have seen half a million labourers. They hailed primarily from India. Approximately 70% of the present population of Mauritius has Indian ancestry due to this migration.
You can get a look into these heroic people's lives through the exhibitions at the Aapravasi Ghat. Their living and working arrangements did not meet their expectations or the assurances that had been given to them.
4. Visit Heritage Nature Reserve
Visit the 2,500-hectare Heritage Nature Reserve while you're in Mauritius if you enjoy the outdoors and want to learn more about the country.
The reserve is home to magnificent waterfalls, breathtaking scenery, lush vegetation, and several chances for rest and relaxation.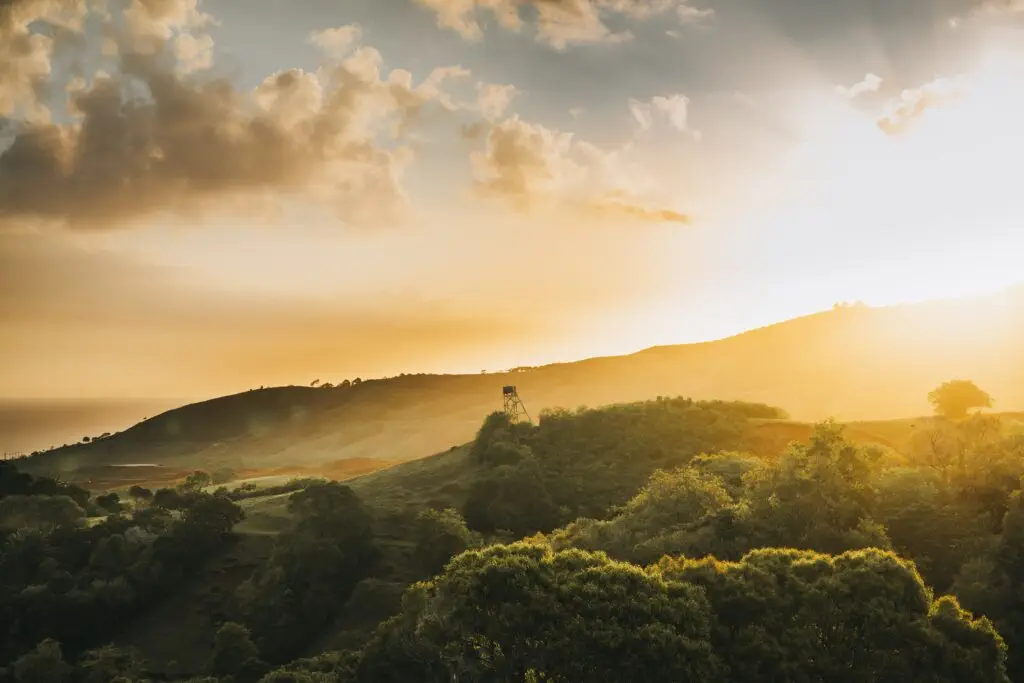 The abundance of opportunities for picnicking, riding quads around the reserve, and other activities is one of the best things about Heritage Nature Reserve.
There are a few secret spots that will keep you always wondering what else there is to learn about the diverse activities to do in Mauritius. It is one of the best things to do in Mauritius.
5. Explore Domaine des Grand Bois and Domaine du Chasseurhas
Visit the Domaine des Grand Bois or Domaine du Chasseurhas for an uncommon notion of what to do in Mauritius. This is a lovely place to spend the day because of the abundant vegetation.
Several endangered bird species, such as the kestrel, are also present. The highlands of Anse Jonchée are where you can find this. It is one of the best things to do in Mauritius.
Make sure to take in the breathtaking panoramic view of the ocean while indulging in a delectable seafood or venison meal and beverage at a local restaurant.
6. Visit the Botanical Gardens in Mauritius
The Sir Seewoosagur Ramgoolam Botanical Garden, which occupies a space of 178.7 km2, is the only significant botanical garden in Mauritius. It is situated in the Pamplemousses neighborhood in the island's northwest.
The oldest botanical garden will astound you with its lush, green trees, tiny ponds, and vibrant vegetation. It is also extremely beautiful and well-kept.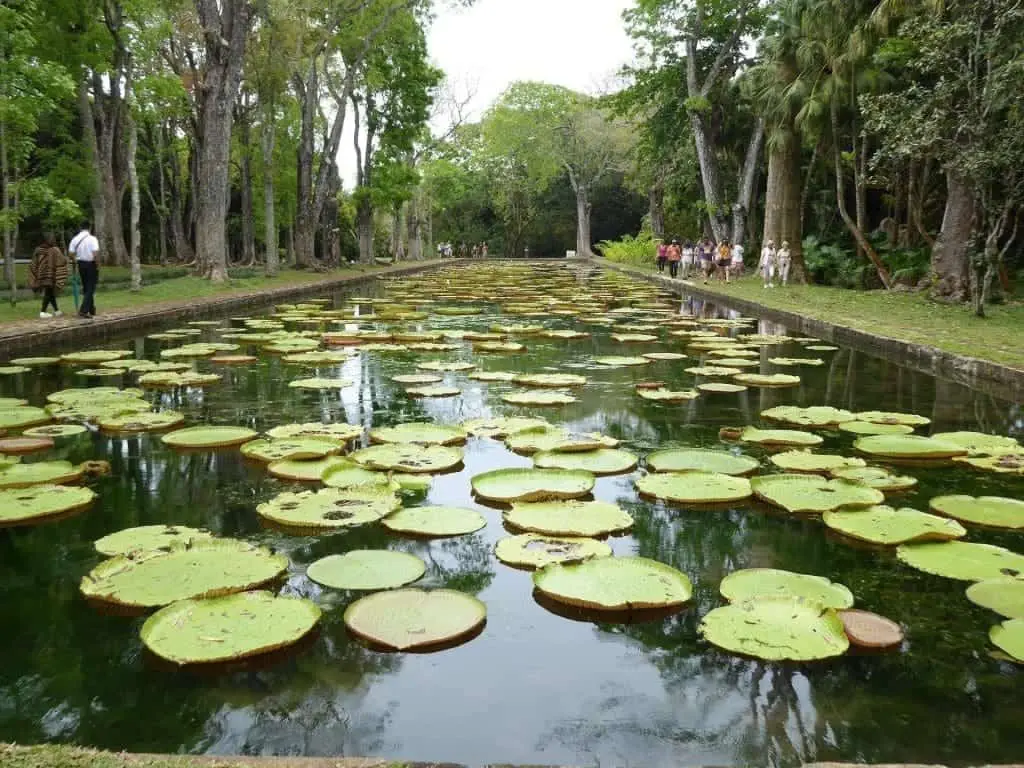 More than 85 distinct varieties of palm trees from various islands in the Indian Ocean, Central America, Asia, and Africa are now housed in the garden, which was first built in the 18th century.
Botanical gardens, like this one, provide a haven for nature lovers from the chaos of urban living or larger towns. It is one of the best things to do in Mauritius.
7. Scuba Diving in Blue Bay Marine Park
The most visited tourist destination in Mauritius is likely Blue Bay. It is undoubtedly the location where you would want to spend a lot of time because of its beautiful beaches and pristine waters.
On the southeast coast of the island of Mauritius, the Blue Bay Marine Park is close to the airport and a number of hotels, making it relatively accessible. It is one of the best things to do in Mauritius.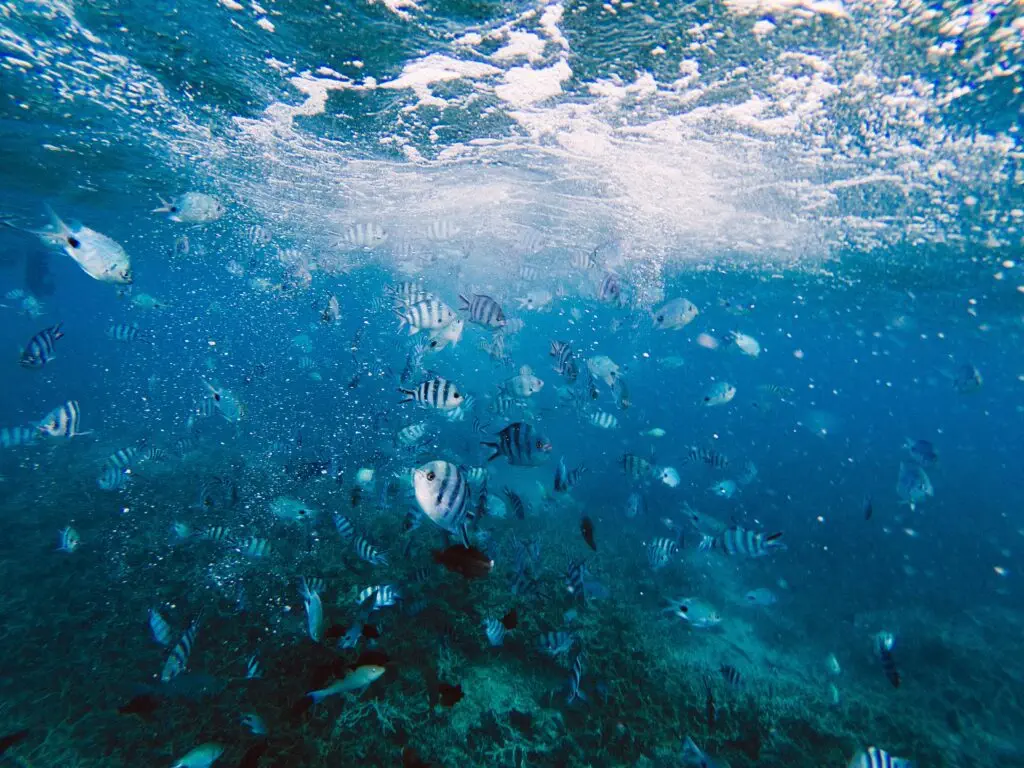 This wonderful location offers a variety of water sports, including scuba diving, snorkeling, kite surfing, sailing, and more. You can also choose to spend the day sunbathing while sipping a tropical beverage. There is no better way to unwind and relish your holiday.
In a special network of reefs that breaks ocean waves to defend the bay, there are more than 50 distinct species of coral, some of them exceedingly rare. Additionally, the variety of fish species in the shallower water will make any snorkeling or diving experience amazing.
8. Go To Caudan Waterfront
Locals and lovers alike congregate at the Caudan Waterfront in Port Louis. A fantastic shopping center is also there. There are also street performers, a Kiddyland, a variety of dining options, and many interesting shops.
The Blue Penny Museum, Stamp Museum, and Mauritius Natural History Museum are just a few of the historical structures that may be visited from the ocean. To understand the history of this remarkable country, you should prioritise visiting these museums while planning your itinerary for Mauritius.
The penny orange and blue penny stamps from 1847, which are among the rarest stamps in the world, are among the numerous rare stamps in the collection of the Blue Penny Museum.
The Caudan Waterfront, with its rows of shops and eateries, is the ideal location for a day of local culture-absorbing wandering. It is one of the best things to do in Mauritius.
9. Spectacular Seven Colored Earth
To view Seven Colored Earth, you will need to buy a ticket, but we can promise you that the cost—while somewhat high depending on your budget—is unquestionably justified.
One of the most unique sites on the earth, it is a rare natural wonder. The seven-colored sand dunes that make up the geological structure known as Seven Colored Earth span a 7500 square meter area.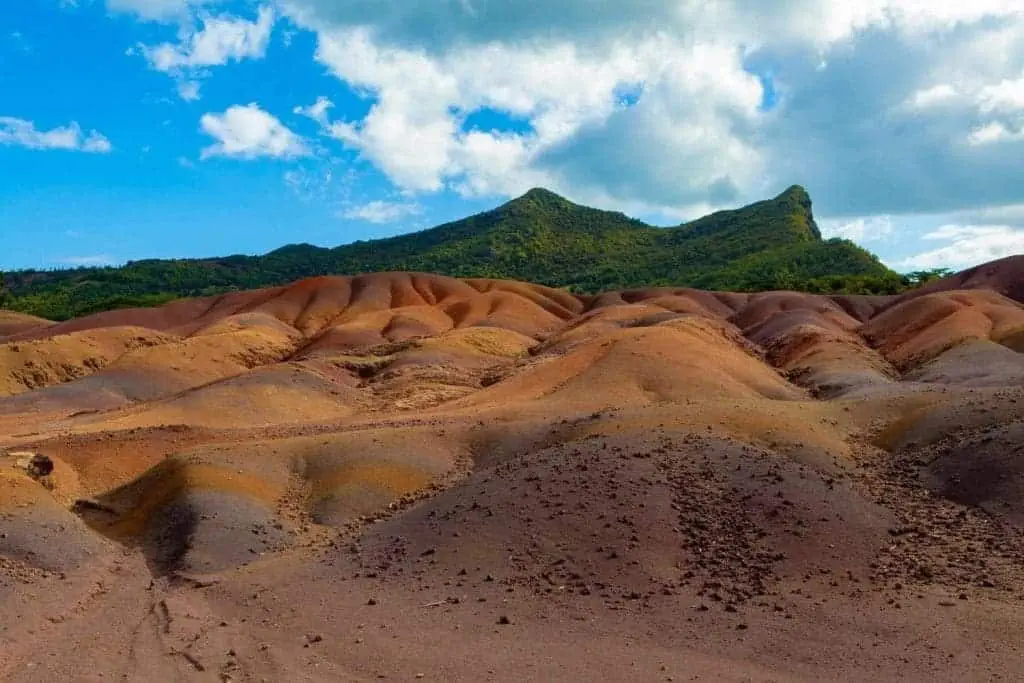 It is one of the most popular tourist attractions in Mauritius, so if you want to avoid crowds, go early in the day. It is one of the best things to do in Mauritius.
Please be informed that flying a drone without authorization is prohibited when you are at Seven Coloured Earth and the Waterfalls of Chamarel.
10. Take a Trip to the Black River Gorge Viewpoint
In Mauritius, be sure to take in the expansive vista from the Black River Gorge.
The viewpoint, which gives one of my favorite views of the entire trip, is easily accessible from adjacent locations like Chamarel Waterfall or Alexandra Waterfall.
The Black River Gorge, Seven Colored Earth, Alexandra Waterfall, Chamarel Waterfall, and a tonne of additional locations are all technically accessible in five hours.
The magnificent Black River Gorge is a lush, serpentine-like landscape that appears ethereal and peaceful because the government in Mauritius has taken care of it for many years. It is one of the best things to do in Mauritius.
11. Horse Racing at Champ de Mars Racecourse
The Champ de Mars, which opened in 1812, is the second-oldest racetrack in the world and the oldest in the southern hemisphere. On Mauritius island, horse races are a fixture in and of themselves. From the end of March to the start of December, they occur every weekend and are also live broadcast on television.
You can watch the Maiden Cup, the season's most viewed race, in September, which is the major event of the year.
It's a terrific way to bond with local Mauritanians, many of whom use this betting venue every weekend, by attending horse races. The roars of fans of all ages create an amazing atmosphere. It is one of the best things to do in Mauritius.
There are many food courts, and during the breaks, you may sample regional delicacies like gateaux piment (Mauritian chilli cakes), dholl puri (kind of a flatbread stuffed with split yellow peas), and others.
12. Kayaking in Tamarin Bay
Kayaking is possible in numerous locations in Mauritius. In reality, almost all luxury resort provide complimentary kayaks, stand-up paddleboards, and other non-motorized water activities. However, the region between Tamarin Bay and Grande Riviere Noire may be one of the loveliest spots to do this.
Tamarin Bay is distinguished by its lovely setting, which looks out over the spectacular Rempart Mountain's towering top. The majestic mountain appears to be a life-size artwork thanks to the clear blue skies, fluffy white clouds, emerald waterways, and lush flora.
Additionally, dolphin sightings are frequent in this region. There are also other rivers that empty into the ocean in this area, including Riviere du Rempart, Riviere Tamarin, and Riviere Noire farther south.
Kayaking is therefore an option between the mangroves. We entered a constricting waterway by paddling. It is one of the best things to do in Mauritius.
13. Head to Grand Bay
The people in Mauritius know where to go for a fun-filled night out—Grand Bay! Great eateries, bars, and clubs may be found there, along with numerous shopping options.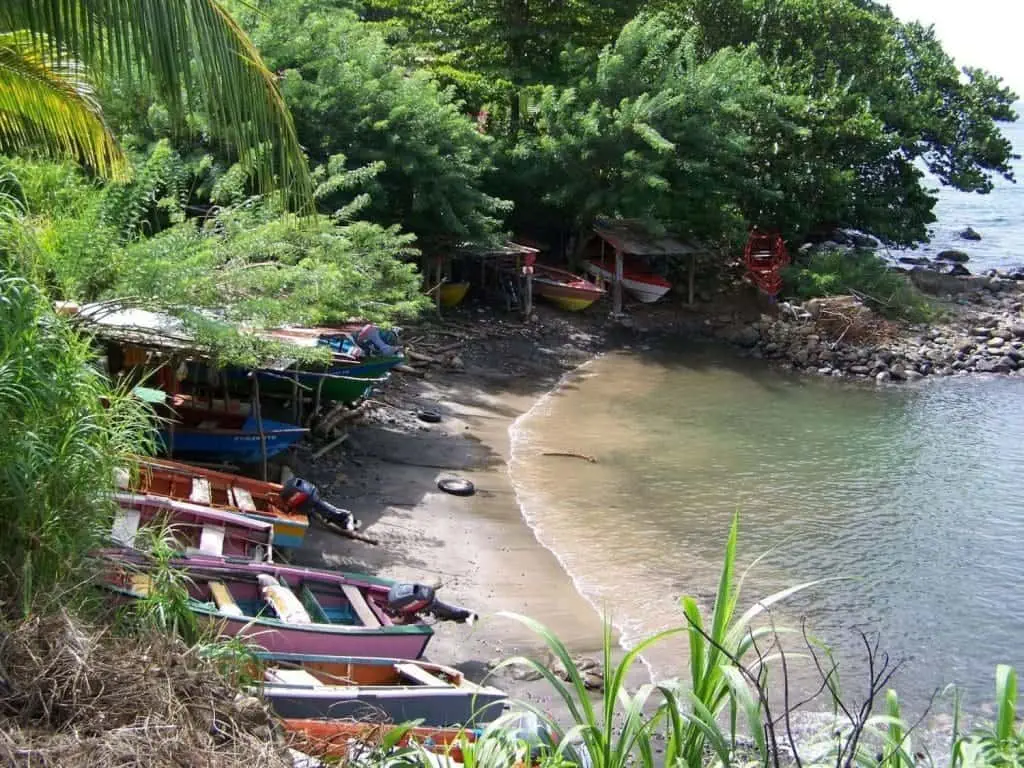 The beach in La Cuvette is a wonderful location for unwinding and having fun. You may find some fantastic Mauritius attractions in this actual tourist haven. It is one of the best things to do in Mauritius.
14. Try Deep Sea Fishing
One of Mauritius' most well-known pastimes is deep sea fishing. The surrounding water is home to a wide variety of enormous fish species, including blue and black marlin, yellow tuna, several types of barracuda and sharks, and a great deal more.
Every year in February or March, the Marlin World Cup is held offshore of the island of Mauritius. The Mako shark, blue shark, bonito, white tuna, and becune are just a few species that hold world records.
A lot of other catches have come very close to breaking the record. It is one of the best things to do in Mauritius.
Most hotels will offer fishing boats that can be rented for an unforgettable experience! All activities must be included during a trip to Mauritius, however deep sea fishing should be prioritised.
15. Casela World of Adventures
The Casela World of Adventures sometimes referred to as the Casela Nature Park, is among the top things we suggest doing in Mauritius. It functions as a combination of outdoor amusement and an animal park for both adults and families with children.
It is a unique activity to do on Mauritius Island and is ideal if, like us, you grow bored easily on the beach. The 400-meter zipline is accessible from the Nepalese Bridge, which offers a breathtaking view of the canyon. A lot of fun!
On a rough plateau, the quad safari lets you observe zebras, ostriches, and African antelopes without disturbing them. You certainly wouldn't expect to see that in Mauritius. It is one of the best things to do in Mauritius.
There are numerous animal-related activities happening all day long at this natural park, which is designed for families and kids. It's a plus that the more challenging attractions take place in a less crowded location in a different part of the park.
The greatest advice we can give is to skip the animal/zoo section and get straight to the activities you've decided to do.
16. Visit Grand Baie Beach and try Flyboarding
Grand Baie, a little town with a wonderful public beach filled with sailboats and the hidden La Cuvette, is situated in the north of Mauritius.
Try flyboarding if you're searching for something unique and incredibly entertaining to do in Mauritius. You will adore it!
Don't worry if you've never done it or if you're uncomfortable in the water. You will simply float on the water while wearing a life jacket. Furthermore, it's simpler to accomplish than it appears on the surface.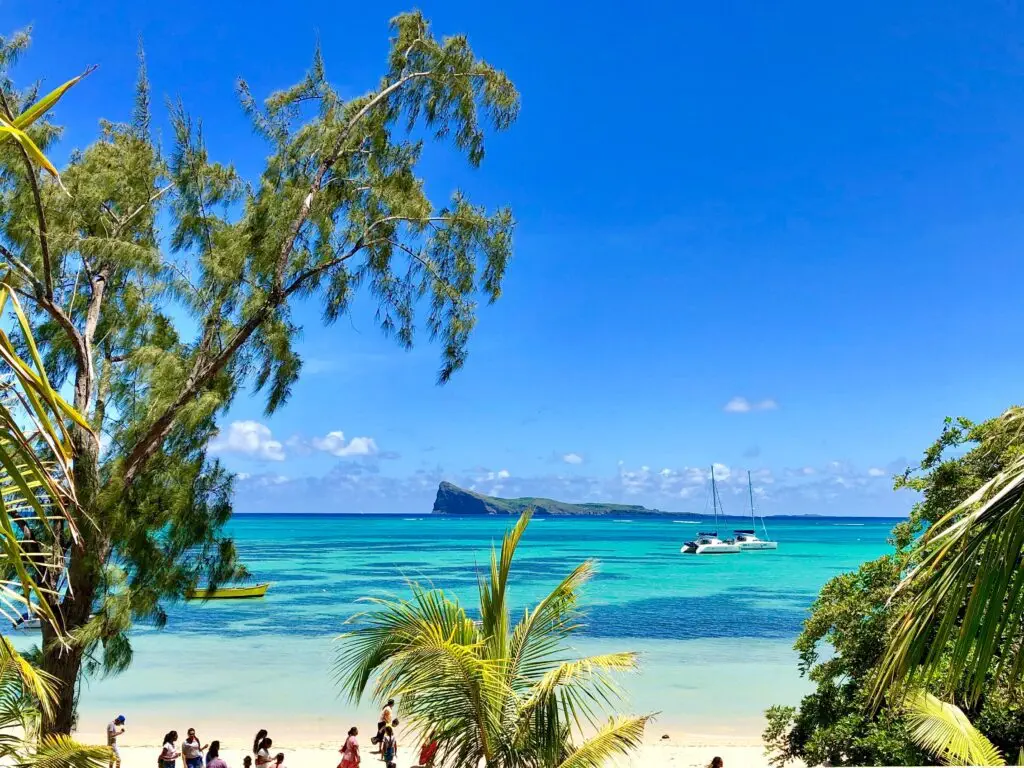 In essence, you're riding a gas-powered hoverboard of some sort. Additionally known as Flyn'Dive-Board. You ascend above the water as your guide turns it on. Flying actually does feel like it! It takes some practice to learn balance and become used to it, but once you do, you can't help but keep going. It's a lot of fun!
The activity of flyboarding is uncommon and not something you can perform every day. Your visit to Mauritius will become even more memorable as a result. It is one of the best things to do in Mauritius.
17. Shopping Deals, Dining, and Spa at Bagatelle Mall
Let's face it, you won't travel all the way to the stunning island of Mauritius just to visit a mall. But if you're looking for inexpensive spices or have some free time on a wet day in Mauritius, Bagatelle Shopping Mall near Port Louis is a fantastic local attraction to check out.
The mall, which is nearby the M1 freeway that runs from the city to the airport and provides access to two supermarkets and an open-air delicious food court, provides all-day dining options as well as foreign shopping alternatives. It is one of the best things to do in Mauritius.
For international goods and quick eats, Food Lovers is fantastic. The selection of spices at Intermart is much wider and larger. Especially if you're wanting to get cinnamon, chiles, or vanilla beans, the majority of them are far less expensive than at the markets.
There are also reasonably priced local beers and local rum available. Savinia is the place to go if you want a tasty steak meal. They are pros at cooking and dry-aging meat.  The salted butter caramel ice cream is to die for, and the meal is excellent.
There is a spa nearby that provides a wide range of affordable massages and beauty services for those of you who aren't big shoppers.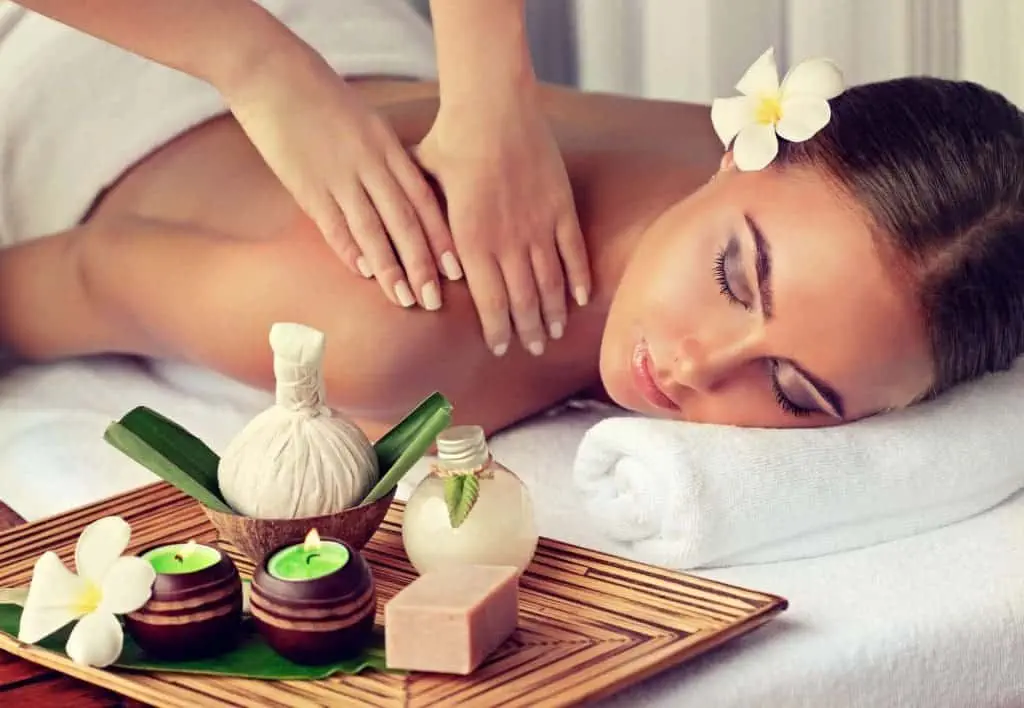 18. Check Out China Town
China Town is another well-known Mauritius destination that you simply must see while you are in Port Louis. There are numerous stores and eateries with distinctive culture and flavour found only here.
You can try traditional Chinese medicines in this area's pharmacies in addition to modern ones. You have to eat the traditional foods like chow mein and fish balls that are being sold by the many vendors and shops.
Make a note of China Town as a must-see in Mauritius! It is one of the best things to do in Mauritius.
19. Ganga Talao – Grand Bassin
One of the nicest sites to visit in Mauritius is a sacred lake called Ganga Talao, sometimes referred to as the Grand Bassin. Its importance is compared to that of India's Ganges River. Holy water from the Ganges River was carried and mixed with the lake in the 1970s, creating a symbolic connection between the two locations.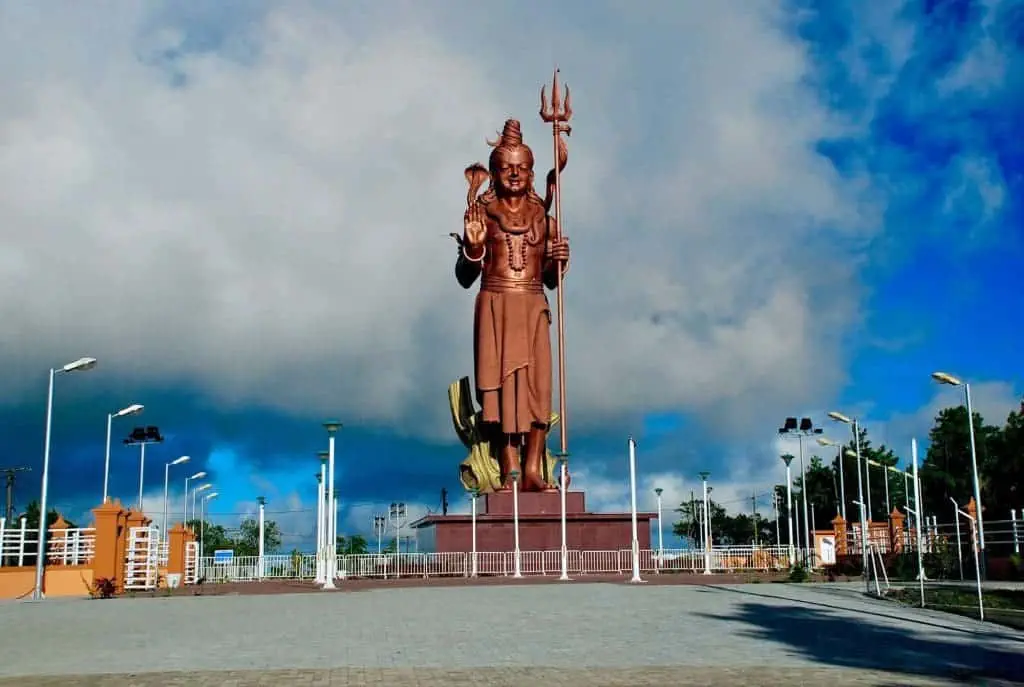 Temples have been constructed all around this stunning crater lake. The Ganga Talao Hall is one of the most spectacular Hindu temples and is a must-see while visiting Mauritius.
It is a stunning temple that draws visitors of all faiths in addition to Hindus. There are statues of the Hindu deities Lord Shiva and Mother Durga at the entrance.
The copper-colored figures, guardians of this sacred area, are crafted with amazing craftsmanship. The Shiva statue, Mangal Mahadev, stands 33 meters (108 feet) tall and is thought to be Mauritius' highest statue.
You will have a fantastic view of the other temples and the lovely lake as you down the stairs. You may locate a sacred Hindu stone Shiva Lingam inside the main temple.
No matter the time of year, this place is constantly buzzing with activity as people of all religions, both locals and visitors, pray here and leave offers. Despite this, Ganga Talao always has a calm atmosphere. It is one of the best things to do in Mauritius.
20. Hiking in Le Morne Brabant
A commanding peak towering 550 meters high in the southwest of Mauritius is known as Le Morne Brabant, or simply Le Morne. Additionally, it is a UNESCO World Heritage Site.
Le Morne is well-known for its past as a haven for fugitive slaves as well as for its natural beauty. If you have time and are physically capable, you can trek all the way to the summit of the mountain, but you can also view it from the beaches close by.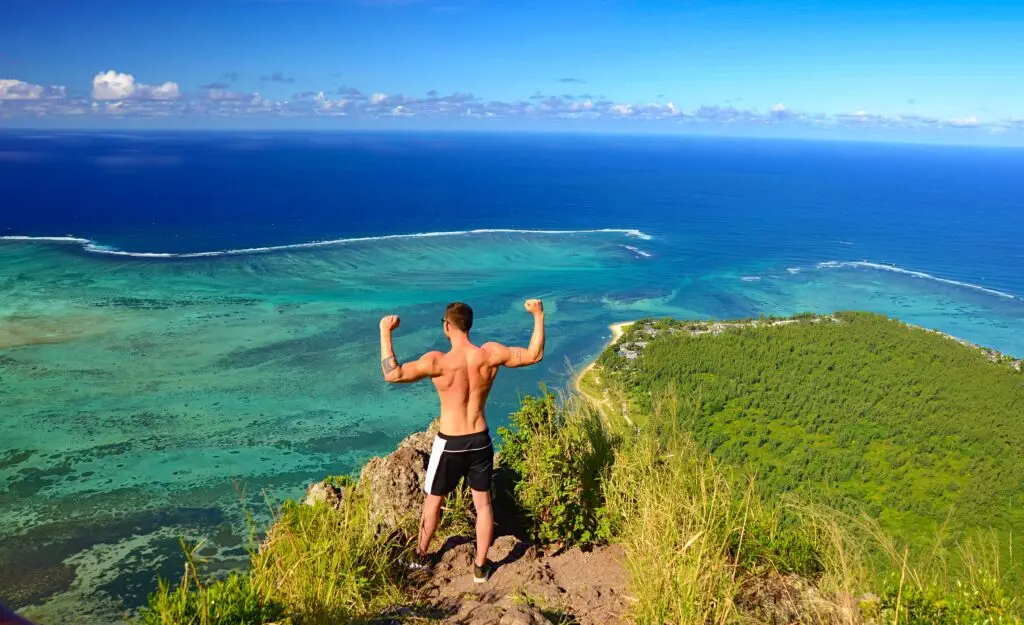 Le Morne trail begins simply, with a straight road and shade from the trees to assist you to beat the heat. The hike becomes really difficult at about the halfway point, and you might even need both hands to help with the climb.
It's worth it, though! The vistas are breathtaking! We made a few stops to gather our breath, and our guide knew all the best places for photography.
The magnificent underwater waterfall, an optical illusion produced by the currents carrying the sand to the deep sea, may be seen from the top in a variety of blue hues. It was well worth the two hours of ascent. It is one of the best things to do in Mauritius.
Final Remark
In conclusion, Mauritius is a great destination for a variety of activities. There are many things to do in Mauritius.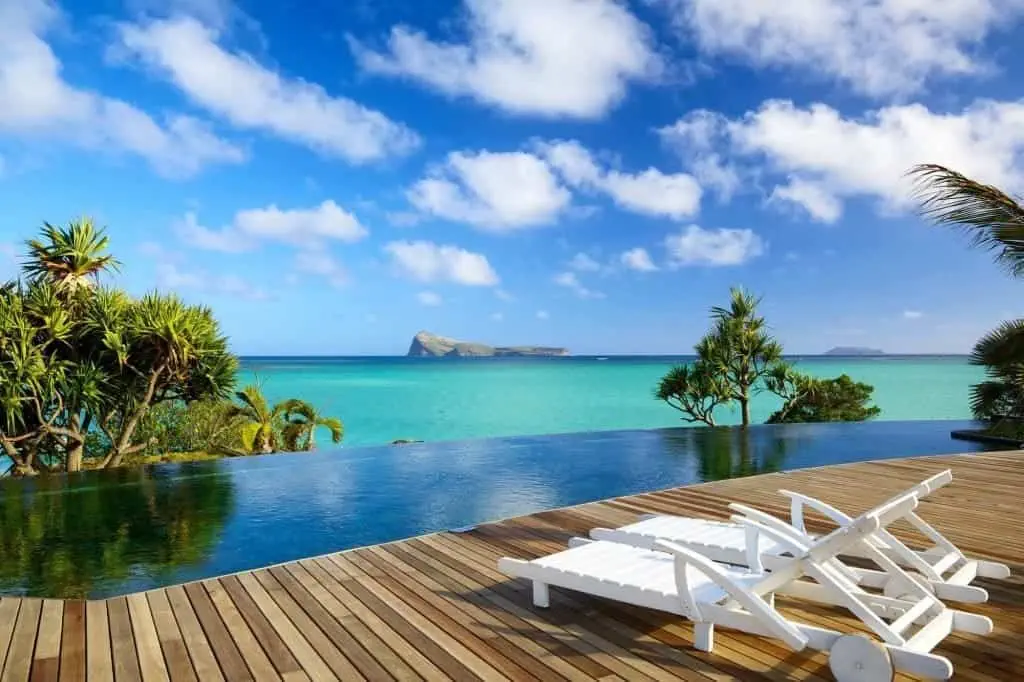 From exploring the vibrant culture to soaking up the sun on the beautiful beaches, there is something for everyone to enjoy. Be sure to add Mauritius to your travel list for an unforgettable experience.