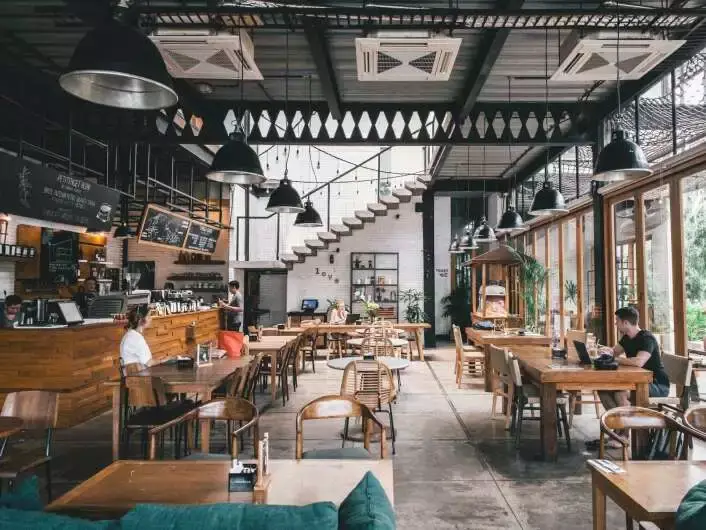 Brixton is one of the most-enticing food destinations in London. Brixton Market restaurants offer a range of cuisines, some old and some new, and some new-wave operators. And if you are planning to visit Brixton in London, then here's a guide to the best Brixton Market restaurants to feast in one of the city's liveliest neighbourhoods, where diners can enjoy Caribbean curries, fragrant Persian Kuku, and great handmade dumplings all within a stone's throw of each other.
Brixton Village is a jewel in the crown of the south London district that once was known for its high crime rate and pervading associations with riots of the 1980s. Now Brixton Village Market has made its own identity with its famous food.
Situated on either side of Atlantic road, within the two covered markets of Brixton Village and Brixton's Market row, you'll find international flavours dishes that span Europe, India, East Asia, Africa, South America and the Caribbean, along with cheddar and cheese shops.
Brixton Market Restaurants
Here are 12 Best Brixton Market Restaurants that you should not miss at any cost.
1. O Cantina De Portugal
Whenever you plan to visit Brixton and thinking of where to enjoy your dinner at, O Cantina De Portugal is best option out there. O Cantina De Portugal is undoubtedly the best option to eat at one of the best Brixton Market Restaurants. This place gives you authentic Portuguese vibes with a wide range of sea food options that includes garlicky grilled prawns, grilled pork along with chicken dishes.
Here you will enjoy the food based on their three theories of operation, which means the way they offer food is quite different from other restaurants as:
Traditional Portuguese Food:
Their food takes you right back to Portugal time! At O Cantina de Portugal, they only serve the freshest and most authentic Portuguese cuisine. So be ready to enjoy the best possible Portugal food over here.
Served With Care:
Their restaurant is a family-run restaurant, and this is quite evident in the way the restaurant works. They take much pride and care in every experience they share with their customers.
At The Heart Of Little Portugal:
O Cantina de Portugal is a well-established restaurant with more than 20 years of experience.
So, visit this one of the best restaurants and enjoy your special time with your friends and family in Brixton Market.
2. Balance
When you plan to visit Brixton Market and wish to enjoy food at one of the best Brixton Market Restaurants, then Balance is one of the option where you have the safe option of dinning. Balance is longest established coffee shops and its owner is Ali who is expanding his business these days as now he provides coffee beans also.
Balance established in 2014, The Balance has strongly set the pace for Ferndale Road. It serves speciality coffee, superfood juices and smoothies. At Balance, they help you with both single-origin coffee and blends.
This restaurant is owned by a married couple that thrives off providing tasty coffee brewed by their experienced and trained baristas to give their guests the best flavours from their coffee suppliers, with simple welcoming customer service.
Apart from coffee, they serve their guests' great food and a variety of smoothies and juices made of fresh fruits. So, this place is heaven for healthy eaters.
So whenever you visit Brixton Village, see this amazing place and get a cup of coffee and your choice of coffee beans.
3. Hacha
I hope you must be aware of Dalston agaveria Hacha award winner Deano Moncrieffe and Emma Murphy. This duo after setting their success stone now they have opened another branch of Hacha in Brixton which somehow resembles the first one but with two extra floors.
Here you can enjoy the Mexican dishes with an outstanding bar that features a menu of 25 tequilas, mezcals which can be enjoyed solo too.And the wine bar serves an inspiring range of small-grower fizz alongside Gallic cheeses, charcuterie, tartines and festive seasonal specials.
One special thing about this venue is this it will be closed once a week to run a free-to-all community day offering training, mentorship, talks, and practical workshops in partnership with Deano's organization Equal Measures, which provides tools for growth to under-represented BAME communities within the hospitality industry.
So, while visiting Brixton, do not forget to see this one of the best Brixton Market restaurants.
4. Agile Rabbit
The list of famous Brixton Market Restaurants also includes Agile Rabbit. Agile Rabbit is based on the Parisian cabaret bar Lapin Agile. Agile Rabbit was established in 2010, and the restaurant serves pizzas and small plates against a backdrop of live jazz.
This place offers amazing food with great hospitality where you can enjoy your meals with office workers and hospitality staff on your lunch breaks. The pizzas are made with hand-pulled sourdough bases, amazing homemade tomato sauce, and various delicious toppings of your choice. This place is a popular pitstop for a meal on the move.
The pizza, which is sold by the slice or pie, comes piping hot and dripping with cheese, and if you're lucky enough, they'll offer you a choice between the corner (extra crust) or the middle (additional toppings). And if you are worried about experimenting with your food, you must try their classic Margherita or a salty slice of the AOCA (Anchovies, Olives, Capers, Aubergine). And in the year 2017 a Wine Store is also opened next to the restaurant that serves low-intervention, organic and biodynamic wines.
5. Honest Burger
This amazing British burger chain restaurant started in Brixton Village Market in the year 2011 with 30 locations and now it is listed on the best Brixton Market Restaurants. All the burgers out here are best in taste but their signature burgers are a big mistake to miss that are served with onion and rosemary fries, without a second thought, you should go for it.
Two young man runs Honest Burger restaurant and because of their independent minds and outstanding marketing strategies this restaurant became one of the best burger points here. Their custom build patties with meaty hunks made with beef are loved by most of the people.
Apart from usual burgers, you can also enjoy their chicken burgers along with mixed veggie fritters. The menu is most affordable one that don't require to book your seats prior to your visit, but yes you have to face the long queues.
6. Kricket, Brixton
Out of all Indian-origin Brixton Market restaurants, Kricket is Mumbai-inspired restaurant that has experimented a lot with its wide variety of traditional dishes.
Here, the dinner is served directly under the railway arches, meaning your meal comes with a side of train rumblings and bhel puri. This restaurant also acts as a test kitchen for more eclectic modern Indian creations from chef Will Bowlby.
So, whenever you want to taste some good Indian food, visit this restaurant without any second thought.
7. Pop Brixton
Pop Brixton is an electric street food market which is built from shipping containers with investments from small, independent businesses and local vendors creating the whole street. This Restaurant also works as a community hub that works for the betterment of its neighbourhood.
In the evenings, with cocktails, the noise of people increases here, so get in line for treats from Love Churros, island flavours from Caribe, or a 100% plant-based bleeding burger from Halo Burger.
This restaurant also runs initiatives like The People's Fridge, where local bakeries, supermarkets, restaurants, and residents can leave unwanted or leftover edible food and then anyone can take it for free.
This new idea of leaving the food and giving it for free reduces food waste and redistributes unwanted items that could also help feed the hungry and homeless. So, visit these independent yet socially focused restaurants while visiting Brixton Market Restaurants.
8. Chishuru
Want to enjoy some African food? Here it is, Chishuru, a West African Restaurant in Brixton Village, creating a kind of food you will never forget. Adejoké 'Joké' Bakare is one of the friendliest faces, but don't let that fool you. In the kitchen, no one can match her spirit. Her outstanding dishes like chargrilled cauliflower with wine, pesto served with pumpkin seed and fiery scotch bonnet sauce is a must try in Brixton Market Restaurant.
One of the most interesting thing about Chishuru is that the menu here changes regularly but it is the best location to toast your drinks that you can enjoy with Kurdish cuisine, superb suya and what not.
9. Kata Kata
Kata Kata restaurant offers you amazing food with a wide variety of cuisines that includes wild mushrooms, cheese, Jerk aubergine, callaloo. But if you are a vegetarian not to worry here you can get good veggie options too. And to your surprise here you can enjoy outdoor shack grills in the evening with a huge crowd of students, musicians on the terrace of the restaurant.
10. The Laundry
The laundry started 110 years back and still touts the services it has provided for 110 years. Although the trading days are over, the building still buzzes with laundry activity; zeitgeisty seasonal small plates replace suits and sheets from chef Sami Harvey.
Plus, the newly launched Sunday roasts that is the vegan pie which is creamy and the crispy roasted potatoes. The Laundry always attracts a cool crowd of Brixtonites to its candlelit space, where exposed-brick walls have been left untouched, juxtaposed with blue booths, marble tables, dark wood, and statement lamps.
The building with a restaurant named The Laundry began as just a laundry called an Edwardian washhouse. The history of this newcomer's former life has been portrayed through the restaurant rather than hidden in space.
The restaurant's menu is designed by Sydney-born chef Dylan Cashman, whose sharing-style small plates are seasonally led that feature as much local produce as possible. It is served by friendly staff who fully buy into the restaurant's ethos.
They started with crisp croquettes sweetened with carrots and seasoned with chunks of ham hock. Carbs are rightfully given full-plate portions, with Pink Firs wrapped in a salt pastry.
One of the popular dishes is a plate of slow-cooked belly pork that was silkily rich with layers of fat and topped with a satisfying layer of crackling. The dish's richness was tempered with Brussels sprouts and house-made yoghurt and addictively sweet and sharp pickled red chillies.
They offer a warm chocolate chip cookie baked to order for dessert. It was served well as a biscuit, but it was single, unadorned and looked a little lonely on the plate when done to their customers, so they added a scoop of ice cream that made the £4 price tag feel more justified.
Along with the amazing food, the restaurant operates a wine bar serving an interesting list of bottles for you with a lean towards French vintages. Visit one of the best Brixton Market Restaurants to enjoy your meals.
11. Fish Wings And Tings
Another famous Brixton Market restaurant is Fish Wings & Tings. Fish Wings & Tings is known for its jerk chicken, but Granville Arcade's Fish Wings & Tings also has a few things on its Caribbean menu you may not be familiar with.
The rotis filled with vegetables and kuchela made from the spiced, sun-dried pulp of unripe mangos that might convince you to side-step the poultry, and the chef Brian Danclair is on hand to make suggestions.
If you're heading to Brixton Village specifically to find your Caribbean food, Fish, Wings & Tings is a good place to start. Along with Jerk chicken, you can enjoy curry goat, seafood curry, scallop salad and salt fish fritters with deliciously sweet mango sauce served with all dishes.
12. Brixton Outdoor Market
The outdoor market has trucks selling everything from fresh fruits and home-baked bread to jars of locally produced condiments to Jamaican rum, traditional African beadwork and hand-painted homewares. This market tops people's priority list of the best Brixton Market restaurants.
There are always people who are shopping, tasting, and haggling. The market starts from Electric Avenue and stretches up to Pope's Road into the famous Brixton Station Road.
These roads meander between Brixton Market Row and Brixton Village, with the indoor market sections, where you can find the butchers and fishmongers alongside some of the area's best dining spaces. It is where Franco Manca is still going strong, Mamalan that put dumplings back on London's menu, and Kao Sarn's BYOB policy made it a Friday-night favourite.
The Brixton Market Row is particularly buzzy at weekends, so visit this market for a simple masala dosa with the crispy-edged, soft-centred type you find on the streets of South India if you are visiting from India and want to taste some Indian food here and vast expanses of paella.
Ask for a scoop of socarrat, or fill a tub of comforting thai food to take home.
Conclusion
So, when you visit Brixton Village next time and enjoy your food at the best Brixton Market restaurants in London, don't forget to visit these best restaurants in Brixton Village.